Singapore Airlines' LCC Businesses Spread Their Wings
The short- and long-haul low-cost business interests of Singapore Airlines (SIA) have revealed plans to expand and deepen their collaboration in commercial activities and network coordination as part of a planned major expansion across Asian and Pacific skies. Tigerair and Scoot have signed an alliance agreement to further align their commercial activities, and provide greater choice and flexibility for customers which will support both airlines' exciting international expansion plans.
The Scoot long-haul business was launched in June 2012 and has been providing medium- and long-haul services from Singapore Changi International Airport, complementing the operations of SIA. It has already grown to a network of 12 destinations across Asia and Australasia, but will next year expand its operations from a second hub in Thailand.
A memorandum of understanding (MoU) has been signed with Nok Air, a partly-owned subsidiary of Thai Airways International, to establish NokScoot. The venture is expected to take to the air next year and will operate from Bangkok's Don Mueang International Airport. It is likely to commence operations with a couple of Boeing 777s which will serve medium- and long-haul international routes.
"Thailand is Asia's premier tourist destination and logical hub for Scoot to expand to. We at Scoot are very pleased to be working with Nok, an established and respected Thai low-cost airline, on the establishment of NokScoot," said Campbell Wilson, chief executive officer, Scoot. "In supporting Nok with Scoot's experience in medium-haul widebody operations, we look forward to developing a new market segment and offering Thai consumers and travellers to Thailand more travel options."
Under the terms of the MoU, which remains subject to regulatory approval, Nok and its alliance will have a 51 per cent stake in the venture and Scoot will have 49 per cent. The initial investment will be around THB 2 billion.
"We are excited at the prospect of expanding Nok's presence overseas, and to be doing so with the assistance of Scoot. It has always been Nok's goal to offer Thais more choice and more value, of which this venture is yet another example. We're also excited at the opportunity to encourage more inbound tourists, to boost the Thai economy," said Patee Sarasin, chief executive officer, Nok Air.
The new start-up will be able to leverage upon both airlines' respective experiences and the closer relationship between Scoot and SIA's partly-owned Tigerair business, which has a network that extends to over 50 destinations across 13 countries in the Asia Pacific. Following the signing of a formal agreement between Scoot and Tigerair, both parties will submit an application to the Competition Commission of Singapore (CCS) for anti-trust immunity.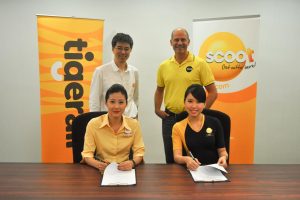 Approval would allow the airlines to build upon their existing interline cooperation. These could potentially include the joint operation, sales and marketing of parallel routes, which will offer customers increased flexibility and flight options. It could also include alignment of policies, conditions, pricing and scheduling, to pave the way for a seamless integration of systems and improved connectivity.
"Scoot and Tigerair are natural partners, operating largely complementary networks side-by-side at Changi Terminal 2. Our interline cooperation over the past year has revealed strong demand for joint itineraries from customers outside Singapore, and it's clear there is similar demand from Singaporeans for greater alignment. We're therefore excited at the potential CCS approval would unlock," explained Wilson.
The soon to be launched CCS process, which is expected to take a few months and will include public consultation, is just one area of development at Tigerair under an alliance strategy that will accelerate growth in key Asian markets. Tigerair already comprises four airline operations, the original Tigerair Singapore, Tigerair Australia, Tigerair Philippines and Tigerair Mandala. Together they operate a fleet of 49 Airbus A320 Family aircraft and plan to expand to 68 aircraft by December 2015.
In an attempt to accelerate growth in the key Asian markets of North-east Asia, India and Singapore without overstretching its own resources, Tigerair is entering into strategic alliances with two more airlines to expand its network and commercial cooperation - a joint-venture agreement with China Airlines will establish a Taiwan-based budget carrier and an interline agreement with SpiceJet will enable greater connectivity between flights operated by both carriers.
"We are excited to move forward with our alliance strategy, in line with our focus to grow our footprint in Asia," said Koay Peng Yen, chief executive officer, Tigerair Group. "These alliances will enable us to tap on the strengths of our strategic partners and extend our presence into existing and new markets without taxing our balance sheet. They will help us to expand our network, attain greater cost-savings, and build a stronger brand presence in the region."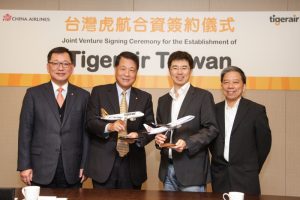 Tigerair and China Airlines will establish Tigerair Taiwan, a Taiwan-based budget carrier, which will extend Tigerair's presence into the new and largely untapped markets of Taiwan, Japan, and Korea. The new carrier will operate under the Tigerair brand but will be independently managed. Tigerair will initially hold just ten per cent of the start-up, which will have a paid-up capital of NTD two billion, and its existing website will be the main sales and distribution platform for the business. The partner carriers will shortly submit applications for regulatory approvals from Taiwan's Ministry of Economic Affairs and Civil Aeronautics Administration.
"We are delighted to forge this partnership with China Airlines. The new JV will allow us to extend our presence into the new, untapped markets of Taiwan, Japan, and Korea. There is vast potential for growth in these markets and also areas of synergy to be explored between the two airlines. With an established partner in China Airlines, we are confident of building a strong and sustainable budget carrier," said Koay Peng Yen.
Tigerair has already signed the new three-year interline agreement with independent Indian carrier, SpiceJet which will boost its operations across the sub-continent. With effect from January 1, 2014, passengers travelling on SpiceJet's domestic network from 14 Indian cities (Ahmedabad, Bhopal, Mumbai, Kolkata, Coimbatore, Delhi, Goa, Indore, Mangalore, Madurai, Pune, Rajahmundry, Tirupati, and Visakhapatnam) will be able to seamlessly connect in Hyderabad onto Tigerair's Singapore-bound flights. Similarly, from January 31, 2014, Tigerair's passengers will be able to connect across India on SpiceJet's domestic routes.