A start-up carrier plans to bring a little colour to the Bangladesh aviation market when it inaugurates passenger operations during the second-half of this year. Independently-owned Epic Air aims to bring low-cost travel to the country and will launch services with an initial fleet of up to three Boeing 737s, according to sources close to the carrier.
The launch of the new business, which is reportedly headed by former Regent Airways' chief executive, Imran Asif, comes at a time of significant change in the Bangladesh aviation market. National carrier Biman Bangladesh Airlines is in the middle of a major business transformation that has seen the retirement this past month of its ageing Douglas DC-10s, while Novo Air has secured international traffic rights and US-Bangla Airlines has recently received its first aircraft.
Details on the operations of Epic Air remain a closely guarded secret, but the airline is expected to initially launch operations on trunk domestic routes before expanding into international skies. A source close to the carrier said that the senior management team are currently formalising the network strategy and will wait until all licence requests are confirmed before confirming its schedule.
However, in the past week the carrier has revealed its corporate branding under 'The Colours of Change' campaign, which reaffirms a commitment to bring a refreshing change in the airline industry of Bangladesh. The livery has been designed by Teague – the Seattle-based airline branding specialist, with support from Boeing.
The refreshing brand colours of yellow and grey are mirrored on the port and starboard sides of the aircraft. "The checkerboard pattern resembles motion and adaptability that is symbolic of the airline industry and aptly portrays the airline's philosophy to keep in pace with the ever-changing dynamics of the business to meet and exceed customer expectations," the airline said on one of its social media channels. Here is a shot of the team behind the start-up, dubbed 'The E-Team'.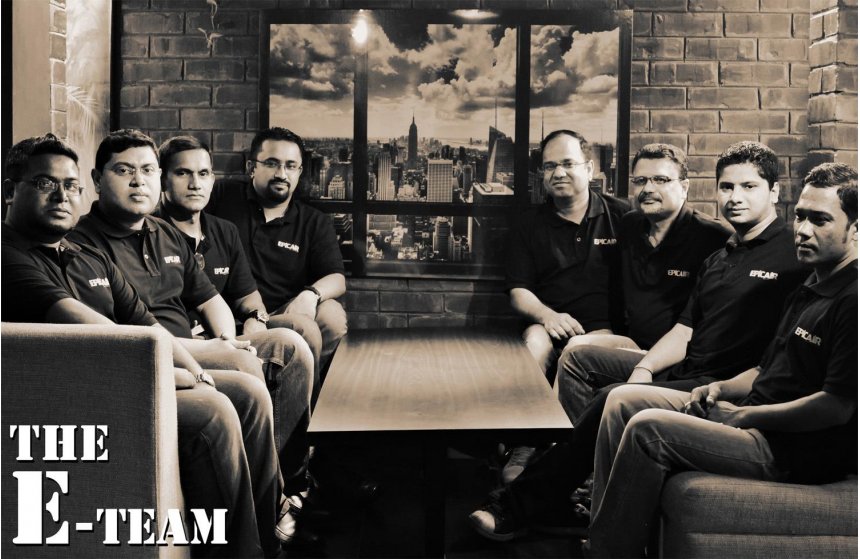 The arrival of new operators in Bangladesh will only add to the competition for loss-making national carrier Biman Bangladesh Airlines, which is has been left rudderless following the sudden departure of its managing director and chief executive officer, Kevin Steele on "medical grounds" earlier this month. The former British Airways, Etihad Airways and Arik Air executive was the carrier's first foreign boss and with other ex-pat staff was working to overturn the carrier's poor reliability and return it to profitability. Steele's resignation follows just after former RAK Airways chief executive, John Brayford, who had been supporting the carrier's transformation, departed Bangladesh to take up a position as commercial director at Afghan carrier Safi Airways.
Elsewhere in Bangladesh, Novo Airways has recently received the green light from the civil aviation authority to introduce international flights and it is expected to launch flights to Kathmandu, Nepal; Kolkata, India and Yangoon, Myanmar in the coming months. The carrier launched domestic flights in Bangladesh in January 2013 using a fleet of two Embraer ERJ-145s and has also expressed an interest in adding flights to Bangalore, India and Chiang Mai, Thailand.
Another start-up that as ambitions to take advantage of growing demand for domestic air travel in Bangladesh is US-Bangla Airlines, a subsidiary of United States-Bangladesh joint venture company US-Bangla Group, which has existing interests in real estate, leather, education, pharmaceuticals, agro, media and furniture.
Air travel within Bangladesh has been registering a steady growth over the last couple of years for two main reasons: high economic growth of the country and poor ground infrastructure. Biman Bangladesh Airlines also aims to resume flights on domestic routes this year but its acquisition of suitable turboprop equipment has been delayed since the second half of last year.
Although US-Bangla Airlines will fly on the domestic routes initially, it also has a plan to open new markets and create greater connectivity in the region, its managing director, Mohammed Abdullah Al Mamun, said in a statement. The start-up plans to launch operations next month with two Bombardier Dash 8-Q400s. In the initial stage of business US-Bangla Airlines will operate daily domestic links to/from Dhaka, Chittagong, Cox's Bazar, Sylhet and Jessore but will subsequently add Saidpur and Rajshahi to its network link up the northern region.

In phase two of its business plan, US-Bangla Airlines will embark on a regional and international expansion connecting Dhaka with important and frequently travelled cities like Kolkata, Kathmandu, Delhi and Karachi in South Asia ; Bangkok, Kuala Lumpur, Singapore and Yangon in South East Asia ; Guangzhou, Kunming in Far East ; Muscat, Doha, Dubai, Abu-Dhabi in the Gulf and Riyadh, Jeddah, Dammam, Baghdad, Kuwait in Middle East. More ambitiously, the airline also plans to fly further in Europe linking the cities like Rome, Milan, London and finally to New York in USA and may be more as the demand may rise.
The new arrivals will certainly put pressure on local operators alongside national carrier Biman Bangladesh Airlines. United Airways, the largest domestic operator and third largest international operator in Bangladesh by capacity in 2013 (behind Biman Bangladesh Airlines and Emirates Airline) is understood to be reviewing its network and recently closed its route between Dhaka and Singapore with very little notice.
Meanwhile, Regent Airways is seeking to overcome technical and operatinal problems which resulted in the grounding of its two Dash 8s and the cancellation of most of its domestic air services over the first quarter of this year. The carrier is however expanding its international network and will add twice weekly flights between Chittagong and Bangkok from April 27, 2014.
In our analysis we look at changes in seat capacity in the Bangladesh domestic and international markets over the past ten years. In the domestic market there has been a real mix of peaks and troughs as airlines have started and stopped domestic operations. After reaching a notable peak in 2008 capacity has returned to the normal historical trend. In the international market capacity had been on the rise up until 2011, but after a small decline in 2012 returned to growth last year.