Ryanair Set to Lease 737-400s to Support Dublin Growth
A report from Airport Coordination Limited (ACL) has revealed that Irish budget carrier Ryanair is planning to lease four Boeing 737-400s to operate on routes from Dublin Airport this summer.
A report from Airport Coordination Limited (ACL) has revealed that Irish budget carrier Ryanair is planning to lease four Boeing 737-400s to operate on routes from Dublin Airport this summer. Although Ryanair has not confirmed the report, the carrier has often spoken about potentially turning to lease deals to support its network growth, while waiting for the arrival of new 737-800 equipment from the US manufacturer.
The Dublin Airport start of season report for summer 2014 from ACL, an independent company responsible for data collection, schedules facilitation and slot allocation at 26 airports in the UK and the EU, plus Dubai International and Al Maktoum International airports in Dubai, shows a total allocation of 34,254 air transport movements to Ryanair offering 6,431,924 seats. This represents a 5.3 per cent increase on last year's summer schedule.
However, it is the notes that accompany the report that make interesting reading. According to ACL, Ryanair will be "leasing in four 737-400 series aircraft to facilitate various routes during the season." These, according to the schedule report, will be configured with 168 or 170 seats, less than the 189-seat 737-800s that are used throughout its network. When questioned by The HUB on the report, Ryanair said: "Ryanair does not comment upon, or engage in, rumour or speculation." It is reported that the aircraft will be wet-leased to cover a short-term shortage of pilots and other equipment could be sourced to fullfill its growing schedules at London Stansted.
The Irish carrier has revealed a notable expansion of its network from Ireland this summer following last year's government budget decision to abolish its unpopular €3 travel tax from April 2014. It has made a commitment to introduce more than one million additional passengers into the Irish market and alongside growth at Dublin has revealed a number of new routes from othe airports across the country.
In Dublin, nine new routes will be launched this week, including a daily service to Lisbon; a five times weekly link to Prague; four times weekly flights to Bucharest; a three times weekly link to Basel and twice weekly connections to Almeria, Bari, Chania, Comiso, Marrakech. This network growth will continue in winter 2014/2015 with Ryanair recently announcing seven new winter routes and increased frequencies on 21 existing services from Ireland's largest airport.
The budget carrier will operate new winter services to Bucharest, Cologne, Lisbon, Marrakesh, Nice, and Prague. It has also indicated that it will add capacity to a range of existing services to Britain and continental Europe for the winter season.
Ryanair's network growth at Dublin clearly illustrates how Ryanair is adapting its business model and building frequencies across its network to better serve the business market while also attracting stronger leisure flows. For example, routes to Berlin, Bratislava, Budapest, Krakow, Lanzarote, Malaga, Riga and Warsaw, which were served with between 8 and 12 weekly frequencies will be flown double daily during winter 2014/2015. Meanwhile, capacity to Barcelona, Bergamo, Madrid, Paris and Rome will double from two to four daily rotations and Brussels, Birmingham and London Gatwick will increase to six, eight and ten daily frequencies, respectively.
In our analysis of schedule data from OAG Schedules Analyser, we look in greater detail at Ryanair's capacity at Dublin Airport over the past ten years and how its available capacity has fluctuated due to disagreements with Dublin Airport operator, DAA through the years. The data shows this grew year-on-year up until 2008 but had been in decline up until 2012. A small capacity growth of 4.6 per cent in 2013 will be followed by further growth in 2014 and 2015 as the carrier once again grows at Ireland's largest airport.
Ryanair Annual Capacity at Dublin
Ryanair Capacity Marketshare at Dublin
News of the expected 737-400 lease deal emerged as Boeing and Ryanair showcased their strong partnership with a revised, co-branded livery on one of the airline's Next-Generation 737-800s. The aircraft features the distinctive blue Boeing colors on the fuselage of the airplane, while Ryanair's name is featured toward the rear of the aircraft. On the tail is the recognisable golden harp logo found on every Ryanair 737-800. "The 737-800 has been the foundation of our recent successful growth thanks to its great engineering and phenomenal reliability," said Ryanair chief executive officer, Michael O'Leary.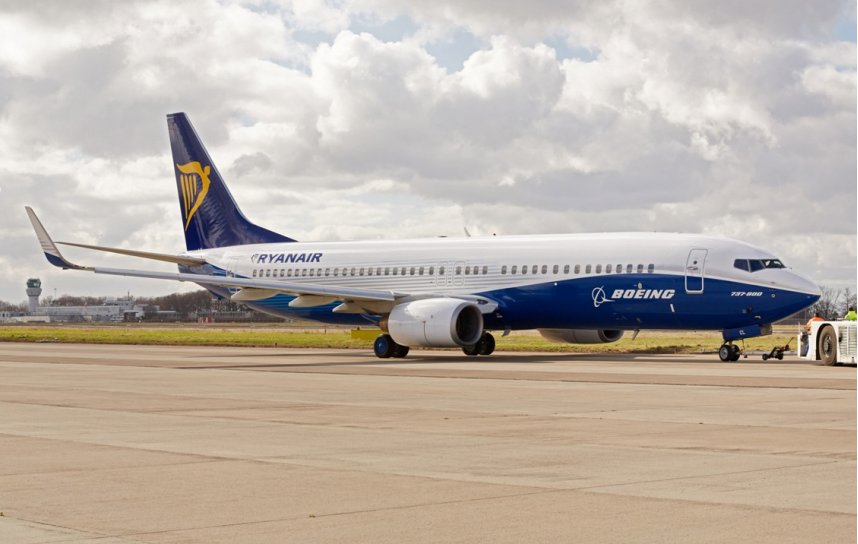 (additional reporting by Trevor Buckley)