Air Serbia, the national airline of Serbia, has reported positive developments for the five months since its launch in October 2013, outlining network and fleet growth and the creation of new jobs in Serbia. Speaking during a press conference in Belgrade, chief executive officer, Dane Kondić, said he was very pleased with the progress made in establishing Air Serbia as the leading airline in the region.
"In a very short time we have reconnected the Balkan region, introduced new fleet in the striking Air Serbia livery, raised the standards of our onboard dining, and created new and challenging roles for Serbian nationals. These initiatives, combined with strong ethos of customer service, have fundamentally changed the way we operate," he said.
With a focus on comfort, Air Serbia has leased eight modern Airbus A319 and two Airbus A320 aircraft to replace the ageing fleet of Boeing 737 aircraft. The two Airbus A320 aircraft enter service this month to complete the interim fleet renewal program. "The Airbus A319 and A320 aircraft have been completely refurbished and reconfigured into a two-class cabin and have been extremely well received by our guests," said Kondić.
In November last year Air Serbia announced that, in a deal valued at more than US$1 billion at list prices, ten next-generation A320neo aircraft were confirmed for its fleet between 2018 and 2020. "These Airbus A320neo aircraft are best-in-class and key to Air Serbia's strategy to continually lift its standards of service and comfort. Our onboard service has been completely overhauled and is complemented by a contemporary new uniform," said Kondić.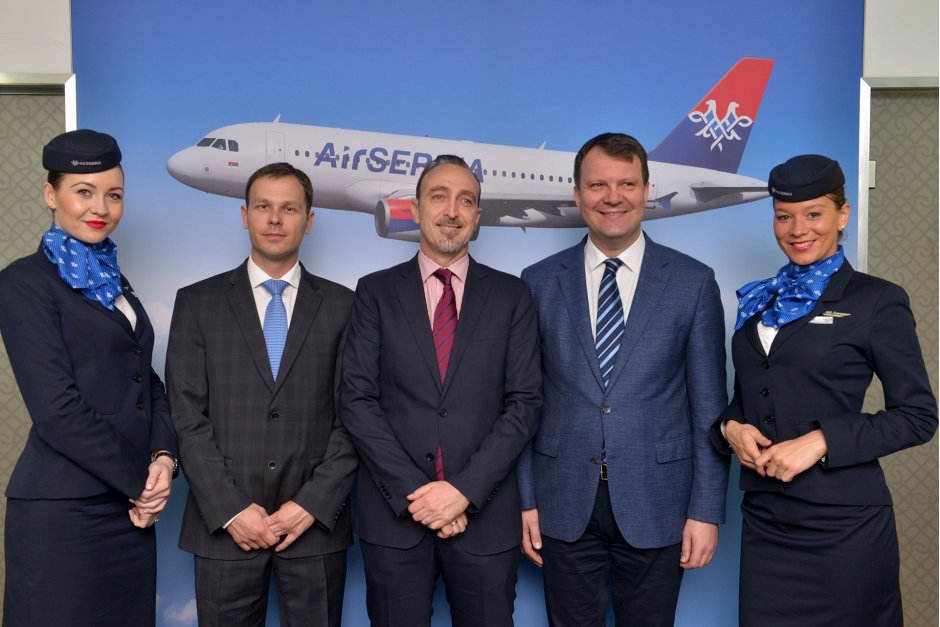 The changes are not restricted to the fleet as Air Serbia has expanded its network by reconnecting the Balkan region. Over these past five months the network had grown rapidly to include close neighbours of Ljubljana, Sarajevo, Banja Luka, Bucharest, Podgorica, Tivat, Skopje, Budapest, and Sofia.
"Some of these cities have not had the benefit of an air link for more than two decades and I am very proud that we have brought our neighbours together. This is an important part of the value we can deliver," explained Kondić. "Air Serbia's network, serviced by its own fleet, will grow from 29 destinations at the end of 2013 to 38 destinations by the end of this year. From June Air Serbia will fly to Varna, Beirut and Warsaw."
However, the carrier has this week announced the postponement of the launch of its planned service to Kiev, Ukraine, until further notice. The daily link was due to commence on May 29, 2014 but the current political instability in Ukraine has impacted its inauguration. "The safety of our guests and crew is paramount to the airline," said Kondić.
Alongside its own network, Air Serbia provides connections to many destinations worldwide in cooperation with its ten codeshare partners. With its strategic partner and investor, Etihad Airways, there are connections via Abu Dhabi to Sydney, Melbourne, Brisbane and Perth in Australia, Seychelles and Kuwait as well as beyond connections to the Middle and Far East, India and Africa.
According to a study by Oxford Economics, Air Serbia is also making a significant contribution to the Serbian economy. The combined direct, indirect and induced economic contribution to the Serbian economy is expected to be more than US$700 million in 2014. This means Air Serbia will contribute around 1.5 per cent of Serbia's Gross Domestic Product.