Flybe Brings Dash 8 to London City to Celebrate Route Launch
As first revealed by The HUB at the end of last month, UK low-fare carrier Flybe is to inaugurate five new routes from London City Airport from the start of the winter schedules in late October 2014.
UK low-fare carrier Flybe has announced it will launch a mix of domestic and international routes from London City Airport in winter 2014/2015 as first revealed by The HUB last month and brought a Bombardier Dash 8-Q400 to the Docklands Airport on the morning of April 23, 2014 to celebrate the official launch of the five new routes.
Flybe is to offer new domestic links from London City to Belfast City, Edinburgh, Exeter and Inverness and an international connection to Dublin, a market that is expected to become an integral part of its future network under its revised business strategy. The new routes will launch from the start of the northern winter schedule in late October 2014. These will be supplemented with off-peak leisure flights to selected ski, regional French and northern Spanish destinations which are expected to be announced in the coming months.
Flybe will deploy five growth aircraft for its London City operation which will be based at three of its regional bases, and are expected to fly up to 500,000 passengers annually. It will offer a four times daily services from/to Edinburgh and Dublin, three times daily services from/to Belfast and Exeter and twice daily from/to Inverness. The carrier expects the new routes will offer enhanced links into the UK capital as well as appeal to a significant number of City and Canary Wharf-based passengers who need to access the UK regions and neighbouring European destinations.
"Today's announcement is a significant landmark in the re-birth of Flybe. We are delighted to re-enter the London market at London's most convenient airport following a rigorous profitability analysis utilising our strict route assessment model," said Saad Hammad, chief executive officer, Flybe. "Dedicating five growth aircraft initially to these new routes is a major statement of intent and we look forward to building a successful and growing presence there over the coming years. Flybe is today already connecting over 7 million passengers a year across the UK and Europe. With a major London connection, we reaffirm our place as the UK's largest regional airline."
Flybe previously served London City Airport while it was still operating under the British European brand but ended operations there in January 2005 when it closed its remaining route to Isle of Man. An analysis of data from OAG Schedules Analyser for the past ten years shows no airlines have operated direct air services from London City to Exeter or Inverness (ScotAirways did serve the latter route for a limited time at the start of the 2000s), while Belfast City only saw a limited operation by Air France partner CityJet between April 2007 and June 2008. The Dublin and Edinburgh routes, flown by CityJet and BA CityFlyer, respectively, will be the only route with head-to-head competition.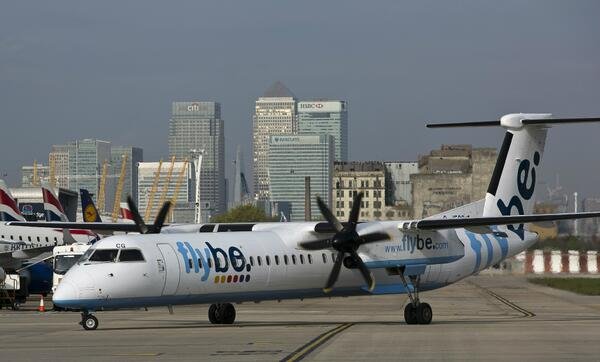 The international link between London City and Dublin will see Flybe entering one of the world's busiest city pairs. Dublin - London is actually the biggest international city pair in Europe and the fifth biggest in the world with 3.9 million passengers flying between the cities in 2013, a six per cent increase on the previous year. Flybe has been operating out of Dublin for 12 years and currently offers links to Donegal, Exeter and Southampton.
Under its restructuring, which has seen a number of loss-making routes already cut from its network, Flybe is now looking at two key business areas for development. These are as a regional branded airline, providing scheduled services connecting passengers travelling in the regions, both on business and visiting friends and relatives, to each other and to international carriers at metropolitan airports; and as a regional "white label" provider, where Flybe provides crew under contract on a maintained and insured aircraft belonging to Flybe but operated on behalf of a third party airline (as it currently does for Finnair in Finland and Brussels Airlines in Belgium).
The expansion of Flybe-branded scheduled operations will primarily involve the development of new routes and bases within the UK, and are likely to occur over a 12 to 24 month timeframe. Following completion of the route rationalisation strategy, the airline plans to open a number of new routes in the next two years and is working with a number of regional airports. The airline announced last month that it had identified nine routes from its New Route Planning Selection Model, but revealed that an additional ten aircraft will be required in order to service these identified routes.
The network changes from Flybe are part of a new strategy that also includes a major brand refresh and the launch of a reinvigorated product and service offering dubbed 'Flybe Purple', which the carrier says brings to life its core business of time-saving, punctual travel with the introduction of a vibrant, dynamic modern 'look and feel'. The airline is also adopting an interesting 60:60 guarantee that promises customers if a flight arrives more than 60 minutes late at its destination due to a delay within Flybe's control, they will qualify for a £60 voucher towards their next flight as long as they book within 60 days.