Qatar Airways' highly anticipated arrival of its A380 fleet moved one step closer, with the announcement that from June 17, 2014 the aircraft will deployed on the carrier's London Heathrow route from Doha's new hub at Hamad International Airport. The first of 13 aircraft it has on order, Qatar Airways is set to receive three A380 aircraft in quick succession this summer and the new aircraft will commence operations on the 'QR003' and 'QR004' rotations to and from London Heathrow.
"It is a significant moment in our airline's history to welcome these aircraft into our rapidly expanding fleet," said His Excellency Akbar Al Baker, chief executive officer, Qatar Airways. "Operating on the Doha to London Heathrow route, these aircraft, with their customised cabins, will set a new level of comfort for our passengers, who will also benefit from a smooth and pleasant passenger experience at the world's newest airport, Hamad International Airport, the soon to be opened new home of Qatar Airways.
The hub carrier will configure the aircraft in a three-class arrangement. It recently revealed its new First Class A380 seat at the ITB Berlin trade show, which features a 90-inch seat pitch, transforming into a fully flat bed, together with an expansive choice of entertainment options displayed on individual 26-inch television screens.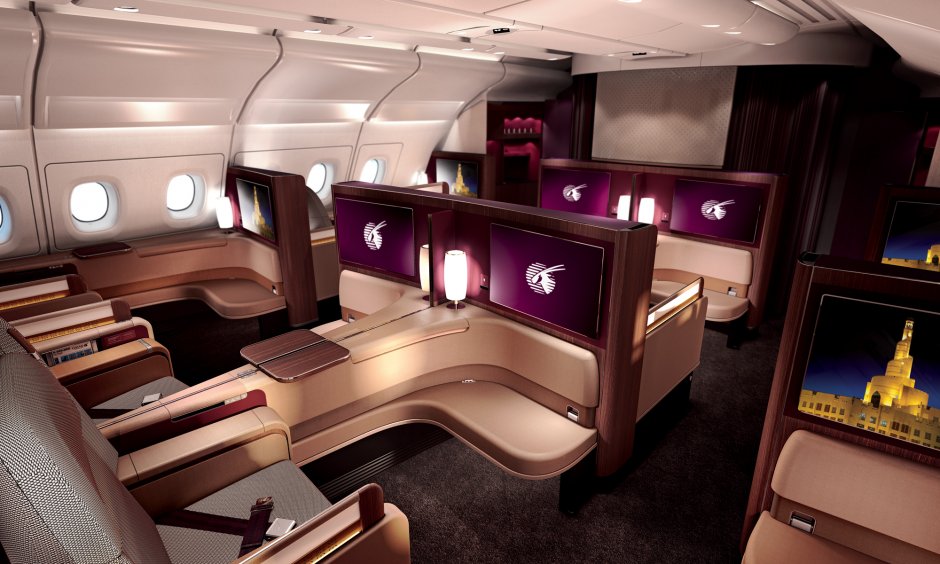 "We are committed to offering our passengers the best possible experience when it comes to travelling with the airline, not only in terms of custom-built comfort features across all of our cabins, but with the continued expansion of our young and modern fleet," explained Al Baker.
The arrival this year of the airline's first A380 marks a significant milestone for the airline, whose future home, Hamad International Airport (HIA), has been designed to cater to the aircraft, with six contact gates designed specifically for the superjumbo. In addition, the maintenance hangar at HIA – which is the largest in the world – is able to accommodate two A380s simultaneously.
Qatar Airways will configure its A380s with 517 seats with space for eight passengers in First Class, 48 in Business Class and 461 in Economy. Ahead of the arrival of the first aircraft it has this week revealed an additional glimpse inside the aircraft by releasing designs of the First and Business Class lounge at the rear of the aircraft's upper deck and the luxurious First Class bathroom interiors.
"Unrivalled onboard passenger comfort is an increasingly important differentiator and is becoming a fundamental deciding factor driving passenger choice – and Qatar Airways has designed its A380 with this firmly in mind," said Al Baker. The carrier says the First Class bathrooms have also been customised to create a spa-like warmth and comfort.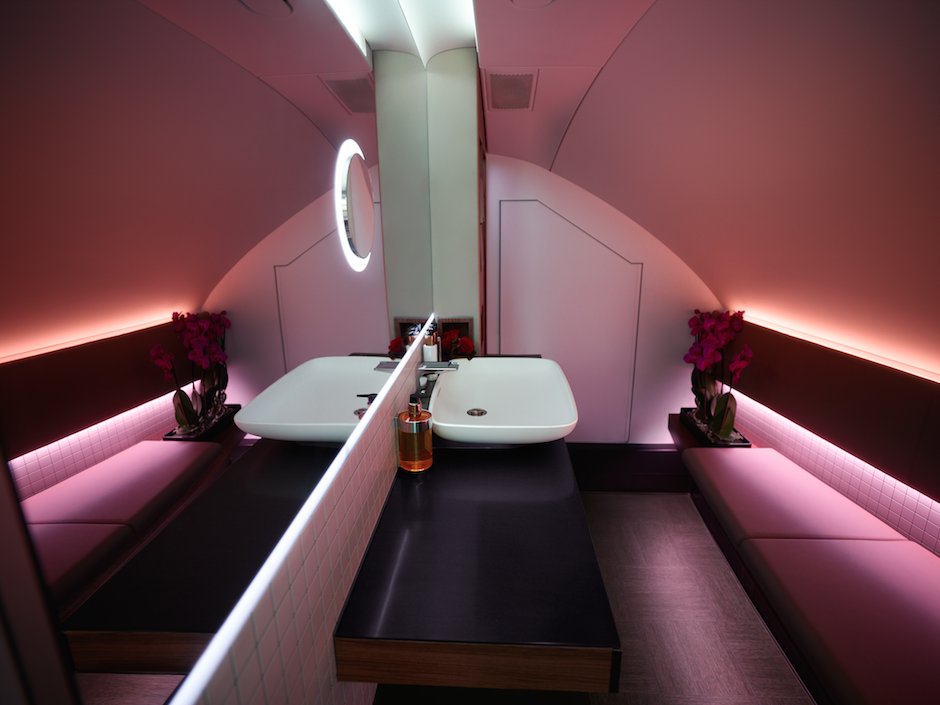 The airline is also celebrating a year of intensive fleet growth and recently becoming a member of the oneworld global alliance network. In addition to the 13 A380 aircraft the airline currently has on order, Qatar Airways is also set this year to welcome the first of 80 A350 aircraft, as launch customer for the new generation airliner. This forms part of Qatar Airways plans to significantly expand its fleet with 300 additional aircraft on order, worth more than US $50 billion, including the Boeing 787 and 777X.
Where does the A380 Fly? Read our April 2014 network report on the operations of the type!
The carrier has seen rapid growth in just 17 years of operation, to the point where today it is flying a fleet of 131 aircraft to 137 key business and leisure destinations across Europe, the Middle East, Africa, Asia Pacific, North America and South America. Over the next few months, the network will grow further with Larnaca, Cyprus (April 29), Al Hofuf, Saudi Arabia (May 15), Istanbul Sabiha Gökçen Airport, Turkey (May 22, 2014), Edinburgh, Scotland (May 28, 2014), Miami, USA (June 10, 2014), Haneda, Japan (June 18, 2014), Dallas/Fort Worth, USA (July 1, 2014) and Djibouti (July 27, 2014).