Etihad Airways Confirms Initial A380 and 787 Routes
The Abu Dhabi-based airline's first Airbus A380 will operate commercially to London Heathrow from December 2014, while its first Boeing 787-9s will debut on routes to Düsseldorf from December this year and then to Washington DC and Mumbai from January 2015.
Etihad Airways, the national airline of the United Arab Emirates, has announced the first destinations for its first Airbus A380 and Boeing 787 Dreamliner aircraft after unveiling full details of the interiors of the aircraft at the Arabian Travel Market in Dubai this week.
The Abu Dhabi-based airline's first A380 will operate commercially to London Heathrow from December 2014. A second A380 will operate on the same route from the first quarter of 2015 and by the end of 2015, Etihad will have five of the type in operation, with plans to also introduce them on routes to both Sydney and New York JFK.
"The A380 will be used to provide additional seats on existing routes where there is a need for increased capacity, and in particular, high demand for first and business class travel," said Peter Baumgartner, chief commercial officer, Etihad Airways.
The airline has a total of 10 A380s on firm order. Four A380s will arrive in 2015, three in 2016 and two in 2017. Each aircraft is designed to carry 498 passengers in four living spaces on the aircraft. This includes two VIP customers in its new The Residence by Etihad concept, nine customers in an innovative First Class Apartments layout, 70 customers in its new Business Class Studios, and 417 customers in Economy Class.
https://www.youtube.com/watch?v=ZXG60N3kt5Y
Etihad also has major plans for the B787 which enters the fleet in the final quarter of 2014. Etihad's first B787-9 will enter commercial service in December 2014, with a second aircraft entering service in January 2015. As with the A380, by the end of 2015, Etihad will have five of the type in operation. The first B787s will initially be deployed on its route between Abu Dhabi and Düsseldorf from December this year and then to Washington DC and Mumbai from January 2015. Services to other cities will be confirmed in 2015 as more B787s enter the airline's aircraft fleet, says the carrier.
The airline has a total of 71 B787s scheduled for delivery between the end of 2014 and 2023, including 41 B787-9s and 30 B787-10s, making it the largest customer of the aircraft type in the world. Two B787s are scheduled for delivery in Q4 2014 with three due to arrive in 2015, three in 2016 and nine in 2017. All five initial B787 deliveries will have a three-class arrangement aboard the aircraft, configured to carry 235 customers. There will be eight First Suites in First Class, 28 Business Studios in Business Class and 199 Economy Smart Seats in Economy Class.
https://www.youtube.com/watch?v=jhG_1LDFO4A
"The B787 is a fantastic addition to our fleet and, similar to the A380, it sets new standards in terms of passenger comfort, product and, crucially, economics. Over the coming years this next-generation aircraft will be used by Etihad Airways to launch flights to new destinations, add capacity in existing markets and progressively replace existing, less-efficient aircraft," said Baumgartner.
The arrival of the two new airliners will play a key role in Etihad's future business strategy as in introduces a completely new interior offering. "We are the fastest growing airline in commercial aviation, and by unveiling our plans for this magnificent aircraft and setting new benchmarks in onboard product, service, hospitality and style, we have redefined what flying is all about," added Baumgartner.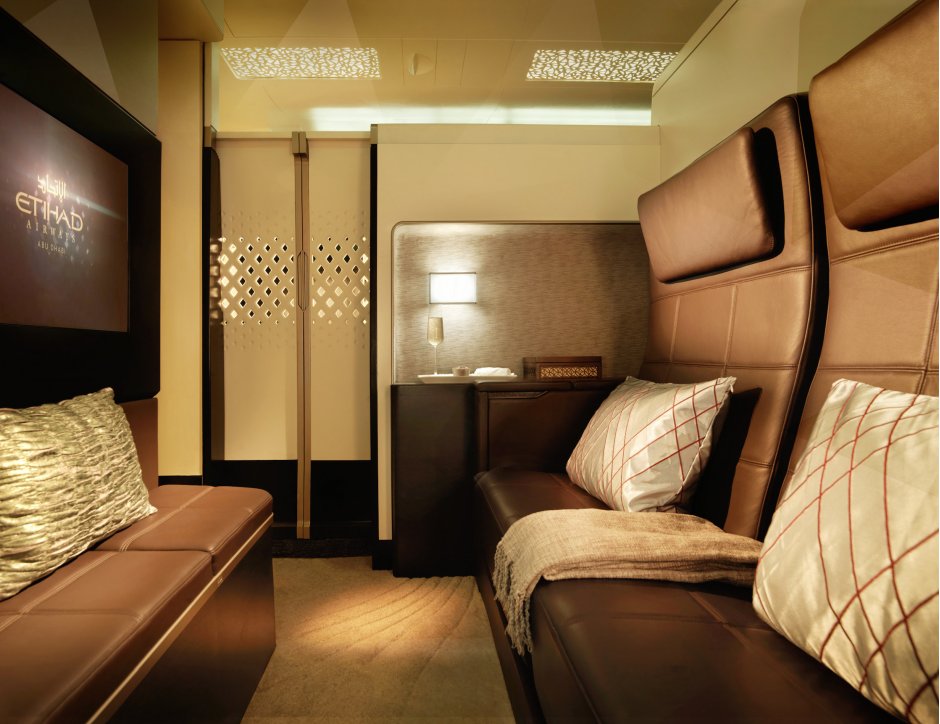 The airline is certainly establishing a new era in luxury air travel with the launch of The Residence by Etihad, the world's first private multi-room cabin on a commercial passenger aircraft. The Residence will feature a living room, double bedroom, separate ensuite shower room, and for the first time in the airline industry, a dedicated, trained Butler.
"The Residence will set Etihad Airways apart from the rest of the industry and allow us to provide the complete range of world-class products and services to cater for the individual tastes of every VIP traveller," said Baumgartner.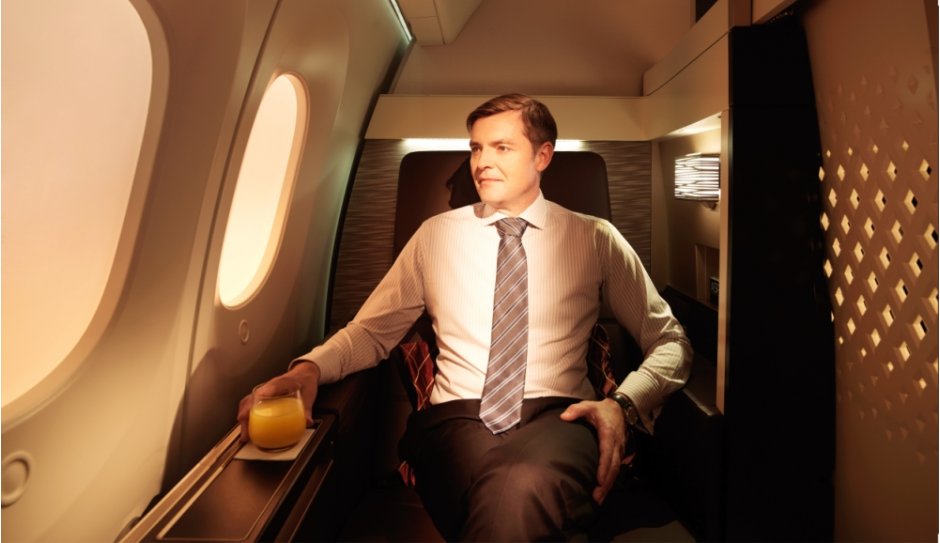 Etihad says it will also set a new industry standard with the launch of its new First Apartments and First Suites which provides a space for passengers to enjoy a luxurious travel experience in an all-encompassing private space that allows them to relax, be entertained, dine, socialise, and work.
The First Apartment on the A380 will offer a complete living space with a reclining lounge chair and an ottoman which converts to become a separate 80.5 inch long fully-flat bed. The First Suite on the 787 will offer guests an enhanced suite with chilled mini-bar, complete privacy and centre seats which can be joined to create a double bed.
Nine First Apartments will be located in the upper deck of Etihad's A380s, six of which have 'connecting doors' that allow them to create apartments for guests travelling together. Benefitting from the A380's size, each First Apartment has a total area of 39 square feet, offering 74 per cent more space than Etihad Airways' existing First Class suite.
"The launch is the culmination of five years of research, design and implementation, but the hard work has paid off. The final product is far superior to anything available in the market today and more akin to the offerings of the world's top five-star hotels, as guests onboard our A380 and B787 will soon discover," said Baumgartner.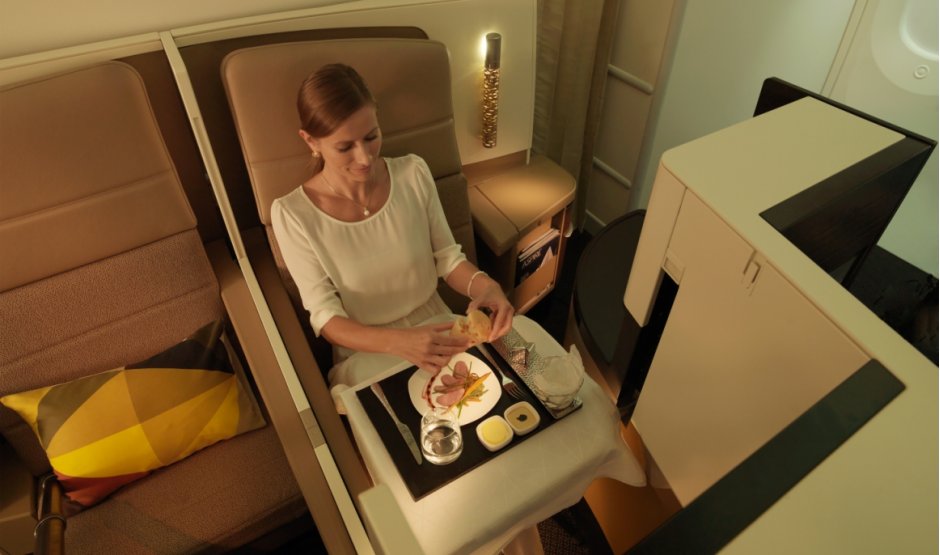 Its third living space, the next-generation Business Studio, offers Business Class guests a space where they can 'work, rest, and play', says the airline. The Business Studios, which are arranged in a 1-2-1 configuration, giving direct aisle access to all guests, are also the airline's first dovetail (forward and aft) layout, allowing optimal use of cabin space. The suite has a 22 inch wide seat and separate ottoman, which together create a fully-flat bed of up to 80.5 inches long.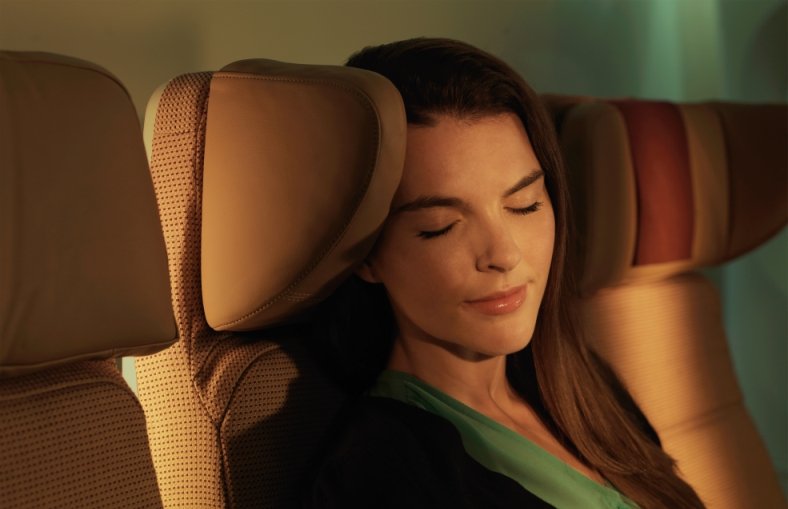 The enhanced comfort and enjoyment will not just be limited to the premium cabins though. "Etihad Airways has always understood the importance of providing a travel experience that cannot be matched by others, and we have spent the past five years creating an Economy Class product that will be favoured by millions around the world," said Baumgartner.
Alongside various entertainment and product offering improvements, the new Economy Smart Seat onboard the A380 and 787 will be customised with a unique 'fixed wing' headrest which offers greater comfort and relaxation to guests. Upholstered in locally-sourced camel leather, the fixed wing headrest is designed to provide a firm surface for guests to rest their heads, as well as additional privacy between seats.