Canadian carrier WestJet Airlines has inaugurated scheduled flights between Toronto and Dublin, its first long-haul link. The carrier inaugurated the seasonal transatlantic service, which flies via St John's in Newfoundland, on June 15, 2014, with the Boeing 737-700 operating the flight touching down in the Republic of Ireland capital the following morning. The airline, like many other low-cost carriers, has been actively studying the launch of long-haul services across the Atlantic and this route is seen as WestJet testing the water before expanding its activities further.
"This represents a very significant strategic step in the growth of WestJet. As we've expanded our reach, grown our fleet and added new products to broaden our appeal to different travel segments, it's always been a dream of many WestJetters to one day be able to fly our guests to Europe. Today, the dream comes true," said Gregg Saretsky, president and chief executive officer, WestJet Airlines.
For WestJet it appears the trial is already proving successful with strong advanced bookings recently prompting a three-week extension of the service from October 5, 2014 until October 25, 2014. "The response on both sides of the Atlantic has been nothing short of phenomenal," explained Saretsky, who revealed ata reception at Dublin Airport to celebrate the inagural flight that already the new service "was close to 90% full .. at the rate this is going we might have to make it year-round".
"With one in five Newfoundlanders able to trace their ancestry to Ireland, there is a great deal of travel between the two coasts and we are very pleased to have made it more affordable for so many families and friends to be together this summer. This service is about bringing our low fares and remarkable, people-driven guest experience to new routes and new markets including, for the first time, Europe," he added.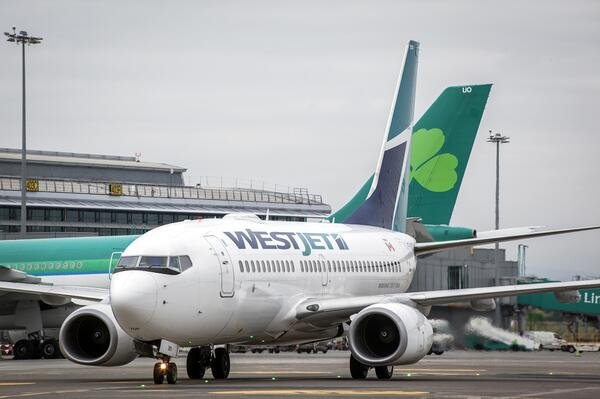 Toronto is already linked to Dublin by Air Canada rouge and Aer Lingus, but this new route also establishes a direct link between Ireland and a region of North American that has a long and deep-seated connection with the European country. Newfoundland was the site of the earliest migration from Ireland to North America, especially from Ireland's south-east and known as 'Talamh an Eisc' in Irish, the land of fish, Newfoundland is the only place name outside of Ireland or Britain which has a distinctive Gaelic name. The new route offers opportunities to develop connections and co-operation in the area of oil and gas, fisheries and maritime."
It is understood that WestJet is looking at other markets that can be served from Canada using its current single-aisle equipment. As our report last week on Air Canada's new year-round service between St John's and London Heathrow highlighted (see Air Canada to Offer Year-Round London Link from St John's), there are strong flows from the Canadian city to destinations such as Oslo, Paris, Aberdeen, Amsterdam and Stavanger that could help support a route with onward connections through Canada.
However, WestJet continues to study the introduction of widebody aircraft into its fleet that will enable non-stop flights to be operated between more city pairs and an executive of the carrier revealed in this year's Routes Europe Strategy Summit in Marseille, France earlier this year that the carrier has never been closer to formalising a deal.
"We have looked at introducing widebody aircraft into the fleet many times over the years," said John Weatherill, network and schedule planning, WestJet Airlines, during the 'Low-Cost Carriers – The next frontier for innovation' panel discussion at Routes Europe, "but we are probably the closest we have ever been to making a decision."
Canada is a very strong market for Dublin Airport and with WestJet's new route to Newfoundland there are now four airlines operating between Dublin and Canada this summer serving three separate Canadian cities. In our analysis, below, we look in greater detail at passenger demand between Canada and the Republic of Ireland. According to MIDT data an estimated 91,000 bi-directional O&D passengers flew between the countries in 2013, up 14.3 per cent on the previous year.
Data provided by