The National Competitiveness Foundation of Armenia (NCFA), an independent entity founded through a partnership between the Government of Armenia and a group of leading representatives of the private sector from the United States, Russia, the European Union and the Middle East has been working with the mandate to achieve bring development opportunities to the country and enhance its competitiveness in key areas of economic activity.
One of its key projects is the NCFA Tourism Program with the main objective to promote the image of Armenia as a favourable and attractive destination, as well as the effective presentation of Armenian tourism opportunities in international markets. It was through this strategy that it was in attendance at Routes Silk Road highlighting how the country has developed an open skies strategy to rebuild its air connectivity since the collapse of its former national carrier Armavia.
According to Dr Arman Khachaturyan, chief executive officer, NCFA, the aviation landscape has completely changed following the adoption of the revised strategy and Armenia can now better compete on a stronger footing in the international market and attract more airlines into the country, boosting inbound and outbound travel.
Dr Khachaturyan, previously boss of the national postal operator of Armenia, HayPost and previously Reengineering Director at Armenia Telephone Company and a policy analyst at the Centre for European Policy Studies (CEPS), Belgium, explained to The HUB Daily just how far Armenia's aviation industry has come in just a few short years.
"A restrictive aviation policy had been holding the country back for many years. The previous bilateral air service agreements it had with 47 countries offered little room to move with severe limitations on frequencies, destinations, prices and capacities in a clear protection of local air carriers. An over-powered regulator was responsible for all functions of business and policymaking meant there was a clear lack of competition on most routes, meaning air fares were positioned artificially high and not in line with market demand," he said.
This meant non-stop flight options from Armenia were limited to mainly short-haul markets served by local carriers as medium- and long-haul international airlines were restricted from entering the market, despite notable demand for direct services to many foreign markets. "The collapse of national carrier Armavia changed this and has acted as a catalyst for modernisation," said Khachaturyan.
Key questions were asked, according to the executive. "What are the objectives for the country? What is the right policy framework to achieve those objectives?What is the right regulatory and governance structure? The answer was Open Skies and the benefits are clear for all to see," he said.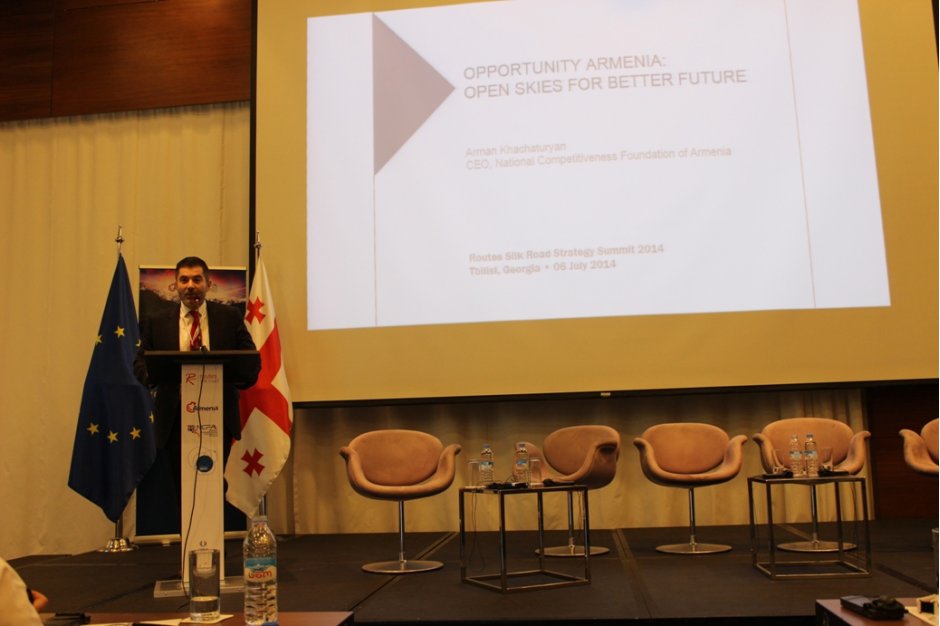 An Economic Impact Study on the introduction of Open Skies in Armenia estimates a Gross Domestic Product (GDP) gain of between $330 and $410 million in 2016, according to Khachaturyan. It will create 18,000 to 23,000 new jobs, mostly in the aviation and tourism sectors,increase passenger numbers by between 20 and 25 per cent and reduce average ticket prices by between ten and 50 per cent, he adds.
"The overall goal is to create a good reputation for the Armenian aviation sector nationally and internationally and the new national regulatory framework is well placed to achieving this," said Khachaturyan. With the framework in place, Armenia's geographical position lends itself well to short-haul connections into markets in Europe, to Russia, Iran and the Middle East. "With around three million Armenians living within the country and eight million more living outside, the diaspora represents a significant potential of inbound tourists," added the executive – around two million of these are in Russia and a notable 1.5 million in the United States.
Armenia's current aviation strategy has been focused on the Russian capital, Moscow, leaving unsatisfied demand in other regions without direct routes. According to Khachaturyan, the liberalisation of the air market will "unleash inbound traffic to Armenia". For example, he said, around 45,000 passengers a year fly indirectly between Germany and Armenia every year, while around 140,000 US tourists visit the country every year despite no direct flights.