ROUTES SILK ROAD: Strategy Summit Review - Day Two
Sponsored by the National Competitiveness Foundation of Armenia, the Routes Silk Road Strategy Summit brings together leading industry experts to debate air service and route development issues affecting commercial aviation across Silk Road area in a series of addresses, presentations and moderator led panel discussions.
A packed audience were in their seats early this morning for the second day of the Routes Silk Road Strategy Summit, following yesterday's engaging content. The half day morning presentation ahead of the start of the formal face-to-face meetings this afternoon started with the return of Davit Mamulaishvili, head of ground operations and customer service at Wizz Air, to the stage for a keynote address on the Central and Eastern European carrier's development and its role in the Georgian aviation business.
Mamulaishvili's short presentation highlighted the amazing rise of Wizz Air since it launched scheduled services from Budapest just over ten years ago. The carrier has emerged as a major player in a market where air connectivity was previously limited. It now has 17 operational bases across ten Central and Eastern European countries (an 18th will open in Craiova on July 23, 2014) carrying 13.9 million passengers a year across a network encompassing 300 routes to 96 destinations in 35 countries.
"The carrier offers a low-fare network connecting East and West," said Mamulaishvili with flights as far afield as Glasgow in the UK and Madrid and Malaga in Spain to the west and Baku in Azerbaijan, Dubai in the United Arab Emirates (UAE) and Georgia's own Kutaisi in the east. Wizz Air has followed a steady course with consistent growth over its ten years and more forecast for the years ahead. In 2013 this was provided by the introduction of six new aircraft and Mamulaishvili said nine are scheduled for arrival through 2014.
Wizz Air has found a niche in it Central and Eastern Europe and has developed a network policy to support the market with around 64 per cent of its flights at secondary airports where costs are much lower and 36 per cent at the hub airports, which support larger passenger flows. However, like all modern carriers its focus remains on costs and this strategy has seen it being recognised as one of the most productive airline workforces with 8,000 passengers per employee per year, said Mamulaishvili.
In the Routes Silk Road home market of Georgia, Wizz Air serves the purpose-built low-cost David the Builder International Airport in Kutaisi and is already seeing positive returns on its routes since it made its debut in September 2012. In 2013 the carrier handles 173,000 passengers and Mamulaishvili forecasted it would almost double this to 332,000 passengers this year.
The success of Wizz Air in Georgia will certainly result in other airports across the Silk Road and in the Newly Independent States (NIS) pitching to attract the carrier to their own facilities. Non-committal to its growth in the area Mamulaishvili said "our strategy is to remain as flexible as possible as the market continues to change," but he did make it clear what airports would need to do to attract the operator. "It is all about the demand data. Airports and tourism authorities have to be upfront about the numbers as that is what will drive our growth decisions," concluded Mamulaishvili.
The importance of airports and tourism authorities following a joined-up approach was a key message also adopted by the second speaker of the day, Mike St-Laurent, senior consultant at ASM, the world route development consultants, who made a presentation on the importance of stakeholder collaboration in route development. Citing the now well known air service development 'Golden Triangle', he said it was increasingly important that airlines, airports and tourism authorities cooperate with their network strategies.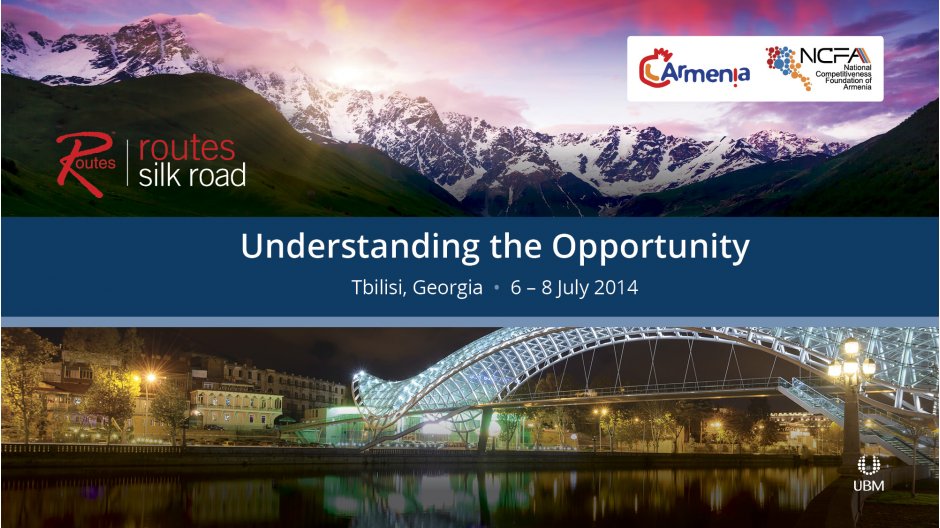 A recent ASM survey highlights the importance of stakeholder collaboration, said St-Laurent, a network development expert through years of working at Air Canada. "Airlines are telling us [ASM] risks and benefits need to be shared between airlines, airports, tourism boards and other stakeholders and they should work as a destination rather than as individual entities," he added.
To be successful, route support to an airline must include a plan to deliver traffic and revenue, according to the consultant. "New air services are valuable resources, with many airports and destinations competing for them and with aeronautical charges ranging from three to ten per cent of an airline's operating costs, discounting these charges, even down to zero, does not have a major impact on the viability of a new route," he said, adding: "The bottom line is that airlines expect stakeholders, who stand to benefit from new services, to play a role in ensuring their success."
With the UNWTO Routes Silk Road Task Force Meeting taking place in collaboration with Routes Silk Road delegates were able to hear a video message from Taleb Rifai, secretary general, UNWTO which was recorded especially for the event. He highlighted the growing importance of tourism in the global economy and highlighted Georgia as a "leading example" of how open skies and visa facilitation can work.
Over the last twenty years, tourism has grown to become one of the most important global economic sectors; a sector that drives growth and development, creates millions of jobs, spurs exports and investment, and transforms the lives of countless people for the better. Over one billion international tourists now travel the world every year, up from 508 million in 1994. By 2030, UNWTO forecasts international arrivals to reach 1.8 billion.
To maximise the opportunities arising from tourism's growth among Silk Road destinations, a number of key challenges remain to be addressed, according to UNWTO, including visa facilitation and connectivity. "Despite the significant progress made in recent years, destinations around the world still require a visa from about two-thirds of the world ́s population (66%) prior to travel," it says, adding "we must work together to improve the policies and processes governing visas, particularly if Silk Road destinations are to benefit from the growing source markets of China, Russia and India."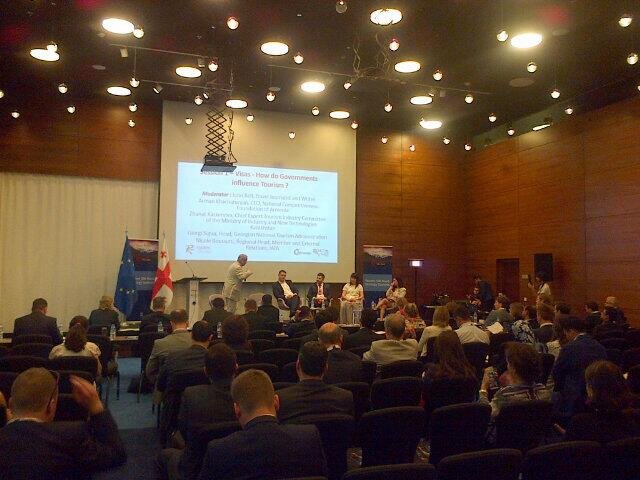 These comments flowed nicely into the first panel session of the day on the subject of visa and how Governments influence tourism, which was expertly moderated by respected travel writer, John Bell, in a relaxed but engaging, and at time humorous, style. Amazingly 73 per cent of the world's population still needs a visa to enter the Silk Road countries, and this is down from 87 per cent in 2009. The session explored what are the barriers to change and how do States relax regulations and still maintain security and have we actually seen clear benefits in the Silk Road from reducing travel barriers.
Giorgi Sigua, head of the Georgian National Tourism Administration, said the recently-signed agreement with European Union will boost tourism arrivals even though discussions continue over the relaxation of Georgian requiring visas to fly into the Continent. "We are working to sell our destinations and attract visitors so it is not friendly to then complicate access to the country with clumsy visa procedures," he said.
In neighbouring Armenia it is a similar story and Arman Khachaturyan, chief executive officer, National Competitiveness Foundation of Armenia, said: "Tourists have a key critical effect on the economic development of small countries such as Armenia". He said that the State is now in discussions with a number of other Governments to remove visa restrictions to ease access into the country, including Australia, Japan and the United States. "This is all about bridging cultures and this region has a big role to play," he added.
It is a similar situation in Kazakhstan where Zhanat Kazkenova, chief expert tourism industry committee of the Ministry of Industry and New Technologies said that it too is in talks to explore the liberalisation of visa restrictions with both China and Kyrgyzstan. "We currently have visa free access into Kazakhstan from ten countries but expect this to rise," she said.
According to Nicole Boussioti, regional head, member and external relations at airline trade organisation IATA visa and passport issues are a big cost to the world's airlines. "Overall, excessive security controls cost the industry $8.5 billion," she explained. "We can't say stop visas, but we can be smarter about how we work with the processes and ease this pressure on the industry."
Introducing audience participation, John Bell questioned Wizz Air's Davit Mamulaishvili for the airline viewpoint on the visa issue. Although not wanting to provide a precise figure, he said visa and passport issues cost the low-cost carrier more than $500,000 a year. "Visa liberalisation would help boost our traffic and would be music to our ears," he added.
It is clear from data that the relaxation of visa restrictions does bring immediate benefits, although it can also bring "nice problems," according to Giorgi Sigua. "The growth in arrivals to Georgia has meant we now have a lack of hotels to meet the growing demand. This is a nice problem to have and we are working to resolve this as quickly as possible."
Discussions during the session did raise the question of the introduction of a common Silk Road visa which would allow accessibility across the region into, for example, Armenia, Georgia and Azerbaijan and something that has been adopted by other countries across the world. This was a subject that was immediately taken into the Subsequent UNWTO Silk Road Task Force Meeting for debate among Members.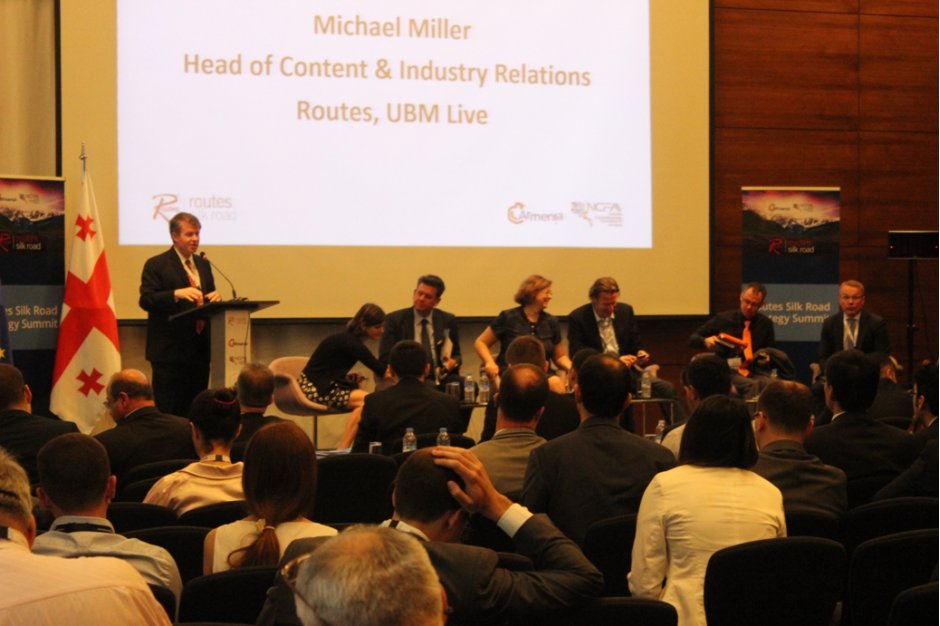 The final session of the morning and the last of the Strategy Summit turned to the region's airports and asked the question about the importance of brand and how destinations work with stakeholders to increase air services.
Daniel Burkard, director external and international relations and deputy airport director, at Domodedovo International Airport in the Russian capital Moscow, highlighted how it was essential for airports to sell themselves to the passenger alongside airlines, although brand differentiation varied massively from one airport to another depending upon the market they served. "For us it is very important in Moscow where there is strong competition for air services," he said.
He believed that more passengers are becoming selective of air services through the airport experience and not just the airline offering and cited a personal experience of such a situation. "There are some airlines that I really like to fly but changes at hub airports impacting flight connections mean that I no longer fly with the carriers," he said.
Although acknowledging that the air service development 'Golden Triangle' is important to the business, he noted that in some markets such cooperation is still a long way away from being the normal. "In all my years in Russia I don't think I have ever been approached by a tourism body." Reinforcing his views on brand, Burkard said it was essential for airports to speak to their customers and tailor their product to their needs. "We serve around 84 destinations across Russia and the CIS, many that are only served from our airport so we have a retail offering to meet their buying habits," he explained, and noted that non-aeronautical income accounts for a "big" proportion of overall revenues.
This is a view shared by Joni Sundelin, senior vice president, airport network and marketing, Finavia, who said that it has adopted a custom passenger experience at its airports across Finland and especially at Helsinki Airport which is an increasingly popular transfer point for those flying between Europe and Asia.
While Moscow's Domodedovo International Airport is competing with city rivals, Budapest Airport is competing with other major Eastern European capitals, said Balázs Bogáts, head of airline development, at previous Routes Europe host, Budapest Airport. He said the carrier's well recognisable orange and black rebranding exercise and corporate realignment was driven by differentiating the airport from its rivals, especially at industry events such as World Routes and regional forums. "Our brand is very important to us," he said.