Qatar Airways Receives Delivery of its First A380 After Three-month Delay
After the announcement earlier this year, Qatar Airways have finally welcomed the first of its ten Airbus A380 Aircraft on order, at a ceremony in Hamburg earlier today.
The arrival marks a new chapter for the airline whose future home at Hamad International Airport, (HIA) has been specifically designed to cater to the aircraft. The new A380 will commence operations on the 'QR003' and 'QR004' rotations to and from London Heathrow, and later to and from Paris Charles De Gaulle.
The delivery of the aircraft- which had been pushed back nearly three months was welcomed in the presence of His Excellency, Akbar Al Baker, Qatar Airways Group Chief Executive:
"By introducing the A380 to our ever expanding fleet, it will strengthen Doha's position as a key regional and global aviation hub. As we are continuously reviewing our passenger offering to always provide the very best in class, for us the arrival of the A380 opens a new chapter in the unparalleled, signature service we provide to travellers on board with Qatar Airways."
The original delivery date was set at June 17, 2014, but was initially set back by two weeks. Further delays meant services to both Doha- London Heathrow and Doha – Paris CDG being postponed until August 1, 2014 and August 15, 2014 respectively. Another delay saw the Super Jumbo inaugural for Doha – London Heathrow tentatively scheduled for September 1, 2014 before a final delay to the service until October 1, 2014. The Doha - Paris CDG service is delayed until November 1, 2014 with the 777-300ER aircraft operating in its place October 15- October 31, 2014.
The airlines carrier will be configured into a three-class arrangement, with all seats containing a high-tech entertainment system, and comfortable interior. The A380 aircraft is designed to accommodate 517 passengers in total- 461 in Economy, 48 in business, and eight in first class- featuring the widest first class seats in the industry.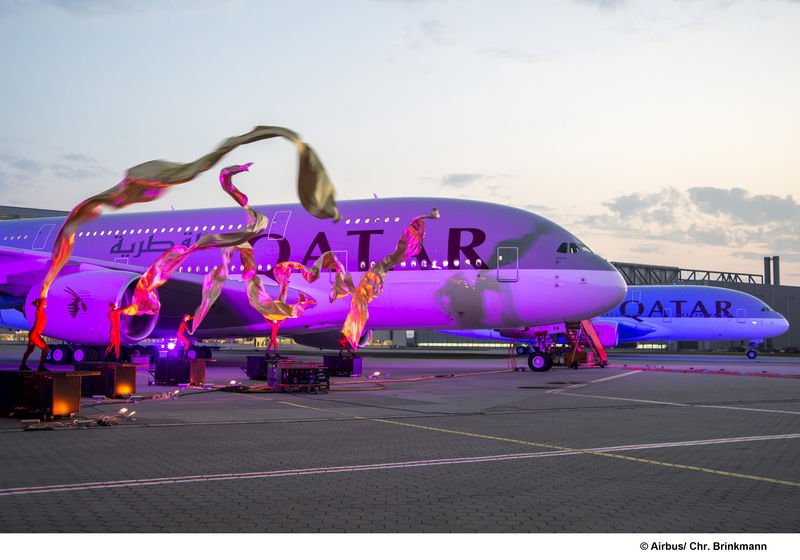 "We are very pleased to welcome Qatar Airways as the latest airline to offer unprecedented A380 services to the world. The multi-award-winning carrier and our flagship product are a perfect match to excite the flying public in all markets," said Fabrice Brégier, Airbus President and CEO.
The aircraft has two full-length passenger decks - First and Business Class cabins will both be located on the aircraft's upper deck, along with a special lounge area for premium passengers. First Class passengers will enjoy a 90-inch seat pitch, transforming into a fully flat bed, with an expansive choice of entertainment options displayed on individual 26-inch television screens.
The below chart shows a significant growth in passenger capacity in the past decade on Qatar Airline flights from Doha to London (LHR) and Paris (CDG). The data shows a 353% increase from 2004-2014 from Doha to Paris (CDG), and a 229% increase during the same time period from Doha to London Heathrow.
Data provided by

"Leading carrier Qatar Airways aims for the best, and we are proud our A380 is an essential ingredient in their strategy to showcase their excellence and hospitality, connecting the world," said Brégier.
The airline is the 12th world class carrier to fly the A380, and further expands the growing fleet- with this delivery bringing the global A380 fleet up to 142 aircraft, having accumulated over 1.5 million flight hours on some 180,000 commercial flights.
To date, over 65 million passengers have flown on board an A380. Every four minutes, an A380 either takes off or lands at one of the 41 airports where it operates today.