UK charter and airline sub-charter specialist, Titan Airways is tripling the size of its Airbus fleet with the introduction of two further Airbus A320 airliners, its commercial director, Alastair Kiernan confirmed to The HUB at World Routes in Chicago last night. The revalation that the two aircraft will be introduced into the London Stansted-based carrier's fleet in autumn 2014 and spring 2015 follows the successful launch of the carrier's first Airbus in 2013.
According to Kiernan, with an existing fleet of just a single A320 and six Boeing aircraft, the move is a strategic one for the carrier as it aims to introduce more modern, economical and environmentally friendly aircraft to the operation. "Our aim over the next five years is to gradually phase out older aircraft and modernise our operation by introducing further Airbus types, which may include the Airbus A319, A321 and A330, offering both diversity and total fleet commonality for the future."
"With the two new additions, which are equipped with the latest technology and modern passenger cabins, we aim to ensure our passengers benefit from the most comfortable in-flight experience, together with the high levels of customer service for which we are known," he added.
The initial Airbus has proven to be a highly popular choice among Titan Airways' airline and tour operator customers and the carrier anticipates strong demand for the two supplementary A320s from the airline sub-charter and package holiday sectors, as well as the ad hoc charter market.
The fleet growth follows the adoption last week of a new corporate branding for the business. The refined scheme, which will be applied across aircraft in the Titan Airways' fleet over the next 12 months, has initially been rolled out on one of the carrier's three Boeing 737-300QC aircraft.
The design, incorporating the airline's signature black, silver and orange colour palette, is a pared down version of the previous livery design which included the Titan Moon emblazoned large on the side of the aircraft. "We have established a strong brand identity with our unusual colour scheme and instantly recognisable logo but, although our aircraft have always stood out from the crowd, we felt that the livery needed updating in favour of a sleeker, more corporate look," said Kiernan, who worked in close conjunction with brand consultancy gda on the transformation.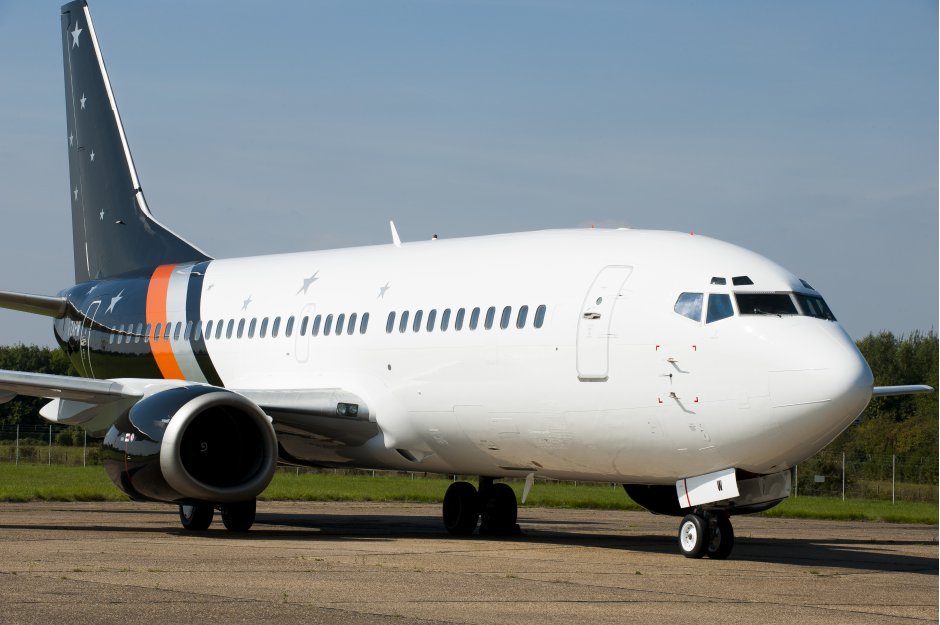 We spoke in greater detail with Alastair Kiernan at last night's reception about the current state of the European ACMI and charter market, on how the carrier has been working with tour operators to introduce niche air services and how excatly its fleet renewal will take shape.
Q) How would you describe the current state of the European ACMI and charter markets?
A) "Long-term ACMI is very sparse and demand seems to be mainly for larger aircraft such as the A330 / B777 etc. For narrow body operations, ACMI leases exist but they are becoming shorter to cover peak periods. Where in the past we would operate May – October, requests are now generally June – September. This makes it hard to sustain good profit margins and reasonable levels of utilisation. Fortunately we maintain a good mix of short / medium term ACMI lease and rapid response sub charter. Providing aircraft at short notice is something that we specialise in and we are usually the first port of call for urgent airline sub charter requirements. In our experience the market is quite buoyant for narrow body operations. We have an increasing wide airline customer base and it's an exciting sector because you never really know what is coming next."
Q) How Titan work with tour operators and specialist independent trael agencies to introduce new niche routes?
A) "Our tour operator business is limited due to the nature of our cost base. We do have some super tour operator and cruise flying though for a select few travel companies, mainly independents, as well as larger brands for our winter ski business which is paramount to keeping us going over the winter months. We are suited to niche operations where expectations are high and the levels of service can sustain higher seat rates. Plus we are often approached by tour operators who want to try something different or to operate into challenging airfields where most carriers do not wish to operate regularly. Once we have begun a partnership with a tour operator they tend to stick with us and often increase their levels of flying, citing high levels of customer satisfaction with the Titan service. We often see tour operator customers move from an ad hoc arrangement for peak weeks only to a season-long programme."
Q) How is your fleet currently split and how does that support your operations?
A) "We actually currently have several types within the fleet even including one Cessna Citation CJ2+ which is used for our own back up / crew movements and also charter including moving parts and crews for other operators and also human organs for transplant. The main fleet comprises three Boeing 737–300QCS which are used for overnight contract mail operations Mondays to Fridays and available daytimes and weekends for charter and airlines sub charter available in 130Y and our VIP configuration 44C; two Boeing 757-200 used extensively for charter and long range ad hoc as well as tours, offering great performance and a fairly unique offering now in the ad hoc charter market, as well as for ACMI lease and sub charter. We also have several configurations including a VIP 76 and 80C. The single A320 is used for ACMI lease, short, medium and long term as well as ad hoc charter and urgent sub charter work, while a single widebody, aBoeing 767–300ER, is used for ad hoc charter, ACMI lease and short notice sub charter."

Q) Why are you making a move to an Airbus fleet?
A) "We took on our first A320 in 2013 with the aim of gradually modernising our fleet to an all Airbus operation. The thought being we could operate a variety of sizes of aircraft with all different capabilities, range, performance etc including the A318, A319, A320, A321 and even the A330. We have in last few weeks purchased an additional A320 which is a 2011 YOM due to arrive this autumn and have leased another over a five-year period which is a 2005 YOM. This will take our fleet to three A320 aircraft by spring 2015. Two of these will be in 180Y for ACMI lease / subcharter and tour operator series flights. The third will be in 168Y for ad hoc charter operations and urgent sub charter requirements."
Q) Over what timescale will the fleet rollover take place?
A) "Our Boeing 737s, 757s and 767 will leave the fleet over the next four years, so there will be a natural progression to other Airbus aircraft. Who knows what is next! Our main aim is to modernise with newer more fuel efficient and environmentally friendly aircraft, to keep reducing our costs by ensuring our fleet have cross commonality ie in regard to flight deck training, spare parts etc. It is also priority to be able to provide like-for-like to the airline customers that rely and use our services and give their passengers a modern and comfortable environment."
Q) What you hope to achieve during your attendance at this year's World Routes?
A) "My aim is to generate more interest in assisting airlines who require additional capacity, wish to have a backup plan in the event of AOG or operational issues, require coverage of maintenance inputs and to get the name of Titan Airways out further afield as we are not yet so well known outside of Europe. With our Boeing 757 and 767 we have global operational capability so it's important to broaden our horizons. We strive hard to provide a sleep easy product, ie when you are in need of urgent sub charter or require us to fill in for an operation, we just turn up and do the job with a safe, modern, reliable aircraft that is clean, tidy and a crew that are fresh and ready to provide a great service and that are dedicated to our philosophy of going that extra mile with a flexible and reliable operation that we can be proud of. We have the privilege of operating for some amazing carriers including British Airways, British Airways Open Skies, Aer Lingus, Monarch Airlines, TUI Group, SAS, Thomas Cook Group, Air Berlin, German Wings, Royal Brunei to name but a few. I would like to come away with more contacts and will have hopefully sewn the seed that should they require our services we can provide."
Q) Why have you chosen to modify your corporate identity?
A) "We have just changed our colour scheme with the aim of generating some interest. We have been trying to raise our profile over the last couple of years and with the introduction of the Airbus aircraft to the fleet, hopefully with some interest from new airline customers. The idea being if we create a fresh new look to go with our newer aircraft types it may grab some attention. We are constantly trying to refresh our thoughts and our offering and always trying to do something different or better than any of our competitors. Next aircraft possibly an A321 or A330?!?! Who knows? The main aim is above all to stay safe, focused and do the best possible job we can for our airline customers."