Where Does the Boeing 747-8I Fly? October 2014 Network Update
Every month The HUB provides an update on the current schedules of three latest aircraft programmes, highlighting the routes the types are being deployed upon. We regularly look at the operations of the Airbus A380, Boeing 787 Dreamliner and Sukhoi SSJ100 Superjet and from June 2014 added the Boeing 747-8I to this list. We also reveal the network size of each operator and the top destinations served by the aircraft type. This list for October 2014 was compiled on September 30, 2014 and changes to planned routes are likely.
The data is all supplied by OAG Aviation using its OAG Schedules Analyser tool.
NOTE: Air China has now become the second commercial operator of the 747-8I and is due to place the aircraft into service initially on domestic routes linking Beijing with Chengdu, Guangzhou and Shanghai from late October 2014. However, this information was not included within the OAG database when we ran the report on September 30, 2014.
Data provided by

---
Lufthansa (LH)
Frankfurt (FRA) – Bangalore (BLR)
Frankfurt (FRA) – Beijing (PEK)
Frankfurt (FRA) – Buenos Aires (EZE)
Frankfurt (FRA) – Chicago (ORD)
Frankfurt (FRA) – Delhi (DEL)
Frankfurt (FRA) – Hong Kong (HKG)
Frankfurt (FRA) – Los Angeles (LAX)
Frankfurt (FRA) – Mexico City (MEX)
Frankfurt (FRA) – New York (JFK)
Frankfurt (FRA) – Sao Paulo (GRU)
Frankfurt (FRA) – Seoul (ICN)
Frankfurt (FRA) – Tokyo (HND)
Frankfurt (FRA) – Washington (IAD)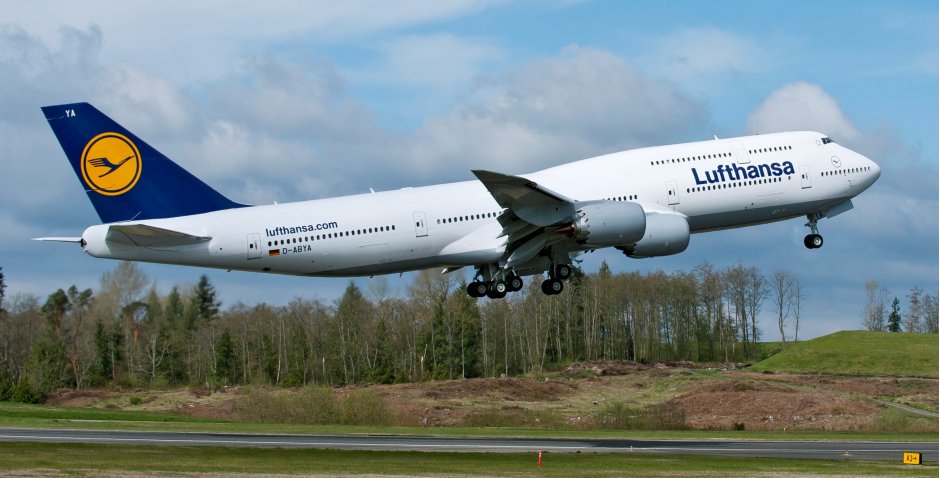 ---
Statistics
SCHEDULED BOEING 747-8I OPERATIONS BY AIRLINE (October 2014)

Rank

Airline

Seat Capacity

% Total Seats

Change vs Last Month

1

Lufthansa (LH)

255,826

100.0 %

TOTAL

255,826

-

-
SCHEDULED BOEING 747-8I OPERATIONS BY AIRPORT (non-stop departures; October 2014)

Rank (Oct-14)

Change (Sep-14)

Destination
Available Seats

% Total Capacity

Change vs Sep-14

1
-
Frankfurt (FRA)
128,106
50.1 %
+0.1 pp
2
-
Los Angeles (LAX)
21,230
8.3 %
(-0.8) pp
3=
-
Chicago (ORD)
11,966
4.7 %
+0.2 pp
3=
-
Mexico City (MEX)
11,966
4.7 %
+0.2 pp
3=
-
Sao Paulo (GRU)
11,966
4.7 %
+0.2 pp
3=
-
Hong Kong (HKG)
11,966
4.7 %
+0.2 pp
7
(-4)

Washington (IAD)

11,920
4.7 %
+0.2 pp
8
(-5)
Seoul (ICN)
11,194
4.4 %
(-0.1) pp
9=
(-6)
Delhi (DEL)
10,036
3.9 %
(-0.6) pp
9=
(-6)
Bangalore (BLR)
10,036
3.9 %
(-0.6) pp
11
(-8)
New York (JFK)
9,264
3.6 %
(-0.9) pp
12
NEW
Buenos Aires (EZE)
2,316
0.9 %
+0.9 pp
13=
NEW
Beijing (PEK)
1,930
0.8 %
+0.8 pp
13=
NEW
Tokyo (HND)
1,930
0.8 %
+0.8 pp
TOTAL

255,826