Where Does the Embraer 195 Fly? October 2014 Network Update
Every month The HUB provides an update on the current schedules of three latest aircraft programmes, highlighting the routes the types are being deployed upon. We regularly look at the operations of the Airbus A380, Boeing 787 Dreamliner and Sukhoi SSJ100 Superjet and from June 2014 added the Boeing 747-8I to this list. We also feature one guest type each month - last month this was the McDonnell Douglas MD-11 and this month looks at the Embraer 195, the largest capacity airliner in the Brazilian manufacturer's popular E-Jet family. We also reveal the network size of each operator and the top destinations served by the aircraft type. This list for October 2014 was compiled on September 30, 2014 and changes to planned routes are likely.
NOTE: Kenya Airways is also an operator of the Embraer 195 but its flights are listed in OAG Schedules Analyser under the 'E90' code used by the smaller Embraer 190, rather than the 'E95' code.
The data is all supplied by OAG Aviation using its OAG Schedules Analyser tool.
---
Air Dolomiti (EN)
Frankfurt (FRA) – Verona (VRN)
Munich (MUC) – Ancona (AOI)
Munich (MUC) – Bari (BRI)
Munich (MUC) – Bergamo Orio al Serio (BGY)
Munich (MUC) – Bologna (BLQ)
Munich (MUC) – Cagliari (CAG)
Munich (MUC) – Catania (CTA)
Munich (MUC) – Dubrovnik (DBV)
Munich (MUC) – Florence (FLR)
Munich (MUC) – Geneva (GVA)
Munich (MUC) – Genoa (GOA)
Munich (MUC) – Milan (MXP)
Munich (MUC) – Olbia (OLB)
Munich (MUC) – Palermo (PMO)
Munich (MUC) – Prague (PRG)
Munich (MUC) – Trieste (TRS)
Munich (MUC) – Turin (TRN)
Munich (MUC) – Venice (VCE)
Munich (MUC) – Verona (VRN)
Munich (MUC) – Zagreb (ZAG)
Munich (MUC) – Zurich (ZRH)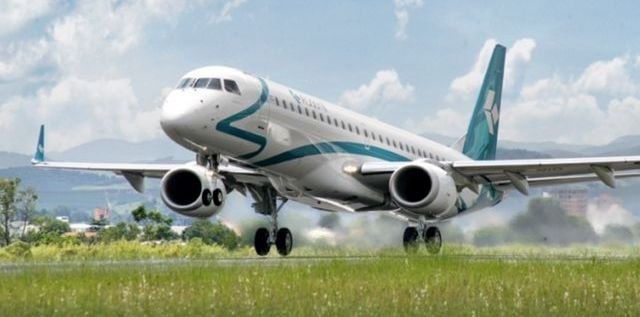 ---
Arkia - Israeli Airlines (IZ)
Tel Aviv (TLV) – Amman (AMM)
Tel Aviv (TLV) – Larnaca (LCA)
Tel Aviv (TLV) – Munich (MUC)
Tel Aviv (TLV) – Tbilisi (TBS)
Tel Aviv (TLV) – Eilat (ETH) – Tel Aviv-yafo Sde Dov (SDV)
Tel Aviv (TLV) – Yerevan (EVN)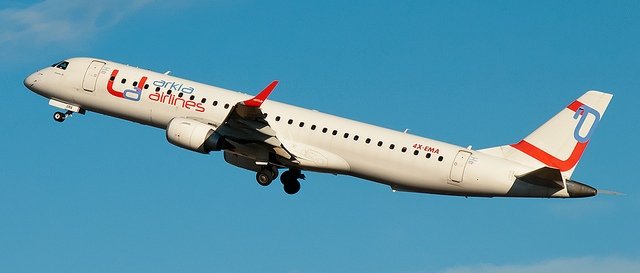 ---
Aurigny Air Services (GR)
Guernsey (GCI) – London (LGW)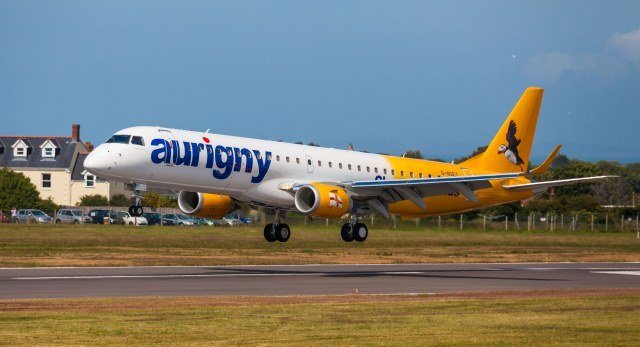 ---
Azul Airlines (AD)
Belem (BEL) – Altamira (ATM)
Belem (BEL) – Fortaleza (FOR)
Belem (BEL) – Imperatriz (IMP)
Belo Horizonte Tancredo Neves (CNF) – Belem (BEL)
Belo Horizonte Tancredo Neves (CNF) – Brasilia (BSB)
Belo Horizonte Tancredo Neves (CNF) – Curitiba (CWB)
Belo Horizonte Tancredo Neves (CNF) – Fortaleza (FOR)
Belo Horizonte Tancredo Neves (CNF) – Goiania (GYN)
Belo Horizonte Tancredo Neves (CNF) – Imperatriz (IMP)
Belo Horizonte Tancredo Neves (CNF) – Maceio (MCZ)
Belo Horizonte Tancredo Neves (CNF) – Manaus (MAO)
Belo Horizonte Tancredo Neves (CNF) – Montes Claros (MOC)
Belo Horizonte Tancredo Neves (CNF) – Natal (NAT)
Belo Horizonte Tancredo Neves (CNF) – Parauapebas (CKS)
Belo Horizonte Tancredo Neves (CNF) – Porto Alegre (POA)
Belo Horizonte Tancredo Neves (CNF) – Porto Seguro (BPS)
Belo Horizonte Tancredo Neves (CNF) – Recife (REC)
Belo Horizonte Tancredo Neves (CNF) – Rio de Janeiro Santos Dumont (SDU)
Belo Horizonte Tancredo Neves (CNF) – Salvador (SSA)
Belo Horizonte Tancredo Neves (CNF) – Sao Luiz (SLZ)
Belo Horizonte Tancredo Neves (CNF) – Sao Paulo Guarulhos (GRU)
Belo Horizonte Tancredo Neves (CNF) – Vitoria (VIX)
Brasilia (BSB) – Belem (BEL)
Brasilia (BSB) – Cuiaba (CGB)
Brasilia (BSB) – Maraba (MAB)
Brasilia (BSB) – Rio de Janeiro Santos Dumont (SDU)
Cuiaba (CGB) – Alta Floresta (AFL)
Cuiaba (CGB) – Campo Grande (CGR)
Cuiaba (CGB) – Goiania (GYN)
Cuiaba (CGB) – Londrina (LDB)
Cuiaba (CGB) – Porto Velho (PVH)
Cuiaba (CGB) – Sinop (OPS)
Curitiba (CWB) – Foz do Iguacu (IGU)
Curitiba (CWB) – Londrina (LDB)
Curitiba (CWB) – Porto Alegre (POA)
Curitiba (CWB) – Recife (REC)
Curitiba (CWB) – Rio de Janeiro Santos Dumont (SDU)
Fortaleza (FOR) – Natal (NAT)
Fortaleza (FOR) – Sao Luiz (SLZ)
Fortaleza (FOR) – Teresina (THE)
Goiania (GYN) – Palmas (PMW)
Maceio (MCZ) – Aracaju (AJU)
Manaus (MAO) – Belem (BEL)
Manaus (MAO) – Boa Vista (BVB)
Manaus (MAO) – Porto Velho (PVH)
Manaus (MAO) – Tabatinga (TBT)
Manaus (MAO) – Tefe (TFF)
Parauapebas (CKS) – Maraba (MAB)
Porto Alegre (POA) – Navegantes (NVT)
Porto Velho (PVH) – Rio Branco (RBR)
Recife (REC) – Fernando de Noronha (FEN)
Recife (REC) – Fortaleza (FOR)
Recife (REC) – Goiania (GYN)
Recife (REC) – Londrina (LDB)
Recife (REC) – Natal (NAT)
Recife (REC) – Ribeirao Preto (RAO)
Recife (REC) – Salvador (SSA)
Recife (REC) – Teresina (THE)
Ribeirao Preto (RAO) – Porto Seguro (BPS)
Ribeirao Preto (RAO) – President Prudente (PPB)
Ribeirao Preto (RAO) – Sao Jose do Rio Preto (SJP)
Rio de Janeiro Santos Dumont (SDU) – Sao Jose Dos Campos (SJK)
Salvador (SSA) – Ilheus (IOS)
Sao Paulo Guarulhos (GRU) – Brasilia (BSB)
Sao Paulo Guarulhos (GRU) – Campo Grande (CGR)
Sao Paulo Guarulhos (GRU) – Cuiaba (CGB)
Sao Paulo Guarulhos (GRU) – Curitiba (CWB)
Sao Paulo Guarulhos (GRU) – Goiania (GYN)
Sao Paulo Guarulhos (GRU) – Ilheus (IOS)
Sao Paulo Guarulhos (GRU) – Navegantes (NVT)
Sao Paulo Guarulhos (GRU) – Porto Alegre (POA)
Sao Paulo Guarulhos (GRU) – Recife (REC)
Sao Paulo Guarulhos (GRU) – Rio de Janeiro Santos Dumont (SDU)
Sao Paulo Guarulhos (GRU) – Salvador (SSA)
Sao Paulo Guarulhos (GRU) – Vitoria (VIX)
Sao Paulo Viracopos Campinas (VCP) – Aracaju (AJU)
Sao Paulo Viracopos Campinas (VCP) – Belem (BEL)
Sao Paulo Viracopos Campinas (VCP) – Belo Horizonte Tancredo Neves (CNF)
Sao Paulo Viracopos Campinas (VCP) – Brasilia (BSB)
Sao Paulo Viracopos Campinas (VCP) – Caldas Novas (CLV)
Sao Paulo Viracopos Campinas (VCP) – Campo Grande (CGR)
Sao Paulo Viracopos Campinas (VCP) – Caxias do Sul (CXJ)
Sao Paulo Viracopos Campinas (VCP) – Chapeco (XAP)
Sao Paulo Viracopos Campinas (VCP) – Cuiaba (CGB)
Sao Paulo Viracopos Campinas (VCP) – Curitiba (CWB)
Sao Paulo Viracopos Campinas (VCP) – Florianopolis (FLN)
Sao Paulo Viracopos Campinas (VCP) – Fortaleza (FOR)
Sao Paulo Viracopos Campinas (VCP) – Foz do Iguacu (IGU)
Sao Paulo Viracopos Campinas (VCP) – Goiania (GYN)
Sao Paulo Viracopos Campinas (VCP) – Ilheus (IOS)
Sao Paulo Viracopos Campinas (VCP) – Joao Pessoa (JPA)
Sao Paulo Viracopos Campinas (VCP) – Joinville (JOI)
Sao Paulo Viracopos Campinas (VCP) – Londrina (LDB)
Sao Paulo Viracopos Campinas (VCP) – Maceio (MCZ)
Sao Paulo Viracopos Campinas (VCP) – Manaus (MAO)
Sao Paulo Viracopos Campinas (VCP) – Maringa (MGF)
Sao Paulo Viracopos Campinas (VCP) – Natal (NAT)
Sao Paulo Viracopos Campinas (VCP) – Navegantes (NVT)
Sao Paulo Viracopos Campinas (VCP) – Porto Alegre (POA)
Sao Paulo Viracopos Campinas (VCP) – Porto Seguro (BPS)
Sao Paulo Viracopos Campinas (VCP) – President Prudente (PPB)
Sao Paulo Viracopos Campinas (VCP) – Recife (REC)
Sao Paulo Viracopos Campinas (VCP) – Ribeirao Preto (RAO)
Sao Paulo Viracopos Campinas (VCP) – Rio de Janeiro Galeao (GIG)
Sao Paulo Viracopos Campinas (VCP) – Rio de Janeiro Santos Dumont (SDU)
Sao Paulo Viracopos Campinas (VCP) – Salvador (SSA)
Sao Paulo Viracopos Campinas (VCP) – Sao Jose do Rio Preto (SJP)
Sao Paulo Viracopos Campinas (VCP) – Teresina (THE)
Sao Paulo Viracopos Campinas (VCP) – Uberlandia (UDI)
Sao Paulo Viracopos Campinas (VCP) – Vitoria (VIX)
Teresina (THE) – Sao Luiz (SLZ)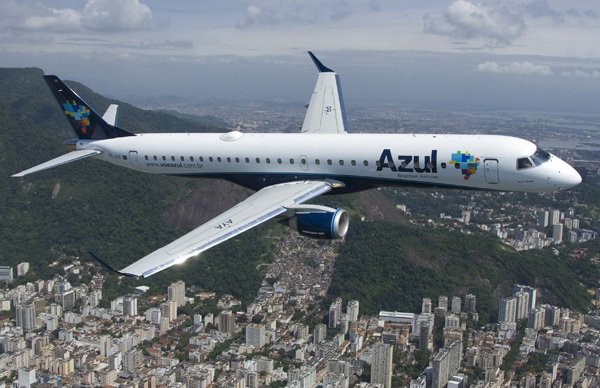 ---
Belavia (B2)
Minsk (MSQ) – Amsterdam (AMS)
Minsk (MSQ) – Baku (GYD)
Minsk (MSQ) – Brussels (BRU)
Minsk (MSQ) – Istanbul (IST)
Minsk (MSQ) – Milan (MXP)
Minsk (MSQ) – Moscow (DME)
Minsk (MSQ) – Paris (CDG)
Minsk (MSQ) – Prague (PRG)
Minsk (MSQ) – Rome (FCO)
Minsk (MSQ) – St Petersburg (LED)
Minsk (MSQ) – Tbilisi (TBS)
Minsk (MSQ) – Warsaw (WAW)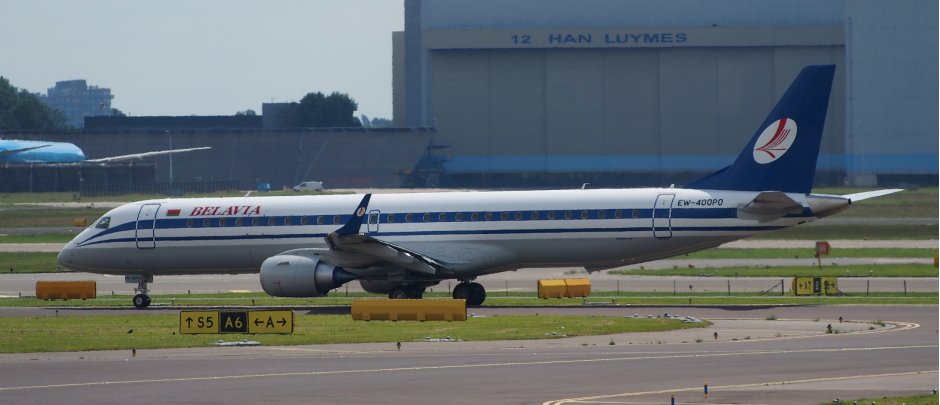 ---
Flybe (BE)
Birmingham (BHX) – Aberdeen (ABZ)
Birmingham (BHX) – Edinburgh (EDI)
Birmingham (BHX) – Lyon (LYS)
Birmingham (BHX) – Paris (CDG)
Southampton (SOU) – Alicante (ALC)
Southampton (SOU) – Amsterdam (AMS)
Southampton (SOU) – Dublin (DUB)
Southampton (SOU) – Edinburgh (EDI)
Southampton (SOU) – Faro (FAO)
Southampton (SOU) – Glasgow (GLA)
Southampton (SOU) – Malaga (AGP)
Southampton (SOU) – Manchester (MAN)
Southampton (SOU) – Nice (NCE)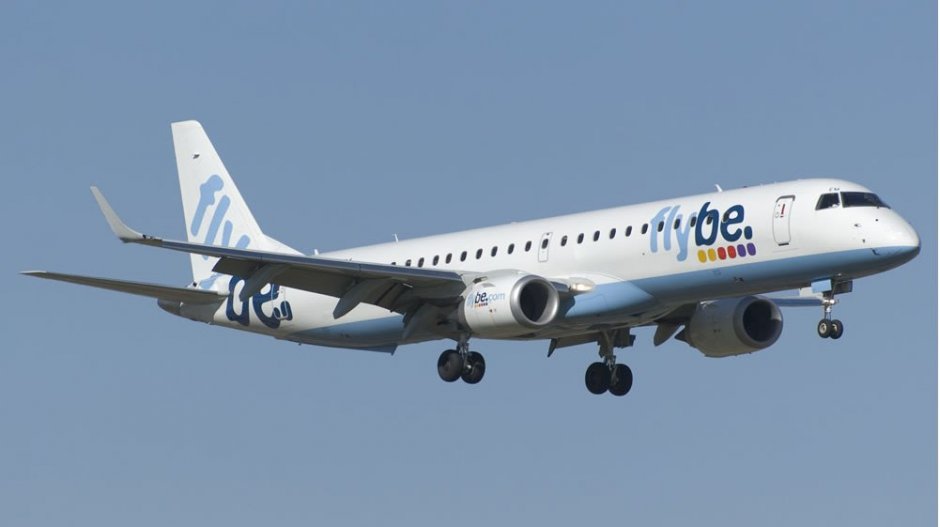 ---
LOT Polish Airlines (LO)
Warsaw (WAW) – Amsterdam (AMS)
Warsaw (WAW) – Athens (ATH)
Warsaw (WAW) – Barcelona (BCN)
Warsaw (WAW) – Brussels (BRU)
Warsaw (WAW) – Bucharest (OTP)
Warsaw (WAW) – Budapest (BUD)
Warsaw (WAW) – Dusseldorf (DUS)
Warsaw (WAW) – Frankfurt (FRA)
Warsaw (WAW) – Gdansk (GDN)
Warsaw (WAW) – Istanbul (IST)
Warsaw (WAW) – Kiev (KBP)
Warsaw (WAW) – Krakow (KRK)
Warsaw (WAW) – Larnaca (LCA)
Warsaw (WAW) – London (LHR)
Warsaw (WAW) – Lviv (LWO)
Warsaw (WAW) – Madrid (MAD)
Warsaw (WAW) – Minsk (MQS)
Warsaw (WAW) – Moscow (SVO)
Warsaw (WAW) – Munich (MUC)
Warsaw (WAW) – Paris (CDG)
Warsaw (WAW) – Rzeszow (RZE)
Warsaw (WAW) – Sofia (SOF)
Warsaw (WAW) – Tbilisi (TBS)
Warsaw (WAW) – Tel Aviv (TLV)
Warsaw (WAW) – Vienna (VIE)
Warsaw (WAW) – Wroclaw (WRO)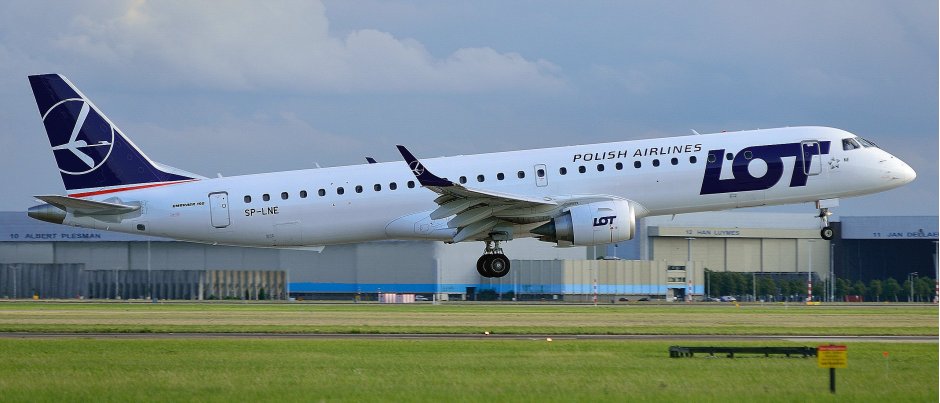 ---
Lufthansa CityLine (CL)
Frankfurt (FRA) – Basel (BSL)
Frankfurt (FRA) – Brussels (BRU)
Frankfurt (FRA) – Florence (FLR)
Frankfurt (FRA) – Gdansk (GDN)
Frankfurt (FRA) – Geneva (GVA)
Frankfurt (FRA) – Gothenburg (GOT)
Frankfurt (FRA) – Graz (GRZ)
Frankfurt (FRA) – Linz (LNZ)
Frankfurt (FRA) – Milan (LIN)
Frankfurt (FRA) – Olbia (OLB)
Frankfurt (FRA) – Palermo (PMO)
Frankfurt (FRA) – Stuttgart (STR)
Frankfurt (FRA) – Turin (TRN)
Frankfurt (FRA) – Zurich (ZRH)
Munich (MUC) – Amsterdam (AMS)
Munich (MUC) – Barcelona (BCN)
Munich (MUC) – Belgrade (BEG)
Munich (MUC) – Berlin (TXL)
Munich (MUC) – Bilbao (BIO)
Munich (MUC) – Birmingham (BHX)
Munich (MUC) – Bologna (BLQ)
Munich (MUC) – Bremen (BRE)
Munich (MUC) – Brussels (BRU)
Munich (MUC) – Bucharest (OTP)
Munich (MUC) – Budapest (BUD)
Munich (MUC) – Cagliari (CAG)
Munich (MUC) – Chisinau (KIV)
Munich (MUC) – Cluj (CLJ)
Munich (MUC) – Cologne/Bonn (CGN)
Munich (MUC) – Copenhagen (CPH)
Munich (MUC) – Dubrovnik (DBV)
Munich (MUC) – Dresden (DRS)
Munich (MUC) – Gdansk (GDN)
Munich (MUC) – Gothenburg (GOT)
Munich (MUC) – Geneva (GVA)
Munich (MUC) – Hannover (HAJ)
Munich (MUC) – Jersey (JER)
Munich (MUC) – Krakow (KRK)
Munich (MUC) – Leipzig/Halle (LEJ)
Munich (MUC) – Lyon (LYS)
Munich (MUC) – Marseille (MRS)
Munich (MUC) – Milan (MXP)
Munich (MUC) – Muenster/Osnabrueck (FMO)
Munich (MUC) – Nice (NCE)
Munich (MUC) – Olbia (OLB)
Munich (MUC) – Oslo (OSL)
Munich (MUC) – Paderborn (PAD)
Munich (MUC) – Palermo (PMO)
Munich (MUC) – Paris (CDG)
Munich (MUC) – Pisa (PSA)
Munich (MUC) – Poznan (POZ)
Munich (MUC) – Prague (PRG)
Munich (MUC) – Rostock (RLG)
Munich (MUC) – Sarajevo (SJJ)
Munich (MUC) – Sofia (SOF)
Munich (MUC) – Stuttgart (STR)
Munich (MUC) – Timisoara (TSR)
Munich (MUC) – Tirana (TIA)
Munich (MUC) – Toulouse (TLS)
Munich (MUC) – Turin (TRN)
Munich (MUC) – Vienna (VIE)
Munich (MUC) – Warsaw (WAW)
Munich (MUC) – Westerland (GWT)
Munich (MUC) – Zadar (ZAD)
Munich (MUC) – Zagreb (ZAG)
Munich (MUC) – Zurich (ZRH)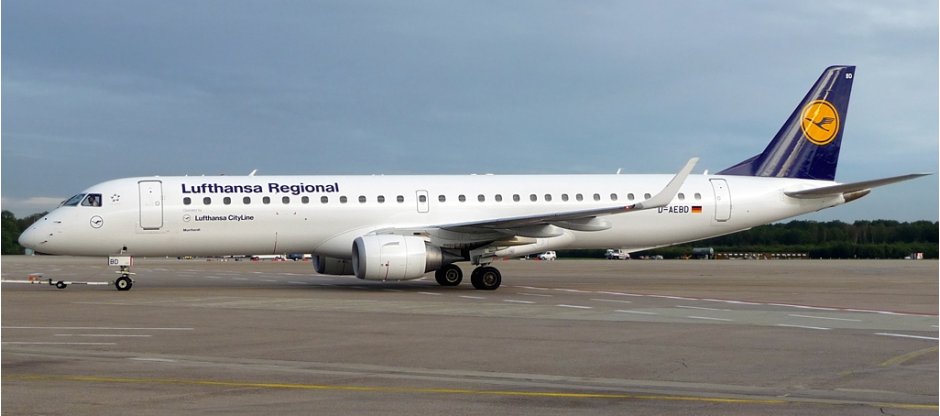 ---
Montenegro Airlines (YM)

Podgorica (TGD) – Belgrade (BEG)
Podgorica (TGD) – Frankfurt (FRA)
Podgorica (TGD) – Moscow (DME)
Podgorica (TGD) – Paris (CDG)
Podgorica (TGD) – Rome (FCO)
Podgorica (TGD) – Zurich (ZRH)
Tivat (TIV) – London (LGW)
Tivat (TIV) – Moscow (DME)
Tivat (TIV) – Paris (CDG)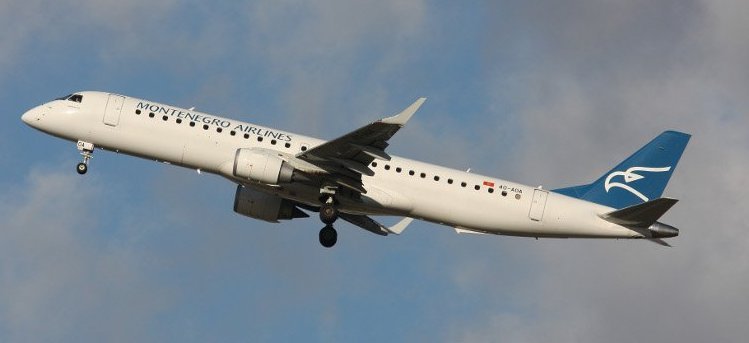 ---
Royal Jordanian (RJ)
Amman (AMM) – Abu Dhabi (AUH)
Amman (AMM) – Aden (ADE)
Amman (AMM) – Aqaba (AQJ)
Amman (AMM) – Athens (ATH)
Amman (AMM) – Baghdad (BGW)
Amman (AMM) – Basra (BSR)
Amman (AMM) – Beirut (BEY)
Amman (AMM) – Benghazi (BEN)
Amman (AMM) – Cairo (CAI)
Amman (AMM) – Dammam (DMM)
Amman (AMM) – Doha (DOH)
Amman (AMM) – Erbil (EBL)
Amman (AMM) – Istanbul (IST)
Amman (AMM) – Jeddah (JED)
Amman (AMM) – Khartoum (KRT)
Amman (AMM) – Kuwait (KWI)
Amman (AMM) – Larnaca (LCA)
Amman (AMM) – Mosul (OSM)
Amman (AMM) – Riyadh (RUH)
Amman (AMM) – Sharm-el-Sheikh (SSH)
Amman (AMM) – Sulaymaniyah (ISU)
Amman (AMM) – Tel Aviv (TLV)
Amman (AMM) – Tripoli (TIP)
Amman (AMM) – Tunis (TUN)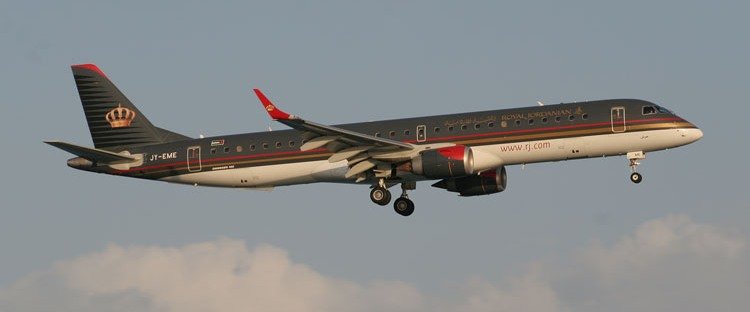 ---
Statistics
SCHEDULED EMBRAER 195 OPERATIONS BY AIRLINE (October 2014)

Rank

Airline

Available Seats

% Total E195 Capacity

Change vs Last Month

1

Azul Airlines (AD)

1,335,878

53.8 %

+1.6 pp

2

Lufthansa CityLine (CL)

587,280

23.6 %

+0.2 pp

3

Air Dolomiti (EN)

257,928

10.4 %

+0.2 pp

4

LOT Polish Airlines (LO)

107,508

4.3 %

(-0.5) pp

5

Royal Jordanian (RJ)

68,276

2.7 %

-

6

Flybe (BE)

47,908

1.9 %

(-0.6) pp

7

Belavia (B2)

29,268

1.2 %

-

8

Aurigny Air Services (GR)

26,784

1.1 %

-

9

Montenegro Airlines (YM)

11,600

0.5 %

(-1.1) pp

10

Arkia - Israeli Airlines (IZ)

11,102

0.4 %

+0.1 pp

TOTAL

2,483,532

-

-
TOP 20: SCHEDULED EMBRAER 195 OPERATIONS BY AIRPORT (non-stop departures; October 2014)

Rank (Oct-14)

Change (Sep-14)

Destination

Available Seats

% Total Capacity

Change vs Sep-14

1

-

Munich (MUC)

402,026

16.2 %

+0.3 pp

2

-

Sao Paulo Viracopos-Campinas (VCP)

299,130

12.0 %

(-0.2) pp

3

-

Belo Horizonte Tancredo Neves (CNF)

137,352

5.5 %

+0.1 pp

4

-

Sao Paulo (GRU)

126,496

5.1 %

+0.2 pp

5

-

Curitiba (CWB)

74,576

3.0 %

+0.3 pp

6

+1

Porto Alegre (POA)

67,024

2.7 %

-

7

+1

Rio de Janeiro Santos Dumont (SDU)

66,552

2.7 %

+0.1 pp

8

(-2)

Warsaw (WAW)

62,796

2.5 %

(-0.2) pp

9

-

Brasilia (BSB)

55,460

2.2 %

(-0.2) pp

10

-

Recife (REC)

47,200

1.9 %

-

11=

+1

Cuiaba (CGB)

42,716

1.7 %

+0.3 pp

11=

-

Salvador (SSA)

42,716

1.7 %

-

13

-

Amman (AMM)

33,494

1.3 %

-

14

+2

Amsterdam (AMS)

32,912

1.3 %

+0.2 pp

15

(-1)

Goiania (GYN)

31,860

1.3 %

+0.1 pp

16=

(-1)

Manaus (MAO)

29,854

1.2 %

+0.1 pp

16=

-

Vitoria (VIX)

28,438

1.1 %

+0.1 pp

18

-

Frankfurt (FRA)

26,260

1.1 %

+0.1 pp

19

-

Milan (MXP)

24,708

1.0 %

-

20

-

Navegantes (NVT)

23,718

1.0 %

+0.1 pp

TOTAL

2,483,532

-

-