UK carrier Monarch Airlines has strengthened its commitment to the Yorkshire market by modifying its summer 2015 schedule from Leeds Bradford International Airport, despite some suggestions that the carrier could cuts its operations as part of its ongoing network review. The airline will introduce new routes to Alicante and Naples (a new market and return of a former destination) and boost frequencies to Dalaman and Faro as it offers 28 weekly flights to ten sun and city destinations across Europe.
"The airline has been undergoing a strategic review of all routes and bases over the past few months and as a result changes have been made to scheduled flights for summer 2015 across the network. We have been listening to our customers and have put a lot of thought into refining our schedule for summer 2015 from Leeds Bradford Airport," said Andrew Swaffield, chief executive, The Monarch Group.
"We believe that the improvements to our flying programme from our most northern base will appeal to our loyal travellers, as well as attracting new customers to Monarch to experience the warmth of service and personal touch that we are bringing back to the European airline industry," he added.
The changes from Monarch at Leeds Bradford are testament to the strength of the airport's catchment area and affluent customer base, Tony Hallwood, aviation development director, Leeds Bradford International Airport told The HUB following the announcement by the carrier. However, the changes will see the end of summer flights to Bodrum and Heraklion as the carrier focuses on a core destination strategy to support its low-cost transition.
"Naples is a new destination for us and brings back a market that was really popular from the airport in the past. Alicante adds to our current offering on what is a strong route but one that still shows a significant leakage from out catchment to other airports, highlighting the need for additional capacity," he said. However, the changes will see the end of summer flights to Arrecife, Bodrum and Heraklion as the carrier focuses on a core destination strategy to support its low-cost transition.
In our analysis, below, we look at Monarch's annual network capacity from the UK over the past ten years by departure airport for both its scheduled and charter activities. The data shows that the Monarch scheduled network grew 195.1 per cent between 2004 and 2013, an average annual growth rate of 21.7 per cent through the period. During the past ten years the carrier has significantly expanded at its three largest bases - London Gatwick, Manchester and Birmingham - but London Luton, formerly a stronghold for the business, has seen little change in capacity.
Data provided by

The Leeds Bradford network announcement is the first since the carrier revealed in August that it was completing a strategic review of all areas of the business and was to evolve into an independent low-cost airline. Through the review of its network strategy, the airline is focussing on offering customers greater flight frequency and more sociable departure times to short-haul European destinations from its main UK bases.
At Leeds Bradford this will see more convenient flight times for Monarch's flights to Barcelona, Faro and Mahon, making them ideal for weekend breaks, while other routes will also benefit from more sociable flight times.
The first stage of the business review, under the leadership of Andrew Swaffield, who was recently appointed to the role of Chief Executive at The Monarch Group, has already seen confirmation of the closure of Monarch's East Midlands International Airport base by the end of April 2015.
Monarch aims to complete its transition to a scheduled European low-cost carrier in advance of the arrival of its new narrow-bodied aircraft fleet of thirty Boeing 737 MAX8s, which are expected to start entering service from April 2018.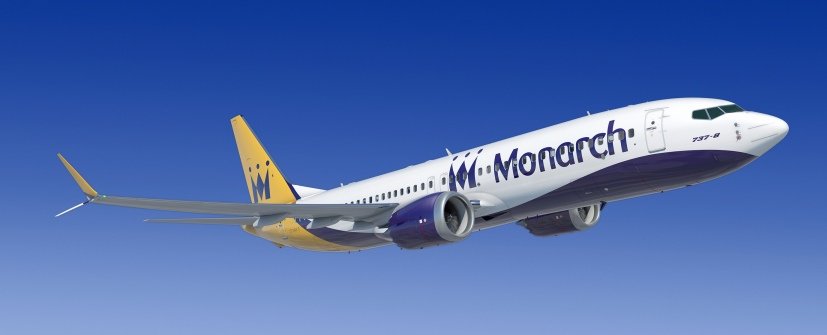 "Our success in the future depends upon us delivering the best possible operation and quality of service for our customers – and at sustainable levels of profitability. It is for these reasons that we are taking important decisions to reshape our base network and flying schedule next year," said Swaffield.
Holiday habits are changing and travellers want a greater choice of flight times and destinations – particularly for short breaks. As Monarch makes its journey from its roots in charter flying to become a European low-cost carrier it is essential it is more focussed in the services it offers and provides a more attractive flying schedule. Its UK rival Jet2.com has proven how a customer-friendly schedule can help a business build customer loyalty and attractive additional demand.
Monarch has confirmed that each of its staff groups, namely BAPLA, the pilots union, and UNITE, which represents its cabin crew and engineers, has agreed to major concessions on pay and terms and conditions as part of its business transformation.
The strategic review is running concurrently to a change in ownership at Monarch with the Monarch Holdings Limited board recently announcing that private equity investment specialist Greybull Capital LLP had been selected as the preferred bidder to acquire Monarch from the Group's current shareholders, principally the Mantegazza family.
Completion of a deal remains subject to the successful outcome of ongoing negotiations, whereupon Greybull intends to provide significant capital to Monarch in order to grow the Group and to capitalise on the long established and trusted brand name. Conditional upon the successful conclusion of these negotiations with Monarch stakeholders, the transaction is expected to complete towards the end of this month.