7 Top Tips to Using Instagram for Business        
Have you ever wondered how to use images and short video to enhance your customers' experience?
With 42% of marketers planning to increase their use of Instagram this year, visual content is becoming more important than ever to business marketing strategy.
Instagram have even created an 'Instagram for businesses' blog, giving businesses the opportunity to explore how other businesses are using the platform for marketing purposes.
With 200 million monthly active users, Instagram has grown significantly as a platform- it was reported that the social media network had 100 million monthly active users in May 2013 which indicates a 100 million rise in 18 months.
Getting started on Instagram is simple- set up an account using the same name as your Twitter handle (e.g. @routesonline), add a profile photo such as a brand logo, and a link to your website. Finally, connect the account to your Facebook page, and make your followers aware that they can now follow you on Instagram.
Photo and video content is the perfect way to engage your customers and here at routesonline, we've rounded up the seven best tips to using Instagram for business.
1. Balance business-based images with 'fun' images
Use your Instagram page to tell a story- use both images that relate to your business and other images that will engage a wider audience, such as this: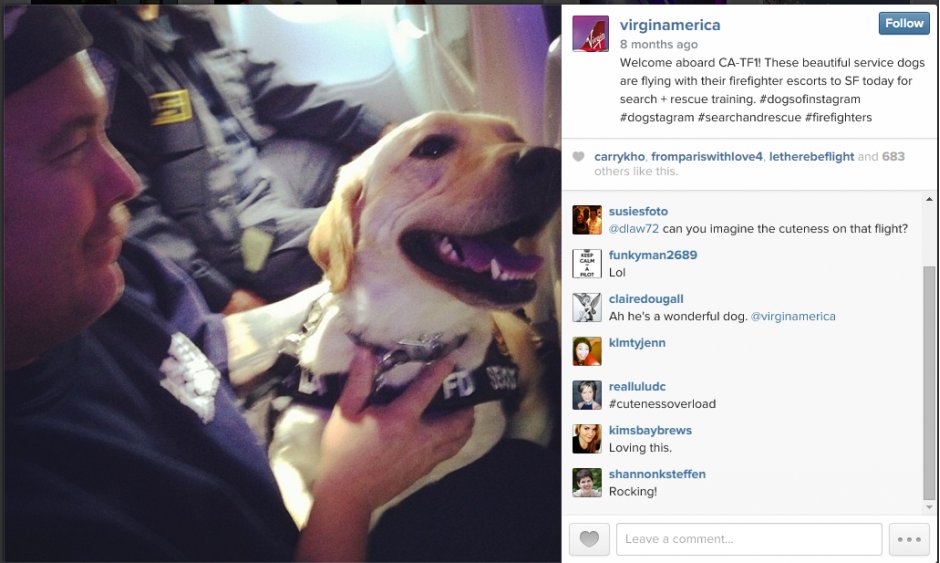 Virgin America have used an image of service dogs on one of their planes- documenting the perfect way to use a 'fun' image which is also related to the service they offer. #flyingdogs
2. Include hash tags.
Very similarly to Twitter, hashtags are a necessity when it comes to using the social network. It allows users to search terms related to their interests and will increase your following if you use them correctly. For example, Hash tag #aviation, and any Instagram user who searches for the same hashtag is more likely to come across your photo or video, which in turn could lead to more followers.
3.Include your customers
Whether it's to 'regram' their photo (similar to a retweet) or to take brand new photos of your customers, involving your clients will not only show that you are customer orientated and take interest in them, but will add value to your brand.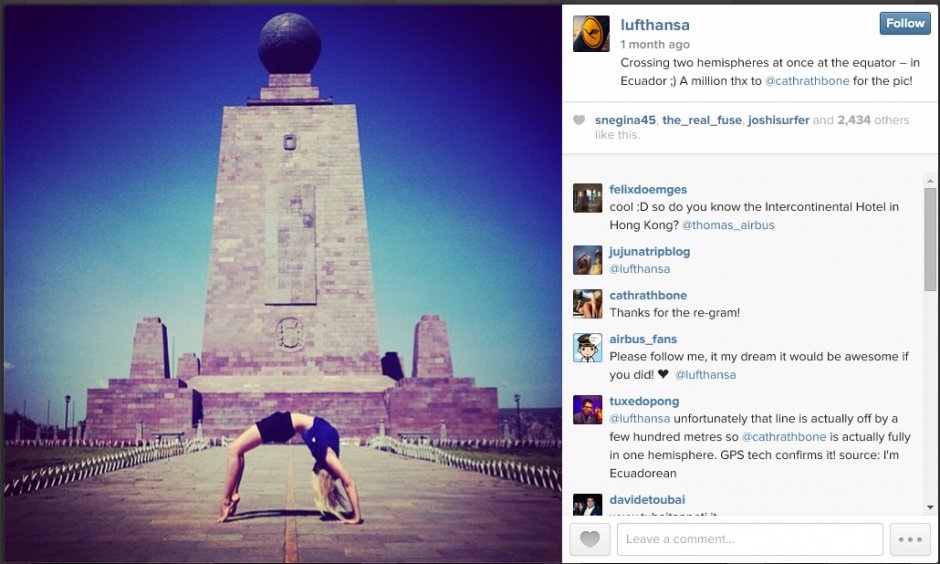 Lufthansa use customer photos that are sent to them and subsequently promote travel at the same time.
4.Market your brand using trends
Instagrammers can use trending hashtags to join the bigger visual storytelling community.
Find a trending hashtag that's relevant to your marketing strategy and participate with images from your brand. Or you could choose to participate in the daily Instagram trend- each day has a designated hashtag that is used every week. Found out what each day represents here. For example, use #tbt (throwback Thursday) to post an old photo to make your customers laugh or to showcase how far your business has come since 2007.
5.Showcase photos of employees
Not only will this give a behind-the-scenes look at what you do, it will also show your employees how much you appreciate them. Some companies have taken 'employee of the month' to the streams of social networking and announce it on sites such as Instagram. This will not only make your employee feel immensely proud, but will allow your customers to see the great work you do.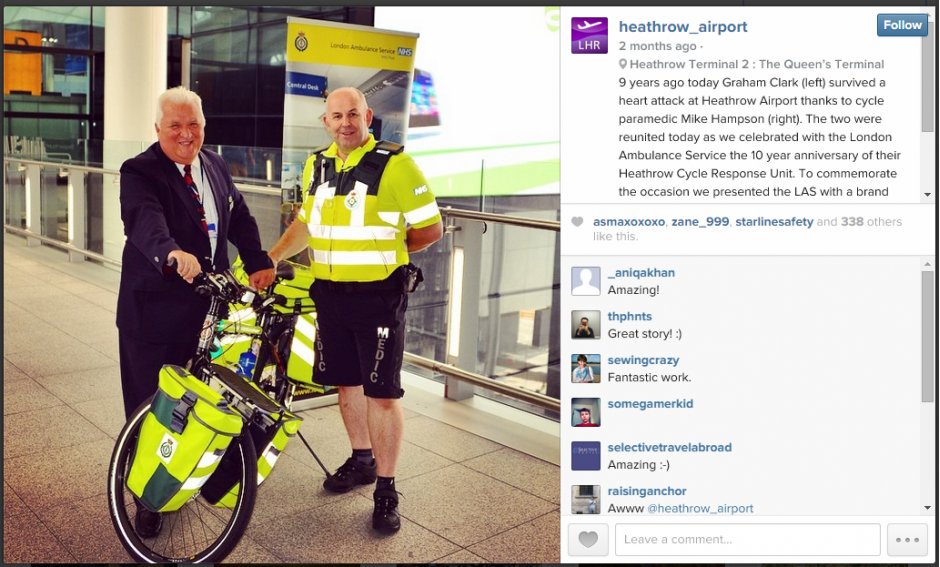 Heathrow Airport showing the great work their cycle paramedics do.
6. Create a branded hashtag
These hashtags are aligned with the overall brand and represent you as a company. Make a brand hashtag that is unique to your business and defines your business. Use your brand tag as your signature tag and get people to use them, so that your brand gets marketed too. For example, KitKat use #HaveABreak, Lancôme used #BareSelfie for a marketing campaign, and Lexus used #LexusInstaFilm for a film campaign they created with their Instagram followers.
By creating a branded hashtag, businesses create a win-win situation for both themselves and their customers. Instagramming customers love the recognition of being featured on a brand's profile, should you choose to regram their photos, and businesses receive increased exposure to new markets.
7. Check your stats
There are image analytics tools such as Iconosquare which provide detailed insights into your Instagram photos. It can give you anything from the photo with the most likes or comments, and which filter has proved most popular with your followers.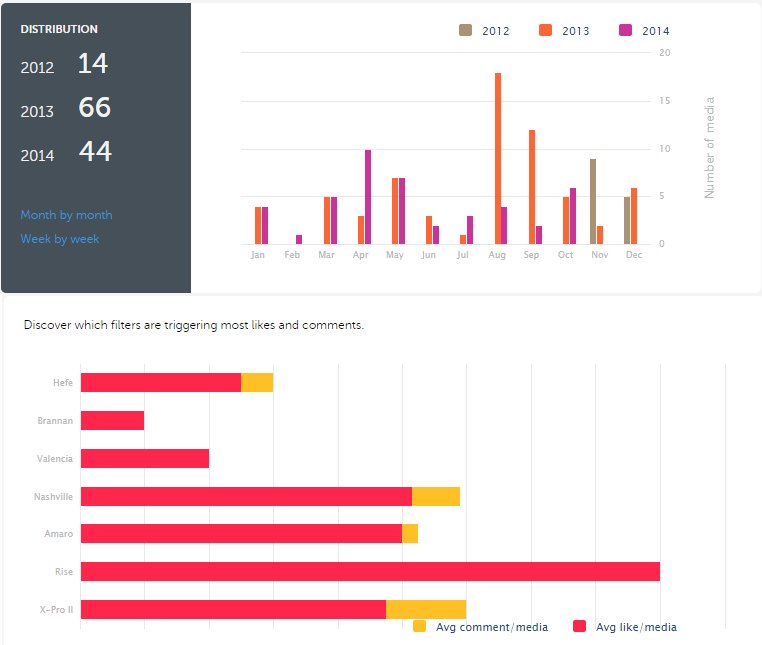 This will help you to assess the best way to utilise Instagram, and measure which type of media is engaging your customers.