US major United Airlines is to introduce the first regular scheduled air service between the New York area and Newcastle in north east England. The carrier will launch a five times weekly seasonal service from its hub at Newark Liberty International Airport between May 23, 2015 and September 7, 2015, subject to government approval.
The confirmation of the new route follows years of discussions between the management of Newcastle International Airport and various US partners to establish a scheduled westbound long-haul link to the US to support its highly successful Emirates Airline flight to Dubai. Previously the airport had got close to a deal with Continental Airlines, while American Airlines actually announced the launch of a flight but cancelled the service prior to its start date. Leisure carrier Jet2.com has served the Newcastle - New York route the past couple of years but with only a limited schedule of flights focussed mainly on Christmas shopping.
"For many years, and everywhere I go, people have been stopping me and asking, when is the North East going to get a New York service?" said David Laws, chief executive, Newcastle Airport and chairman of the North East Chamber of Commerce. During regular meetings with The HUB over the past couple of years, Laws, and his aviation development director, Chris Sanders, have retained a firm commitment this is a route that they were determined to deliver for the region.
"We have been carefully and quietly working behind the scenes, with our shareholders, to secure what will be another game-changing new route. I am delighted today that we are finally able to make the announcement everyone has been hoping for," said Laws at a quickly arranged press conference at Newcastle Airport earlier today.
According to Laws, United Airlines is the "best airline" to operate this service with an exceptional track record of linking UK regions to their New York/Newark hub, where customers can then connect to over one hundred onward destinations. The carrier currently operates flights to Belfast International, Birmingham, Edinburgh, Glasgow London Heathrow and Manchester: it previously also served Bristol and London Gatwick.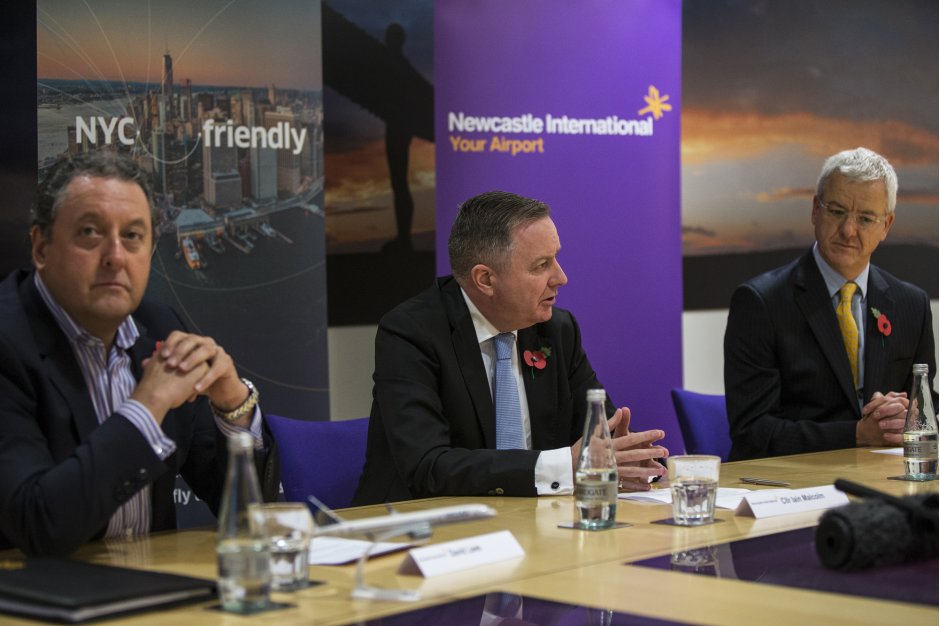 The new route will be flown using an a 169-seat Boeing 757-200 configured with 16 flat-bed seats in United BusinessFirst and 153 seats in United Economy, including 45 Economy Plus seats with added legroom and increased personal space.
"We're very excited about introducing non-stop flights to New York from Newcastle next summer," said Bob Schumacher, managing director sales – UK & Ireland, United Airlines. "We'll be offering the people of Northeast England easy, convenient travel options not only to New York City but also to destinations throughout the Americas. United already offers trans-Atlantic service from more cities in the UK than any other airline and we've every reason to be confident that this new service will be a success."
Our own analysis shows that approximately 75,000 bi-directional O&D passengers have flown between Newcastle and destinations across the United States in the first eight months of 2014, flying to and from more than 160 different points across the US, highlighting the importance of the connection opportunities. New York (New York JFK and Newark EWR) is the largest single market ahead of Los Angeles, San Francisco, Boston and Orlando.
The chart, below, shows, the estimated monthly bi-directional air passenger flows between Newcastle International Airport and the United States since the start of last year. This air demand will be supplemented by the large number of passengers that will use surface transport to travel to other UK airports to fly transatlantic from the northeast of England.
Data provided by