Flybe to Open Aberdeen and Bournemouth Bases
UK low-fare regional carrier Flybe is to reopen its base at Aberdeen, begin base operations from Bournemouth and launch a new limited programme of domestic flights from London Stansted in summer 2015 as it continues to work to enhance connectivity within and from the UK.
UK low-fare regional carrier Flybe is to reopen its base at Aberdeen, begin base operations from Bournemouth and launch a new limited programme of domestic flights from London Stansted in summer 2015 as it continues to work to enhance connectivity within and from the UK.
Flybe will base four 78-seat Bombardier Aerospace Dash 8-Q400s in Aberdeen to meet demand on its key routes from the Granite City. The news of the base re-opening comes on the back of the carrier last month starting double-daily flights to and from London City Airport, and its three times a day Flybe Shuttle service to Jersey via Leeds Bradford and Southampton.
According to Flybe, passengers are also increasingly using the airline's multi-frequency flights to its Manchester hub in order to by-pass congested London airports and connect onwards to Dubai, Helsinki and even further afield through its codeshare partners, Etihad Airways and Finnair.
"I am pleased to report that the success of the actions we were forced to take to return the airline to profitability and stimulate demand has brought us to the point where it now makes commercial sense to re-open our Aberdeen base. It is a testament to a year of recovery, turnaround and the ultimate re-birth of our airline," said Paul Simmons, chief commercial officer, Flybe.
Flybe's winter 2014/2015 schedule features seven routes from Aberdeen that includes those to Leeds Bradford, Southampton and Jersey as part of its innovative 'hop on-hop off' Flybe Shuttle, together offering a total choice of up to 200 flights a week. The base opening could also provide the basis to grow this network and enhance utilisation.
"We are delighted with the news that Flybe plan to re-establish a base in Aberdeen. The ever increasing demand by passengers travelling to and from Aberdeen has driven our strategy to expand our terminal and airfield capacity in the coming years, and we believe that Flybe passengers will benefit from these significant improvements," said Carol Benzie, managing director, Aberdeen Airport.
Aberdeen Airport, alongside Aberdeen City and Shire, will be host to next year's Routes Europe forum which will take place at the Aberdeen Exhibition and Conference Centre between April 12-14, 2015. Find out all about the event here.
At Bournemouth, Flybe will station two 78-seat Dash 8-Q400s from March 29, 2015 to operate up to ten brand new routes during summer 2015. The airline's Summer 2015 schedule will start with a new year-round, double daily service between Bournemouth and Glasgow, while from May 2015 flights to Amsterdam, Dublin, Jersey, Manchester and the French destinations of Paris, Deauville (Normandy) Toulon and Biarritz will be added.
"We are pleased to be opening based operations at Bournemouth Airport. Bolstering regional connectivity remains our number one aim. Serving the Dorset coastline builds on Flybe's strong regional presence," said Simmons.
The announcement is a great indication of confidence and commitment in Bournemouth's standing as a key airport for the South West and meets Flybe's ambitions to maximise regional connectivity from and within the UK. The new routes could potentially create an increase of 300,000 passengers per annum and up to 50 new jobs at the airport.
"The new routes to Manchester, Amsterdam and Paris are perfect for a mix of leisure and business passengers, looking to connect to these major hubs for meetings and short breaks, They will also provide excellent onward connections to the rest of the world. And I know that the return of a Glasgow route will be welcomed by many travellers wishing to travel north of the border," said Paul Knight, managing director, Bournemouth Airport.
Flybe last served Bournemouth in 2010 with a summer route to Manchester. It also has a significant base at Southampton Airport, located just 30 miles along the south coast of England from Bournemouth and it is unclear if it plans to provide a complementary offer from the two airports or will ultimately reduce operations at Southampton in the future. Activities at Bournemouth are currently dominated by Ryanair and Thomson Airways which offer a mix of year-round and seasonal flights to popular leisure destinations across the Mediterranean.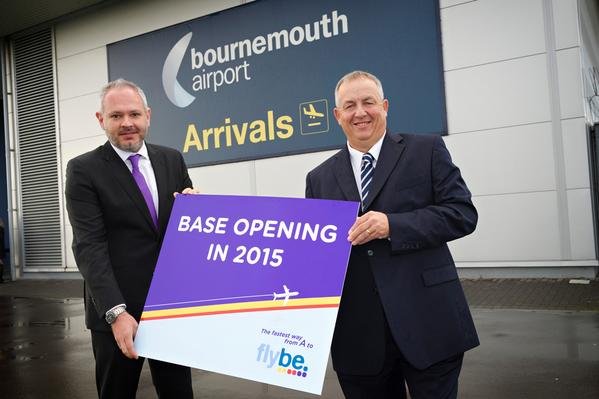 Meanwhile, Flybe will also expand its London offering in summer 2015 with the launch of three routes from London Stansted. The limited operation will complement its recently launched schedules from London City and follows the massive reduction in the carrier's flights from London Gatwick at the start of this year.
The regional carrier will offer a summer programme of 64 flights per week from London Stansted with year-round services to the Isle of Man (up to three flights a day) and double daily flights to Newcastle, together with seasonal part week summer flights to Newquay.
"Bolstering regional connectivity is our number one aim at Flybe and we're always looking for ways to improve connectivity within the UK. We're really thrilled to be able to bring a year-round offer to Stansted Airport," said Simmons.
The Flybe announcement marks the resumption of air services on all three routes. The London Stansted – Newcastle route was last served by easyJet in march 2011, the London Stansted – Newquay route by Ryanair in October 2009 and London Stansted – Isle of Man by Manx2 in September 2007.
In our analysis, below, we look in greater detail at Flybe's network capacity from the United Kingdom, highlighting its largest airport markets during the current calendar month by departure seats. A comparison with November last year shows the airline's available capacity from the UK has actually declined 2.3 per cent despite launching the numerous new routes from London City. The main growth has been seen at Aberdeen (up 59.5 per cent), Leeds Bradford (up 59.0 per cent), Birmingham (up 21.8 per cent), Inverness (up 18.9 per cent) and Exeter (up 16.5 per cent).
Data provided by