Air Asia X Aims to Resume London Route
The news came after the low-cost carrier's chief executive, Tony Fernandes, revealed the intent to resume the popular route via the social networking site, Twitter.
The Kuala Lumpur – London route was cancelled almost three years ago along with the Paris route, after the airline cited high fuel prices and airport taxes, combined with a weak demand.
Tony Fernandes revealed that he will be discussing the issue with London Mayor Boris Johnson next week.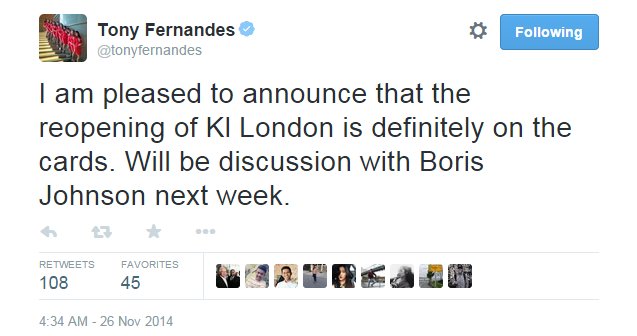 "The reopening of the route is definitely on the cards," he tweeted, followed by: "London is the most wanted route for Air Asia X and we will deliver it, I am quite sure," he added.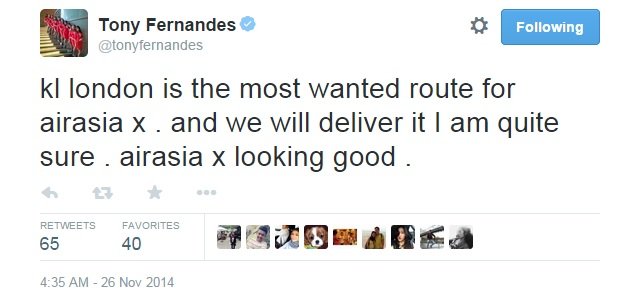 AirAsia X is also a prime customer for the new Airbus A330neo, with 50 of the A330-900neo versions on order for expected delivery from 2018, on top of ten A350-900 jets due from 2016.
After announcing the planned re-launch of the Kuala Lumpur – London route, the carrier's CEO tweeted promising free tickets to people who tell him why they love AirAsia X.
"Tell me why you love AirAsia X and I will give one free ticket to our inaugural flight from KL to London and back. One from Asia, one from Europe," he tweeted.
AirAsia X first launched flights to London in March 2009 with a link to Stansted Airport, but switched the route to Gatwick Airport from October 2011. Its arrival in the UK market resulted in passenger traffic to and from Malaysia increasing by around a third with its low fares stimulating the market.
But, its business model is more than just point-to-point traffic as the route has fast turned Kuala Lumpur into a regional hub connecting three continents, with Australians and New Zealanders regularly flying into the Malaysian capital and connecting on. On the other side British and European travellers were using AirAsia X's service to Kuala Lumpur and in turn connecting onto AirAsia's extensive route network to travel throughout South-East Asia, to such popular destinations as Vietnam, Indonesia and Thailand.
However, in early January 2012 the carrier revealed its intention to close the route from the start of April 2012 due to soaring taxes and higher jet fuel prices. According to AirAsia X the routes to London and Paris had been really popular recording load factors of over 80 per cent, but yields had not been sufficient enough to support the routes with attempts to increase fares simply resulting in a fall in demand due to the price elasticity of low-cost travel. The confluence of macro-factors, including high fuel prices, depressed European economy and exorbitant taxes have made it economically impossible to sustain these flights, said the airline.
The London route was flown by an Airbus A340, but the arrival of longer-range A330 models and later the A330neo and A350 into the AirAsia X fleet will enable European services to be flown with the more efficient twin-engined airliners.
In fact when the A330neo was launched at Farnborough this year, Azran Osman Rani, chief executive officer, AirAsia X first revealed that European destinations could once again return to the carrier's network when he tweeted the following as he signed an agreement to purchase 50 A330-900neos.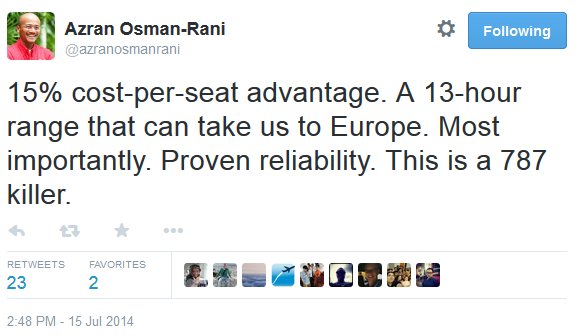 The Kuala Lumpur - London route is currently only served by Malaysia Airlines with a twice daily Airbus A380 operation into Heathrow. However, from May 27, 2015 British Airways will resume flights on the same route for the first time since 2001, using a four-class Boeing 777-200ER configured with 12 seats in First, 48 in Club World, 32 in World Traveller Plus and a further 127 in World Traveller.
Kuala Lumpur is the world's largest aviation hub not currently served directly by British Airways, and a major centre for oneworld airlines. Malaysia itself has strong ties with the UK and a large, rapidly growing economy with a focus on international trade. However, its national carrier, Malaysia Airlines has suffered a challenging year following the loss of flight 'MH370' in March and then the subsequent crash of 'MH17' in Ukraine in July and media reports suggest it has seen declining loads on the route due to the indelible damage to its brand from these tragic events.
As our analysis, below, highlights, if Air Asia X does return to the London market it will not just be competing with British Airways and Malaysia Airlines but other operators which provide a one-stop strategy, most notably the major Gulf carriers which have a convenient transit option via hubs in Dubai, Abu Dhabi and Doha.
Although demand levels declined in the late 2000s, MIDT data shows a renaissance over recent years with an estimated 310,000 bi-directional O&D passengers flying between London Heathrow and Kuala Lumpur in 2013, up 20.2 per cent on 2012, when a larger 34.1 per cent growth was record on 2011 demand levels.
This growth can be clearly attributed to the additional capacity introduced on the route by Malaysia Airlines through the deployment of its 519-seat A380 Super Jumbos and which has seen it increase its share of the O&D traffic from 59.3 per cent in 2011 to 69.5 per cent last year. However, this has caused a decline in yield with its average one way fares between London and Kuala Lumpur declining from $1,133 in 2011 to $1,040 last year and return fares slipping from $1,112 to $1,079.
Data provided by