Fly Niki to Launch Shortest International Flight in the World
The Austrian low-cost carrier is to launch flights from Bratislava to Brussels and Palma in summer 2015 and to facilitate its new services will operate one of the shortest international flights in the world between its base in Vienna and the Slovakian capital.
The airline will begin positioning aircraft from its Vienna base to Bratislava, but is selling this as a commercial service –the shortest capital city to capital city air service in the world. The operation will commence on April 1, 2015 with up to six weekly flights, and the carrier plans to operate this route with Embraer E190 aircraft.
The shortest commercial international flight will serve as a feeder to the Vienna hub, and will only be approximately ten minutes of flight time. Although the 50km journey is quicker by car or bus, the route will act as a transfer service accompanying other Fly Niki flights.
The idea will help Fly Niki offer flights from Bratislava to elsewhere in the world. Head of Fly Niki, Christian Lesjak said that passengers will purchase one ticket, but receive two boarding passes. It is unclear how many points the flight will provide, though the route will act as an opportunity for oneworld customers to earn some miles.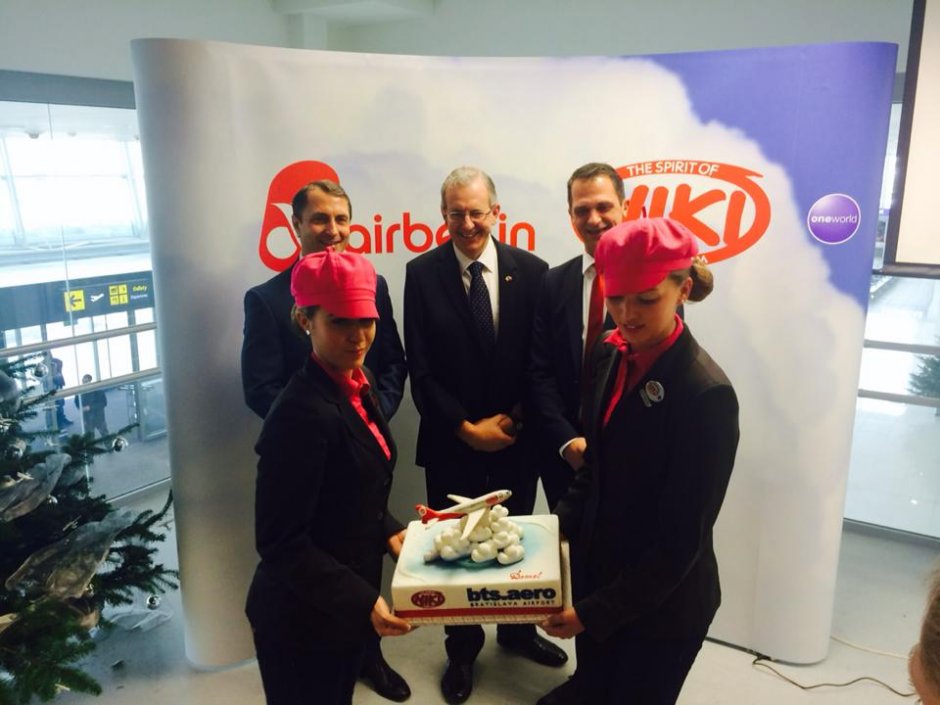 From Bratislava, there will be morning departures Monday – Saturday, at 8:15am or 10:25am. The return flight will operate in the evening, departing Vienna at 5:50pm every day except Saturdays.
The airberlin daughter carrier will also operate its Bratislava – Brussels service from April 1, 2015 with two daily services during the week, reducing to a daily service throughout the weekend, using Embraer E190 aircraft.
"When Slovakia assumes the EU Council presidency for six months in July 2016, the country will already have a flight connection with Brussels, the EU's capital," said Christian Lesjak, Fly Niki General Director.
From May 2, 2015 the airline will operate its Bratislava – Palma Mallorca route three-times weekly using Airbus A320 aircraft.
"I view this cooperation as critical for the further development of Bratislava Airport that we expect in the near future - not only due to the opening of new direct connections from Bratislava, but especially due to the fact that via the Oneworld [airline] alliance and the network of Etihad Airways, Bratislava Airport will join global distribution system," Ivan Trhlík, Bratislava Airport General Director said.
Alongside serving the local Slovak market, Bratislava has been used by both foreign and local carriers as a low-cost gateway for Vienna and parts of the Austrian market, providing an alternative option for price conscious travellers. This is not the only time European airlines have used flights to one country to support two distinct country markets.
For example, budget airline flights to Malmo in Sweden can efficiently also serve those wishing to fly to the Danish capital, Copenhagen. Until the Danish city's primary air gateway, Copenhagen Airport, embraced the arrival of low-cost carriers, Irish budget airline Ryanair even marketed its flights between London and Malmo as serving Copenhagen for a period of time before advertising standards clamped down on the promotion