From July 9, 2015, Delta Air Lines is planning to commence a daily non-stop service between Los Angeles International Airport and Shanghai-Pudong Airport.
The launch is pending regulatory approval, and the airline will operate the route with its 291-seat Boeing 777-200LR wide-body jets, configured with 37 full flat-bed BusinessElite seats, 36 Economy Comfort seats and 218 standard Economy seats.
The new route is part of a broader effort to develop its route network between the US West Coast and Asia, and the start of the Shanghai service will mark Delta's fourth daily non-stop flight to the Asia-Pacific region, including flights to Tokyo Narita, Tokyo Haneda and Sydney.
The Los Angeles market makes up 25 per cent of all US-Asia demand, and Delta's Los Angeles – Shanghai flight will connect customers to more than 25 cities in China via local partners, while the inbound flight will offer connections to 40 markets throughout the US, Canada and Latin America.
"Delta's new non-stop service provides our business customers with more access to Shanghai and markets beyond through our partnerships with China Eastern Airlines and China Southern Airlines," said Ranjan Goswami, vice president sales, west, Delta Air Lines.
The treaty between the US and Chinese air services has 16 unallocated weekly flights available between the two countries for US airlines, which would be reduced to nine if Delta get the go ahead. It would also mean that the airline operates 42 weekly flights to Shanghai when including departures from its hubs in Detroit, Seattle and Tokyo Narita.
"This route was the most requested by our corporate customers, and everyone will enjoy the investments we've made to upgrade our airport facilities, our onboard service, full flat-bed seats with direct aisle access in BusinessElite, and industry-leading complimentary in-flight entertainment," added Goswami.
Here's Delta's proposed schedule for the new routs as per its formal submission to the US Department of Transportation (DOT)...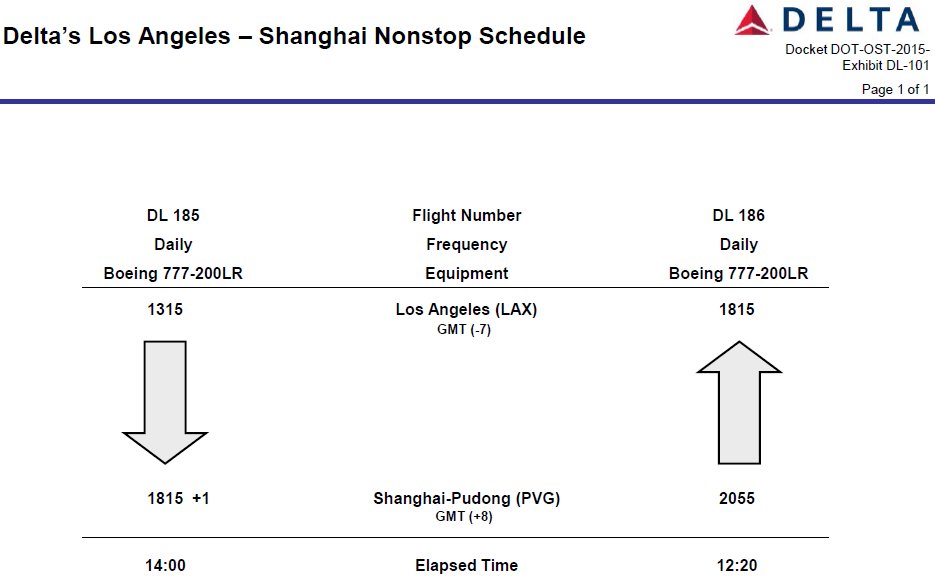 If Delta is successful with its application it will place the US major in direct competition with three other carriers in the Los Angeles - Shanghai market. China Eastern Airlines, the largest operator at Shanghai's Pudong International Airport has served the market for over ten years and offers a daily schedule, increasing to double daily at seasonal travel peaks.
From the US side both American Airlines and United Airlines serve the city pair. American launched flights on the route in April 2011 and United followed just a month later in May 2011. Both offer a daily schedule with American utilising a Boeing 777 and United using a 787-8 Dreamliner. From March 2015 the latter will using a mix of 787-8 and 787-9 variants before moving to an exclusive 787-9 operation from June this year.
Delta believes that with 154 peak-day departures to 48 destinations from Los Angeles International Airport it will be well placed to supplement the current market with additional transfer traffic options across its network. The arrival of the two US majors has certainly helped stimulate passenger demand between Los Angeles and Shanghai with segment traffic rising 128.9 per cent between 2010, ahead of their arrival, and 2012, following their launch.
in its formal submission to the US DOT, Delta said the new service to Shanghai will increase travel and trade opportunities, boosting Los Angeles' economy, creating jobs and providing benefits to travelers across Southern California. "The proposed services are clearly in the public interest and Delta already holds the necessary underlying authority," it added.
In the chart, below, we look more closely at each of the airline's estimated average annual load factors on the Los Angeles - Shanghai sector of the route up until last year (the data for 2014 only includes eleven months to November 2014).