Which European Airports are on top of Their Facebook Game?
A recent social media report by ACI Europe shows the ways in which European airports are using social media to communicate with their customers. We've broken the report down to analyse each social media platform separately, and add some of our own insights.
Facebook is the king of all social networks, with over 1.2 billion active users across the world. The social platform is also home to 289 European airports with a collective following of over 3 million fans.
The ACI Europe found that airports use social networks for 8 key activities including crisis communications, relationship building, (competitions, and campaigns) crowd sourcing, media relations, commercial offers, corporate communications, (annual reports, infographics, CEO speeches) political campaigning and customer service (lost & found, 'how can we help?' etc.)
A number of airports are also participating in social media trends, such as the infamous Ice Bucket Challenge in August 2014, which saw airport staff getting soaked, followed by nominations for rival airports.
Dublin Airport Ice Bucket Challenge
The report by ACI Europe also studied the number of selfies posted by passengers and airport personnel, including #selfie campaigns by London Gatwick who ran a successful 'Gatwick Selfie' campaign at the beginning of 2014. Aeroports de Paris used selfies to put people at the centre of their communications campaign, around their latest renovation project at Orly Airport by inviting passengers, airport employees, airline crew members and French celebrities to take a selfie at the airport.
Facebook check-ins have been and continue to be a phenomenally popular practice at airports, also allowing airport interactions with passengers on many levels. In addition, airports are using Facebook to post all kinds of content about what's happening on site in articles, photographs, videos, animations and interactive campaigns.
ACI Europe delved into the behaviours of airports on Facebook, and highlighted the top five airports in terms of Facebook fans (likes) and the top five airports in terms of engagement, (the percentage of people who saw a post that liked, shared, clicked or commented on it.)
(Results are based on performance of networks between 23 September 2014 and 22 November 2014 - 2 months)
According to ACI Europe, the biggest surprise in the Top 5 for followers is Porto Airport in Portugal, given the small size of the airport. Porto has also been listed in the Top 5 in Europe in the ACI Airport Service Quality Programme.
Engagement and interaction are also important in terms of social media, which is something both Katowice Airport and Ireland West Knock are doing very well, topping the chart of Facebook engagement rates, despite being smaller regional airports. Copenhagen has made fast ground after only joining Facebook in 2013, making a clear impact after less than two years by ranking fifth in the Facebook engagment chart in Europe.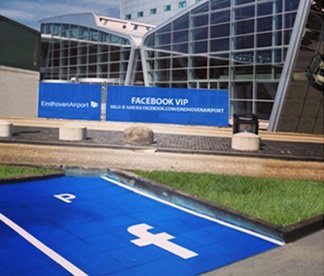 Another one to watch is Eindhoven Airport - as part of their strategy for better customer experience management, they have developed the Facebook VIP program. The program offers customers to be in with a chance of a unique VIP experience including a specially designated parking space, personal guidance through the terminal, Facebook VIP check-in desk, free breakfast, lunch or dinner and fast track at security. All passengers need to do it fill in flight and contact details on the specially created Facebook app. The campaign has massively increased the airport's Facebook following, marking it as one of the pages with the highest engagement rates in the Netherlands.
So what is the future for Facebook? According to the report by ACI Europe, Facebook has changed its algorithms of their service to prioritise paid advertising. The basic message is this - if you want your brand to have an impact on Facebook now, you need to pay the piper. On the plus side, Facebook has more information on its users than virtually any other social network, so its ability to target content to the audience is unparalleled in the social network universe.