The Power of Twitter – Which Airports are in Control?
A recent social media report by ACI Europe shows the ways in which European airports are using social media to communicate with their customers. We've broken the report down to analyse each social media platform separately, and add some of our own insights.
Twitter is the fastest moving social network on the planet, with over 284 million active users across the globe. Twitter it is designed to have the same broad appeal as Facebook, but the 140 character limit can be restricting. This has however proved useful for airports to share stories and announcements without being overbearing.
Twitter is embraced more by airports than any other social media network, with 292 official airport Twitter accounts, representing more than 87.1 percent of European passenger traffic.
The report by ACI Europe found that Twitter was a useful tool for airports in relationship building, image-sharing, corporate communications and most importantly; as a crisis communication tool. Following their research with Socialbakers, ACI Europe found that customer Q&A is more popular on Twitter than on Facebook, with airports answering 2,469 questions over two months on Twitter, compared with 409 questions answered on Facebook during the same period.
Twitter Followers
Engagement on Twitter
(Results are based on performance of networks between 23 September 2014 and 22 November 2014 - 2 months)
According to the report by ACI Europe, the bigger airports were well established on Twitter, especially in the UK and Ireland, where the social network's popularity in Europe began. However, as the first chart shows, London City actually has the greatest amount of followers when compared to the airport's traffic levels. Similarly to Facebook in the area of engagement, regional airports can still come up top - as can be seen with Bologna.
Fastest-Growing Airports on Twitter: Top 3
While some airports have been on Twitter for several years, there are still some relative newcomers who are making big percentage gains in growing their audience - most notably Naples Airport who increased their Twitter following by 163.16 percent during the two-month period in which the airport's performance was assessed.
ACI Europe analysed the Top 3 tweets over the two-month review to see which airports received the most interactions, and found the following:
First
London Heathrow came in first with after tweeting about a competition (using a photo) which prompted 1,649 interactions, of which 1,368 were retweets – significantly expanding the audience of the original tweet.
Second
Fraport AG (Frankfurt Airport) came in second with a tweet containing a photo of the pop/rock band 'Tokio Hotel' at the airport, therefore receiving 481 interactions including 239 retweets.
Third
Aeroporto di Bologna tweeted a photo of the latest Lamborghini model on display in its terminal, in conjunction with its ongoing relationship with the local supercar manufacturer. The tweet received 456 interactions, including 154 retweets.
The Future of Twitter for Airports?
The 'Tweeting Departure Board' is something else airports are heading towards, and the service has drawn attention from airport operators in Europe and Asia-Pacific. KMP Digitata provide the software for the Tweeting Departure Board, which currently serves airports such as Manchester, Humberside and Aberdeen. It provides a useful, mobile tool in a format with which people are familiar (Twitter), while giving users regular, tailored updates about the status of their particular flight. The nature of the app means that users have to follow the airport's Twitter account to use the tool - which in turn exposes the user to the other content being posted on the airport's Twitter feed.
The image opposite shows the Tweeting Departure Board for Manchester Airport. The user sends a DM (Direct message) containing the word 'Flight' and the associated flight number. They then receive confirmation of receipt and immediate flight status updates.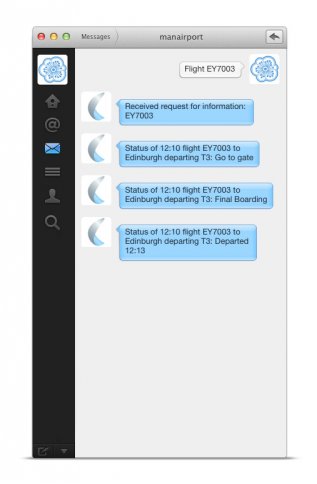 Twitter's future is hard to predict, in that it does not have the same degrees of information on its users as some of the other networks so it has less data with which generate revenue. However, it still has the upper hand on unfolding emerging events, with its fast-paced platform base.
The report by ACI Europe, says that in a shock-sensitive sector such as air transport, Twitter's appeal doesn't show any signs of waning. The majority of airport (and airline) senior management are now mindful of its power - it can facilitate valuable dialogue with customers, and many EU institutions have also jumped on the Twitter bandwagon.