Being a mile high may be Denver's call sign but there are other distances just as significant to the city. It is just 500km from the exact geographical centre of the Continental United States and 1,000km from the nearest city of a similar size.
With the mighty Rocky Mountains forming a formidable backdrop, it means Denver is without doubt a standalone city. That doesn't stop people visiting, of course. On the contrary. According to Richard Scharf, president and CEO, VISIT DENVER, The Convention & Visitors Bureau, 2014 is likely to have ended up as the best year ever for th convention business in Denver.
"It should finish with a minimum of 422,000 delegates, significantly up over the previous best year of 2013, in which Denver had 385,292 delegates, and better than 2008, when we hosted the Democratic National Convention," he says.
Scharf expects 2015 to be equally strong, beginning as usual with the 20,000-delegate SIA Snow Show. The Clinton Global Initiative will also be back in Denver along with many other high profile groups meeting at the award-winning Colorado Convention Center.
A year-long study of the Convention Center has yielded a series of recommendations to keep the building relevant to the dynamic event sector. "We're adding live help on our conventions website so that we can assist our clients 24 hours a day, no matter where in the world they might be," notes Scharf. "We are building rail service between downtown and the airport, and we just opened our completely restored Union Station, which will serve as a transportation hub for Denver with ten new restaurants and bars, shopping and a hotel."
A new interactive Visitor Information Center will further the cause by providing greater assistance to international visitors. And while 2014 data on leisure visits hasn't yet been formalised, the president and CEO is similarly confident that these too will earn a place in the record books. Events and exhibitions in 2014 included Chihuly at the Denver Botanic Gardens; Maya: Hidden Worlds at the Denver Museum of Nature & Science; the BMW World Championships; the FIL World Lacrosse Championships; and the finish of the USA Pro Challenge bike race.
Each of these events became a visual postcard of what Denver has to offer providing the kind of coverage that money just can't buy.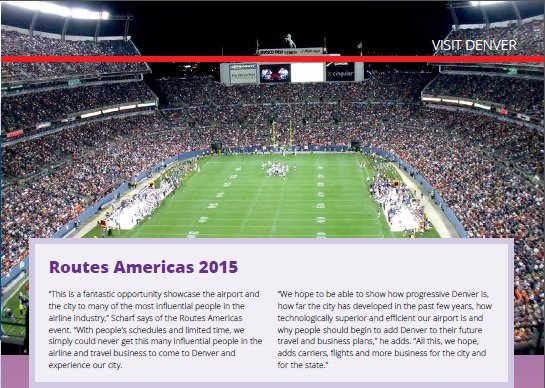 Airline service
Also keeping Denver at the cutting edge is new airline service. A non-stop to Panama City, for example, opens up Denver to tourism and business in Central and South America. VISIT DENVER works closely with airlines, the City and County of Denver and Denver International Airport to establish new direct service.
"Our major international markets are also where we have direct flights – the UK, Germany, Scandinavia/ Iceland, Mexico and Canada. Since United started non-stop service to Japan, we have noticed an increase in travellers from Asia to Denver."

Richard Scharf
President & CEO, VISIT DENVER
But it is only once a new service opens that the real work begins with airlines and the Colorado Tourism Office and their in-country reps to help market the route and promote Denver and Colorado as destinations for leisure and conventioneers. Not surprisingly, there has been an increase in international travellers staying overnight in Denver, before they move on to other parts of Colorado or to national parks in the west. "Our major international markets are also where we have direct flights – the UK, Germany, Scandinavia/ Iceland, Mexico and Canada," Scharf reveals. "Since United started non-stop service to Japan, we have noticed an increase in travellers from Asia to Denver."
Domestic visitors also fly in to the mile high city. Dallas, Chicago, Houston, Albuquerque and Phoenix are all major source markets within the US. Because of Denver's remote geographical location, visitors are twice as likely to fly in compared with other US cities. Scharf believes that makes air service an extremely important economic driver for Denver.
"The more non-stop flights and major carriers we have coming into Denver, the more opportunity we have to market to visitors and business travellers outside of the city," he says. Even so, Scharf notes visitors from adjacent and nearby western and mid-western states, such as California, Texas, Arizona, Illinois and Kansas are common.
Top attractions
For the leisure visitor, there is plenty to do. Attractions range from the 16th Street mall to the Rocky Mountain National Park. "In our study, we found that people think of Denver as very friendly, diverse, young and active," says Scharf. "While Denver has all the amenities of a major city – great hotels, cultural offerings, shopping, dining – we also have a unique backdrop with the Rocky Mountains.
"Our blue skies and 300 days of sunshine energise visitors and locals to have an urban adventure outdoors," he continues. "Whether they bike around the city using Denver B-cycle (the citywide bike sharing program), grab a beer at one of the more than 30 breweries in Denver, take in a baseball game and a sunset at Coors Field, or enjoy world class shopping, Denver has all the amenities of a major American city."
There are challenges. One of the biggest misconceptions about Denver is that it is under snow year-round. The city actually has very mild winters with an average daily high temperature of 45 degrees Fahrenheit. Days reaching 60 degrees are not uncommon. With 300 days of sunshine a year, Denver outperforms the likes of Miami and San Diego. Golf courses and outdoor cafes stay open all year.
More generally, awareness is the key issue. "For decades, the US was the only major industrialised nation to not actively court international tourism," says Scharf. "There are still concerns over visas. The huge geographic size of the US is another challenge. There are also many misconceptions about America generated from films and popular culture, particularly in the area of safety."But such concerns seem mere flies in the ointment. Denver is booming and there's no indication that it's stopping any time soon. In 2014 alone, Denver opened three new, high-end boutique hotels downtown, with four more under construction. A new brewery opened every other week last year, and the city is diversifying with wineries, distillers and farm-to-fork restaurants that specialise in locally-sourced foods.
DENVER FAST FACTS
Downtown Denver has some 9,000 hotel roms and another 35,000 rooms in metro hotels, resorts and spas
There are 300 high quality restaurants, 5 art museums, 3 sports arenas and the 2nd largest performing arts centre in America.
Some 90 new restaurants opened their doors in summer 2014 alone. "Our neighbourhoods are booming with one-of-a-kind shops, galleries and cafes," Scharf enthuses. "Denver has become a magnet for young, creative people. There are more than 8,000 apartments and 1 million square feet of office space under construction right now."
The train from Denver International Airport to downtown Denver – scheduled to begin service in 2016 – will be another major addition and will connect the airport to the recently refurbished Union Station every 15 minutes, with a journey time of just 35 minutes. Scharf explains why that is so important: "There are more than 70 outdoor and rooftop cafes, all centred on our mile-long pedestrian zone – the 16th Street mall," he concludes. "It is a young, walkable, very creative downtown with public art, flowers, parks and an active population that loves to be outdoors. And right in the middle of downtown, within easy walking distance of everything, we have one of the best designed convention centres that has ever been built." The mile high city is flying sky high.