Hawaiian Airlines - A Community Spirit
Mark Dunkerley, Hawaiian Airlines president and CEO, says that despite the airline's strong growth it will not forget its roots, writes Graham Newton in Issue 1, Volume 11 of Routes News for 2015.
Mark Dunkerley, Hawaiian Airlines president and CEO, says that despite the airline's strong growth it will not forget its roots. Read our Q&A below...
Q) What are your thoughts on the airline's performance in 2014?
A) Last year was a great one for the company and we're looking forward to an even better 2015. The strategy we've employed since 2010 – and arguably even before that – has started bearing fruit. The airline has been profitable throughout this time despite the company doubling in size, but 2014 was the year when we really began to see the full effects of the strategy. Hawaiian embarked on an ambitious growth strategy in Asia that started with the arrival of our Airbus 330-200 aircraft and has continued right through to the inauguration of our Beijing service early last year.
Q) Your on-time performance was, as usual, excellent. Have you made a particular effort in this area?
A) Our on-time performance is good and in fact we've been the industry leader for the past 10 years in a row. But, to be honest, this has a very humble beginning. A dozen years ago, we needed to raise the confidence of employees that we could compete with the much larger network carriers, and we elected to take them on in operational reliability – a traditional weakness for the company in years gone by.
We wanted it to be clear that there was no reason why Hawaiian Airlines should be second best in any aspect of business just because we're a small airline. Our on-time performance is the result of that internal effort. That it has become associated with us externally is merely an accidental by-product of an internal initiative.
Yes, of course, we operate in a largely benign weather environment. But that doesn't tell the story. We have an incredibly intense short-haul network. A single aircraft can fly 16 sectors a day and if each flight was just 5 minutes late, we're 80 minutes behind schedule by the end of the day. So we can never allow delays to accumulate.

Q) What is your route development strategy?
A) We sell Hawaii as a destination. We're very fortunate to be based in an incomparably beautiful part of the world. So the aim is to bring to Hawaii all those people who want to come to Hawaii. There is a natural focus on Asia because the spending power in that region is increasing all the time and Hawaii is often one of the first places that people want to visit. As for North America, our airline is well-established and obviously that is a strong market for us too.
Of course, our main strength is flying between the Hawaiian Islands. There are no bridges and no ferries transporting people on a convenient daily basis. So the people sitting on our aircraft can include high school athletic teams going off to compete against another school, or perhaps people flying to one of the larger islands for medical treatment. The inter-island routes are big business. More people fly between Honolulu and Maui, for example, than between New York LaGuardia and Washington National.
Q) How important is the Air China deal and what role will China play in your future network?
A) Our partnership with Air China is extremely important to us. The Chinese market to Hawaii is relatively small at the moment but it is growing rapidly and has the potential to be huge. The Air China codeshare allows us to serve the market properly. Hawaii and Hawaiian Airlines are ideally placed to take advantage of the potential for air travel to/from China.
Q) How far do your international ambitions go? Are you looking at Europe?
A) We're certainly looking at Europe. But the A330-200 doesn't have the range to fly there non-stop, and if you make it a one-stop service it becomes very hard to differentiate your product. But all that will change when we take delivery of the Airbus A330-800neos later in the decade and we may well use those aircraft to serve Europe.
As for Asia, we really are spoilt for choice. It is a good problem to have when you must choose between attractive alternatives. It may be that we will look at other destinations in China or we may decide to go to countries where we don't have a presence at the moment.
Q) What is the thinking behind the 'Ohana' brand?
A) Hawaii is made up of four large islands and two smaller ones. The Boeing 717 service we had was not well-suited to the smaller islands of Lanai and Molokai because of passenger numbers and airport constraints. Regrettably, a decade ago we had to suspend service but it has always been our intention to return. It took a while to reach the various agreements needed to set up 'Ohana by Hawaiian but we're there now and operating a turboprop service to these islands once again through a relationship with an independent commuter carrier.
We chose 'Ohana as a brand because the customer base is very local. The name means "family" in the Hawaiian language, which conveys a sense of community. Although Hawaiian Airlines flies to Sydney, New York and Beijing, it has not forgotten its roots. That means 'Ohana is not purely about being a feeder service. The 'Ohana by Hawaiian network does tie in with our long-haul services but it's also geared up for the business person or day commuter who wants to fly out early and come back late to Molokai or Lanai.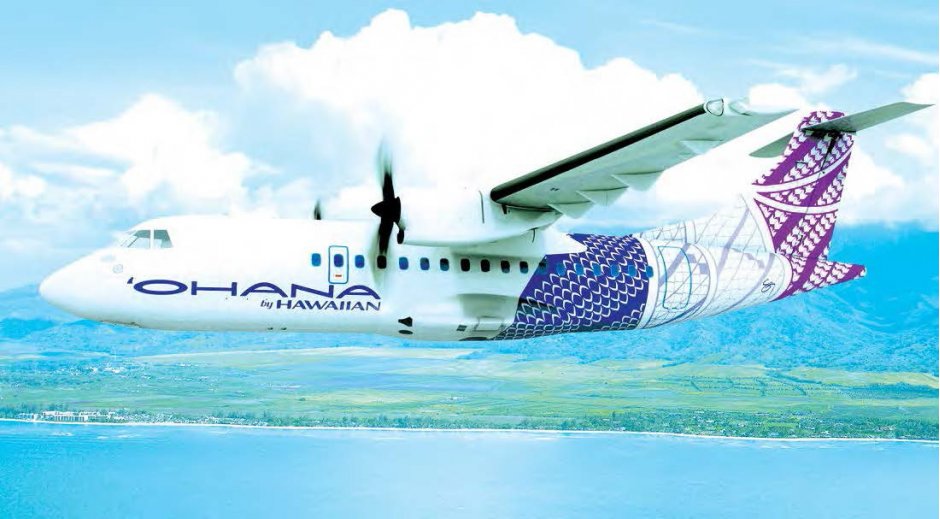 Q) Does your Honolulu hub need to improve – and if so, how?
A) A lot of work needs to be done at the airport, and I don't think anybody would disagree. There is a multi-billion-dollar airport modernisation plan, which will largely be funded by the airline. This includes taxiway widening, which will enable several new projects including the construction of a new maintenance hangar and cargo facility for Hawaiian Airlines, and the addition of widebody gates to our terminal. It is the first major expansion at Honolulu International Airport in over 20 years.
Work is still in its early stages because of the RFP process and suchlike. Progress has been slower than we hoped for, but our enthusiasm for the project has not dimmed. But it is not just Honolulu. Maui, Hilo, Kona, Lihue, Lanai and Molokai airports are also in need of some updating.
Q) In general, what is your view of the regulatory environment in the US? Is there a growing tendency to micromanage?
A) There is definitely a trend towards more regulation. We spent 30-odd years de-regulating in the US, but it seems the government is now regulating again as quickly as it can. New regulations are coming our way with wearisome regularity. Unfortunately, in 30 years' time we might see the same sort of industry structure as existed before 1978. We're stuck with an antiquated ATC system. US delays are the worst in the world and NextGen is not happening as quickly as it should. The industry is very wary because the costs are there but the benefits are not. There seems to be no delay in the regulations coming out that force airlines to equip their fleets with the latest technology, but the system improvements that are needed to utilise that equipment either lags behind or even gets cancelled. Look at RNP approaches, for example. Many aircraft have been equipped, but few procedures have been published.
Q) How have the airline mergers affected the US market and your airline?
A) It's a very different market and there are pluses and minuses for little airlines like us. Some of the airlines are so big that I think they lose their relationship with the individual customer. They also tend to focus on the business traveller. As a destination carrier, it makes it easier for us to differentiate ourselves. So those are pluses for us. On the minus side, the massive network carriers have become larger and more powerful. Even so, we compete against them every day. Everywhere we fly, we face competition from big, legacy carriers. But we have no ambition to become one. There is definitely a role for smaller, niche carriers in the future. We have a fleet of 50 aircraft and we have a niche for ourselves that can and should grow.
Q) Finally, tell us a little bit about your management style. Has your British Airways experience been easy to marry with the Hawaiian style?
A) We're all very fortunate to be living and working here. Hawaii is a fascinating place and by far the most culturally mixed environment I've ever experienced – more so than even the most cosmopolitan city. So I don't stick out! The common element is hospitality, and the last thing I want to do is change that. So my job is to set a direction for the airline and keep out of the way to let our employees do what they do best.