Scheduling for Routes Europe opened earlier this week, and with over 850 meetings already scheduled it is recommended that delegates make their requests as soon as possible to avoid disappointment!
Routes Europe, which takes place from 12 - 14 April, attracts the industry's key decision makers and is the must attend event for all those interested in meeting with the industry's key players.
Now in its 10th year, Routes Europe will take place in the UK for the first time when it brings the route development community to the Aberdeen Exhibition and Conference Centre (AECC). Routes Europe is the annual gathering of air service decision makers for the European region, and is expected to attract over 120 airlines, over 450 airports and over 30 tourism authorities along with a number of other industry stakeholders from across the Europe region to discuss air service development.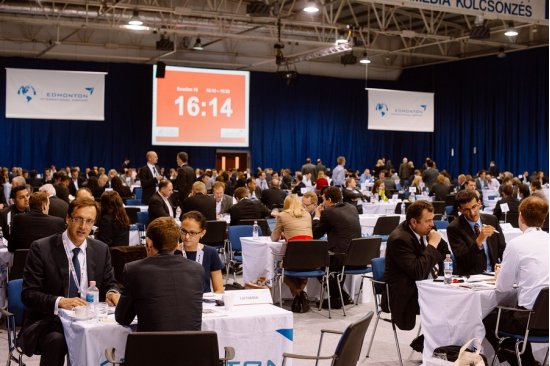 Routes Europe delegates can now log into their Routesonline profile and use the online Meeting Requests System to make meeting requests with other attendees. The website allows airports, airlines, tourism authority delegates and anyone else with an entitlement of pre-arranged meetings to log-in and submit their requests online.
Delegates can also request to attend the Route Exchange Airline Briefings using the online meeting request system; the Briefings tab can be found at the top of your personal meeting requests page where you will also find an up to date list of the Briefings that are available for you to attend.
The system provides delegates with the perfect platform to request and prepare for their meetings at Routes Europe as, during the requesting process, access to Routesonline company profiles is available helping delegates select the right companies to meet with by providing all the information Routesonline has to offer straight to the central meeting requests page.
This year, once again, a completely live and updated version of your draft diary will be available to view online 24 hours a day, 7 days a week via the personal requests page, closer to the event. This should allow delegates to better prepare for the meetings they expect to take place in Aberdeen and increase the overall Routes experience.
Scheduling for Routes Europe 2015 is now open and delegates will have access to the system until Thursday 2nd April when scheduling closes, this means that meeting requests can be submitted and amended at any time. To begin requesting meetings delegates should follow the below steps:
Enter your PRC

(Personal Registration Code), which you should have received when you registered, into the box displayed on the homepage, ensuring you have selected Routes Europe on the slider
Click 'Submit PRC' and you will be directed to your meeting request page.
Click here for more information and to begin requesting your meetings for Routes Europe 2015.