With Valentine's Day just around the corner, Lufthansa Cargo has begun flying 1,500 tonnes of roses right across Europe.
Mostly originating from Kenya and South America, the long-stemmed flowers have been delivered on time to bloom in all their glory across Europe.
The roses are harvested several times a day at the flower farms and then immediately placed in water, before being packed and taken directly to the airport to be loaded onto the freighters. Lufthansa Cargo's Fresh/td product was developed specifically for the transportation of perishable goods, such as flowers and food.
Lufthansa Cargo connects the flower-growing countries with the Frankfurt hub several times a week, with special charter flights arranged in addition to scheduled connections to meet the high demand for Valentine's Day.
The flowers are transported by air instead of being grown in Europe, as this generates less CO2 than the artificial irrigation and the additional heat supply required to cultivate them in Europe.
Once landing in Frankfurt Airport, the roses are almost immediately transported onwards into all of Europe.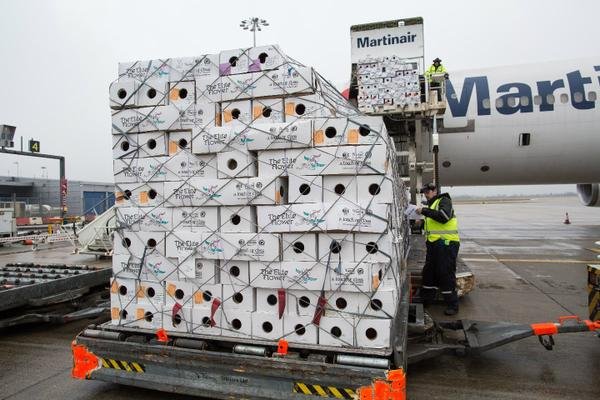 Stansted Airport in the UK received 200 tonnes of roses from South America on a Martinair flight last Friday: "Most people think an airport is just for holidays or business, but the arrival of thousands of roses shows that air travel plays an important role in so many aspects of everyday life," said Graeme Ferguson, cargo director at MAG, which includes Stansted.
Stansted is a hub for leading freight carriers including Asiana, FedEx, Martinair, Cargolux, Panalpina, Qatar, Royal Mail, Silk Way, ANA Airline Management, Titan, TNT, UPS and West Atlantic.