US ultra low-cost carrier Spirit Airlines has revealed a tranche of additional new routes including nine new destinations from Atlanta and three from Los Angeles as it continues to expand its domestic offering and increase competition with legacy and low-cost operators. This growth is just the start of what is expected to be a landmark year for the carrier with more new routes coming online through the year as it continues to join the dots within its network.
The nine new routes from Hartsfield-Jackson Atlanta International Airport will see daily connections added to Cleveland, Las Vegas and Orlando from May 7, 2015; Baltimore, Philadelphia and Tampa from June 18, 2015, Los Angeles from August 20, 2015 and Boston and Fort Myers (a seasonal link operating through April 2016) from September 10, 2015.
With these additional routes, Spirit Airlines will operate non-stop flights from Atlanta to 15 cities and add to the current network of Atlantic City, Chicago, Dallas/Fort Worth, Detroit, Fort Lauderdale, and Houston.
"We are thrilled that Spirit Airlines is offering additional options and service to new and existing destinations from Atlanta," said Miguel Southwell, general manager, Hartsfield-Jackson Atlanta International Airport. "I'm confident that travellers will greatly appreciate the new service."
All its new markets are already served from Atlanta by Delta Air Lines and Southwest Airlines, with the exception of Cleveland which is only served by the US major. Frontier Airlines also offers links between Atlanta and Orlando, while both Frontier Airlines and US Airways serve Philadelphia from the world's busiest airport.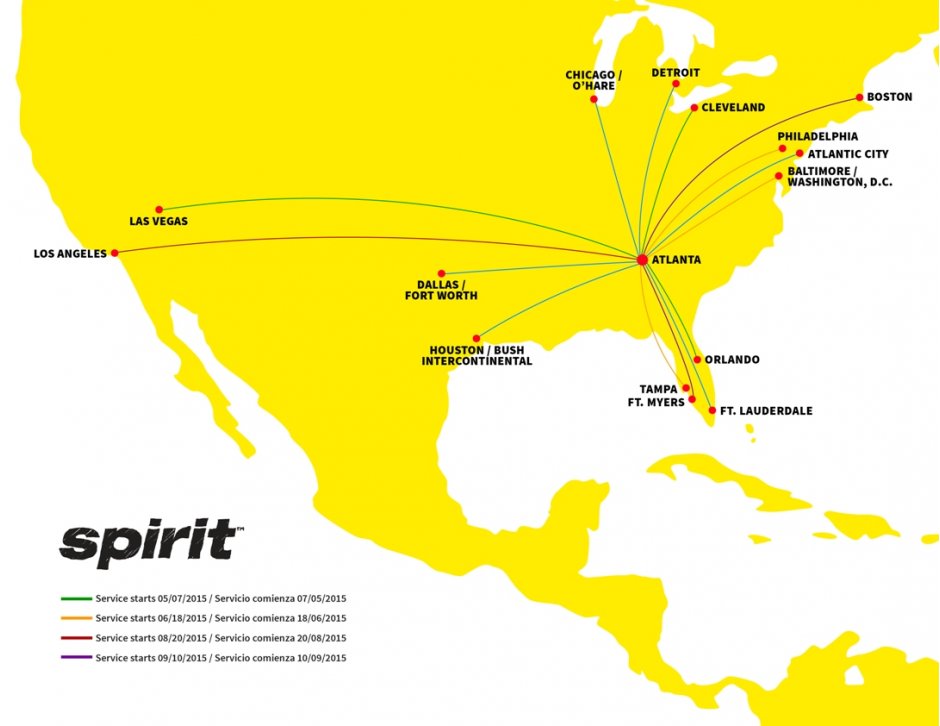 Meanwhile, at Los Angeles International Airport, alongside the new Atlanta service from August 20, 2015, to other new routes will be introduced with daily flights to Baltimore and Kansas City commencing from July 9, 2015.
Like at Atlanta, all these markets from Los Angeles are already served, albeit Spirit will be the only ultra low-cost operator on these city pairs. Alongside the competition from Southwest Airlines, United Airlines also flies between Los Angeles and Baltimore, while Delta Air Lines links it to Kansas City.
With these additional routes, Spirit will operate flights to a total of 12 cities from the City of Angels. Its current network comprises links to Chicago, Dallas/Fort Worth, Detroit, Fort Lauderdale, Houston, Las Vegas, and Minneapolis-St. Paul, while new routes to Cleveland and Denver start from April 16, 2015.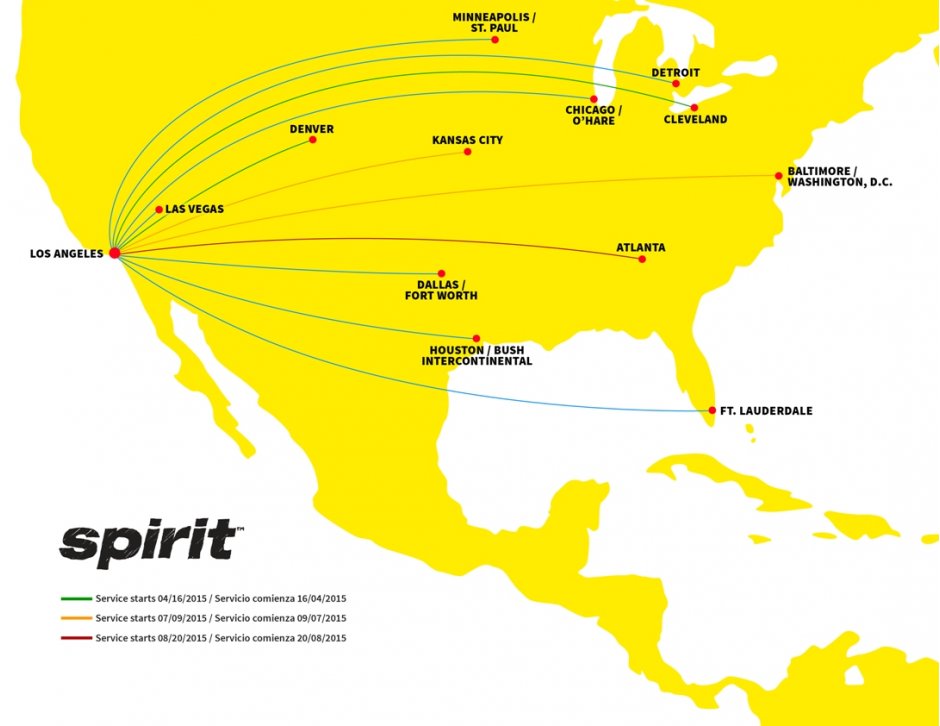 To date, Spirit has announced 26 new non-stop routes to its network starting in 2015, and jumps to 37 with these latest announcements. This growth has been achieved by joining the dots within its network with Cleveland the only new destination, although another new market is expected to be opened during the second half of 2015.
The developments at Atlanta and Los Angeles follow last month's announcement on Spirit's plans to grow its network at Boston Logan International Airport to ten domestic points with a new daily flight to Las Vegas, and seasonal service from Boston to Detroit and Cleveland commencing from April 16, 2015.
A significant growth in 2015 is also taking place at Houston's George Bush Intercontinental Airport, where a number of new international markets are being added to the Spirit network. In fact seven of the ten new routes it will launch from the airport will be to foreign points in Latin America and the Caribbean.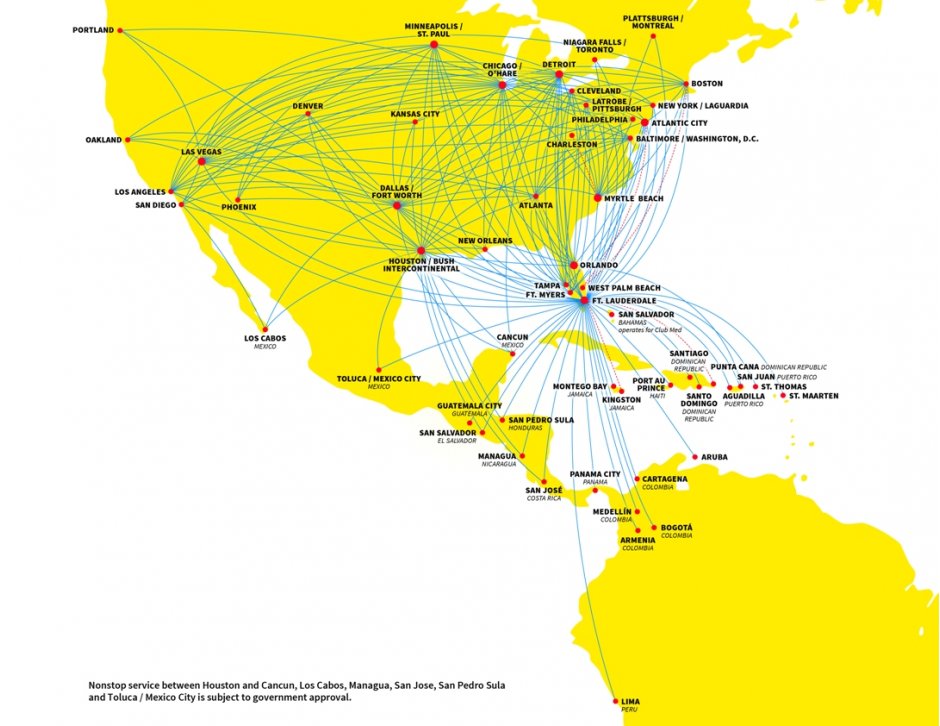 In an investor update providing guidance for the first quarter and full year ending December 31, 2015 preliminary estimates show that Spirit expects to grow capacity by 25.8 per cent in the first quarter, 31.5 per cent in the second quarter, 33.5 per cent in the third quarter and 30.5 per cent in the fourth quarter for a year-end increase of 30.4 per cent.
This will be achieved through the arrival of 15 new Airbus A320 Family aircraft, including its first A320neo (eight A320s, one A320neo and six A321s).
A draft delivery schedule for the following years shows that this capacity growth could continue through to the end of the decade. A further 16 aircraft will arrive in 2016 (three A320s, four A320neos and nine A321s) although the retirement of three A319s will mean a net increase of 13 units, growing its fleet to 93 aircraft at the end of 2016.
In 2017, eight A320s and ten A321s are due, while four A319s will be retired and one A320 and two A321s will depart the fleet at the end of their leases, while in 2018 two A320s, six A320neos and five A321s will arrive as five A319s also leave the fleet.
Over the following three years Spirit will receive 44 new neo aircraft with ten A321neos and three A320neos arriving in 2019, 13 A320neos in 2020 and 18 A320neos in 2021. The retirement of one A319 in 2019, seven in 2020 and four in 2021 mean the Spirit fleet will reach 144 aircraft by the end of 2021, comprising five A319s, 54 A320s, 45 A320neos, 30 A321s and ten A321neos.