US low-cost carrier, Frontier Airlines, will significantly expand its activities at Hartsfield-Jackson Atlanta International Airport after announcing the launch of ten new routes from the world's largest passenger airport, increasing its network to 16 domestic points.
Alongside new routes to Austin, Indianapolis and Miami which we highlighted last month (see 'Frontier Airlines Adds to Atlanta Network'), Frontier has confirmed it will also introduce regular links to Cincinnati, Los Angeles, Las Vegas, New Orleans, New York, Minneapolis/St. Paul and Philadelphia.
"We are excited that Frontier Airlines will start new service from Atlanta," said Miguel Southwell, general manager, Hartsfield-Jackson Atlanta International Airport. "Additional non-stop routes from Atlanta is not only good for business, but it gives our customers more choice and greater access – whether it be for leisure or business travel.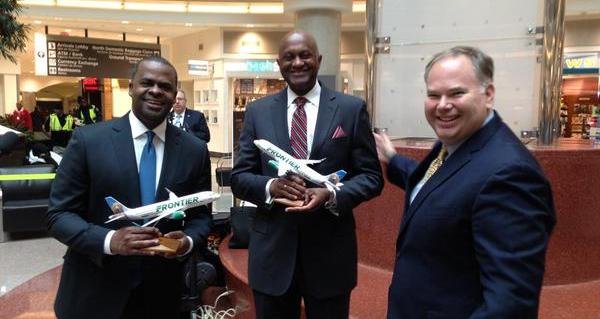 The growth from Atlanta is part of a revised strategy at Frontier as it continues to make strides to develop an ultra-low-cost (ULCC) model. The strategy is part of a transformation introduced by Indigo Partners when they purchased the carrier in late 2013 to return the business to profitability and has seen a revised brand identity introduced for the carrier.
"The Atlanta community has responded positively to our Low Fares Done Right philosophy allowing us to quickly grow to 16 non-stop destinations," said Barry Biffle, president, Frontier Airlines. The airline already serves six markets from Atlanta: Chicago, Cleveland, Denver, Orlando, Trenton and Washington.
Barry Biffle, highlighted at the recent Routes Americas forum in Denver that a revised network strategy will see the carrier look beyond its home market for development. For a long time the carrier has been dependent upon its home market, but over the past year this has reduced as it has grown elsewhere.
Speaking at the Routes Americas Strategy Summit, Biffle noted that the airline once had 90 per cent of its flights originate or end at Denver International Airport, but that now only 50 per cent of its routes touch the airport. This share will further fall, according to the executive, who said "two-thirds of the US" was open for growth. "Two-thirds of the U.S. is attractive to us at this point," he said
"Denver's a great city, and we're based here. But on a fundamental basis, the fares in Denver are lower than average. And do you want to concentrate 90 per cent of your market in a low-fare city ... if you want to focus on profits?" he added.
You can view our exclusive interview with Barry Biffle at Routes Americas, below. Click on the image to view the video.

Alongside the expansion at Atlanta, Frontier will also introduce flights from Philadelphia to Houston (daily A320 link from April 30, 2015) and Minneapolis (daily A319 link from April 30, 2015); from Chicago O'Hare to Austin (daily A319 link from April 14, 2015), Los Angeles (daily A320 link April 14, 2015), Raleigh-Durham (daily A320 link from April 30, 2015) and San Francisco (daily A320 link from April 30, 2015); from Austin to Las Vegas (daily A319 link from April 30, 2015) and from Cincinnati to Fort Myers.
Although it may have scaled-back the concentration of flights at Denver International Airport it still continues to add to its network from the Mile High City with flights to Raleigh-Durham due to commence from June 11, 2015. The flight will operate on a daily schedule using Airbus A319 equipment.
In our analysis, below, we look in greater detail at departure capacity changes at top five points within the Frontier Airlines network over the past five years. The data shows that capacity from Denver has fallen in each of the past three years and from a capacity share of 46.1 per cent in 2010, accounted for 39.8 per cent in 2014, its second lowest ever level (after 38.1 per cent in 2011). It also highlights the acceleration of operations at Trenton and the development of Cleveland as a focus city.