Low-cost carrier, Wizz Air has announced it will base a fifth Airbus A320 at its Sofia base from September 14, 2015.
The airline will begin operating new services from Sofia to Bari, Cologne, Geneva, Naples and Munich Memmingen, and the new aircraft will allow Wizz Air to increase the number of weekly flights from Sofia to London Luton, Bologna, Larnaca, Dubai and Malta.
From June 4, 2015, the airline's Sofia – London Luton route will increase from 11 to 14 weekly, while from September 14, 2015 services to both Bologna and Larnaca will increase from three to four weekly, while services to Dubai and Malta will increase from twice to thrice weekly.
György Abrán, Chief Commercial Officer of Wizz Air, said: "Today's announcement is great news for Bulgaria. By expanding our Sofia fleet, we create more travel options and a greater choice of destinations in Italy, Germany and Switzerland.
Wizz Air now offers a total of 27 routes to 14 countries from three Bulgarian airports, and the company's CCO, György Abrán hopes this will create more local jobs: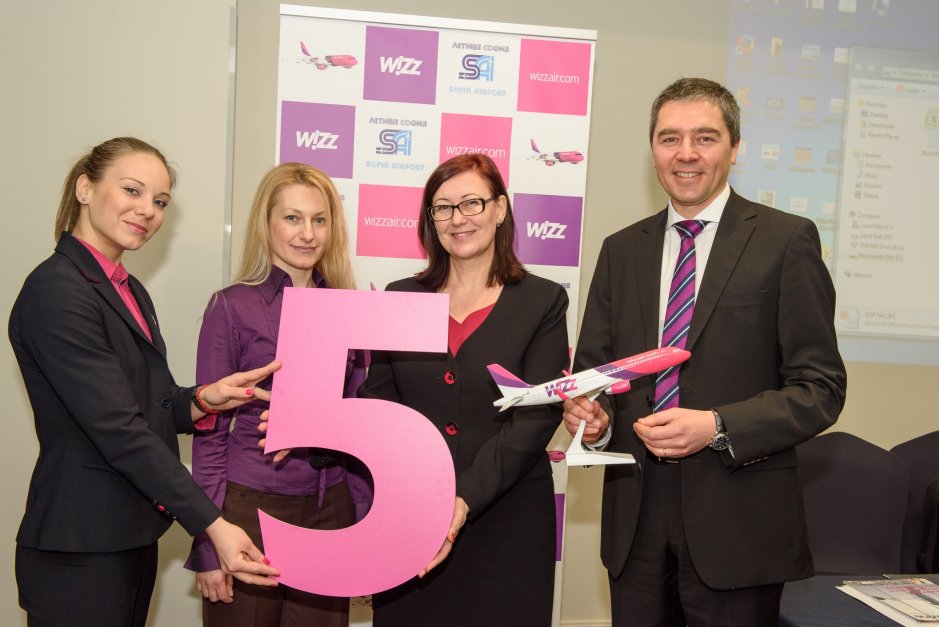 "The new services from Sofia offer a perfect opportunity to visit the Italian beaches or enjoy the beautiful landscape of the Alps in Switzerland and Germany at truly affordable fares combined with an excellent travel experience. This is expected to create more local jobs as well as further stimulate tourism in Bulgaria by attracting more business from these countries," he said.
The company provides employment to 160-170 people in Bulgaria, and currently transports approximately 1.2 million passengers per year from Sofia.
Wizz Air has also recently announced its plans to scrap the re-launch of its Budapest – Baku flight on its summer timetable, as the company was unable to make a satisfactory agreement on fees and costs with the local airport.
Central-East Europe's largest budget airline launched the direct flight connecting Budapest and the Azerbaijani capital in June 2013. The original schedule included two flights a week and 30,000 passengers during the first year of operation.
Wizz Air currently operates a fleet of 54 Airbus A320 aircraft, which each have 180 seats.