Chinese carrier Lucky Air plans to significantly expand its operations over the remainder of the decade with a forecasted average annual growth rate of 20 per cent. This will see the airline, based at Kunming's Changshui International Airport, grow its fleet to 70 aircraft by 2020 and potentially introduce its first widebodied equipment.
Initially launched as Shilin Airlines in July 2004, the carrier was rebranded as Lucky Air in December 2005, inaugurating scheduled passenger operations under its new identity early the subsequent year between Kunming, a county-level city in northwestern Yunnan province and among the region's most popular tourist destinations, known for its natural scenery and historical and cultural heritage.
In its nine years of operation as an HNA Aviation group subsidiary, Lucky Air has developed its network to cover more than 40 destinations across 21 Chinese provinces with a fleet of approaching 25 aircraft. After flying Boeing Next-Generation 737 models – both -700 and -800 variants – it is moving to an Airbus A320 Family fleet and has now grown into international markets. It now serves 61 routes and handled 5.67 million passengers last year.
Its main focus has been on the Yunnan region and linking it to the large volume markets across China, although it has also introduced a base at Chengdu's Shuangliu International Airport in Sichuan Province. It is understood it will base around seven Boeing 737s at the airport to serve domestic routes, but with ambitions to grow into international markets.
"Our international aspirations will see us develop outside of China with a focus on destinations in South East, South and East Asia," a senior executive at Lucky Air told Routesonline on the sidelines of this year's Routes Asia forum in Kunming, China. "We will introduce widebody aircraft within the next three years and these could be used to launch our first long-haul services. The international market from Yunnan is full of promise."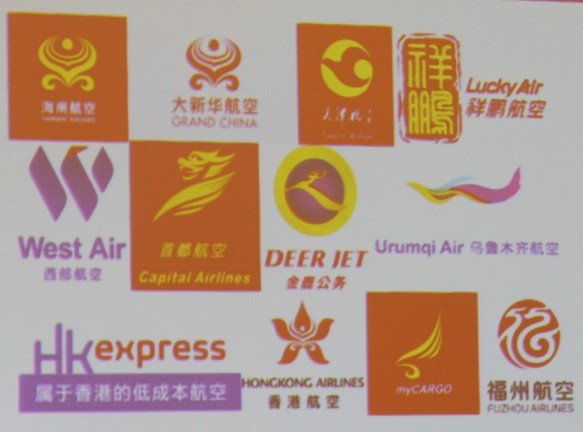 Chinese carrier, Lucky Air, part of the HNA Aviation group, is launching a new corporate identity to better compete with increasing competition in both the domestic and international markets. The airline has already introduced a new cabin uniform, but will now extend this revised look to the livery on its fleet of aircraft, at the same time replacing its long-standing Bird logo with a new symbol highlighting its Chinese origin.
After first launching flights between Kunming and Singapore Changi, via Guiyang Longdongbao International Airport in January 2014, it subsequently introduced links from Kunming to Taichung Ching Chuan Kang Airport in Taiwan and Samui International Airport on the Thai island of Koh Samui, in August 2014.