Low-fare carrier easyJet has revealed it will introduce an additional Airbus into its Amsterdam based fleet for the winter schedule. The fourth aircraft will be stationed at Schiphol Airport from October 2015 and follows this week's official opening of its new base in the Netherlands' capital city, including a specially-themed aircraft painted with Holland's signature tulips on the fuselage.
The base opening has enabled easyJet to introduce nine new routes to its Amsterdam network: Corfu, Dubrovnik, Hamburg, Ibiza, Nice, Olbia, Palermo, Toulouse, and Venice, bringing the total number of destinations it serves from the city to 29. Earlier this week, the airline also announced that it will start flying from Amsterdam to Milan Linate.
Schiphol was actually easyJet's first destination outside of the UK back in 1996 and today the airline serves the airport 108 times per week to and from London. "After flying to and from Amsterdam for so many years, it is great that we are finally able to call the airport "home" for easyJet pilots and crew," said Carolyn McCall at the launch of the Amsterdam base.
"Opening a base at Schiphol is an important strategic move for easyJet. easyJet is already the second largest airline at Amsterdam - one of Europe's leading airports serving a large and growing aviation market with strong passenger demand both to and from the Dutch capital," she added.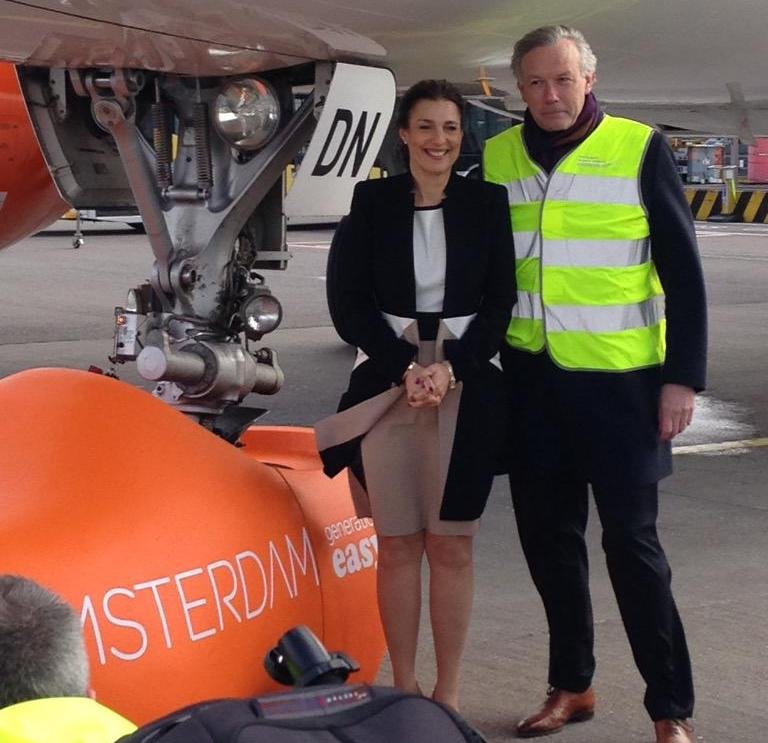 The launch of a new operational base at Amsterdam Schiphol Airport in the Netherlands 19 years after it first launched flights to the European gateway is enabling easyJet to enhance its business offering from the city through more early morning departures.
"Basing aircraft at Schiphol allows us to offer more destinations for Dutch passengers - both business travellers flying to cities and leisure travellers flying holiday destinations. Around one third of passengers on our Amsterdam flights are travelling on business and we are sure our improved European network will make travel easier and more affordable," added McCall.
In our analysis, below, we look at easyJet's annual capacity at Amsterdam Schiphol over the past ten years. The data from OAG Schedules Analyser shows that after rapid growth between 2009 and 2012 the airline's capacity at the Netherlands gateway declined by 1.2 per cent in 2013 but was its second highest level on record. This small decline followed three years of double-digit growth with capacity up 33.4 per cent in 2010, 21.8 per cent in 2011 and 10.1 per cent in 2012. It was followed by a 3.5 per cent growth in 2014 and departure capacity is set to grow by at least 20 per cent through this year following the base opening.
The Amsterdam festivities followed just a week after easyJet opened its 25th base in Porto, Portugal. The airline is basing two aircraft in the Algarve and plans to double the routes it offers from the region. The first stage of its expansion will see new summer links launched from Francisco de Sá Carneiro Airport to Bristol, London and Manchester, serving the key UK – Portugal leisure market. The flights to Bristol commence on April 19, 2015; London Luton from April 26, 2015 and Manchester from May 24, 2015.
"Portugal is a really important market for easyJet. We have been flying to and from Portugal for 18 years and this represents another important milestone in our history," said McCall. "We are really pleased to demonstrate our long-term commitment to Portugal with the opening of our second Portuguese base, following the launch of our Lisbon base in 2012."
easyJet started its operations in Portugal in 1999 and currently flies to 48 destinations across Europe. It is the third largest airline in the country with a 12 per cent market share, carrying more than 4 million passengers last year. The airline serves Faro, Funchal, Porto and Lisbon and from March 29, 2015 introduced its first link to Ponta Delgada in Azores.