One to One With Cologne Bonn
Ulrich Stiller, director marketing & sales, Cologne Bonn Airport, says a good mix of airlines and revenue streams will allow the airport to thrive.
What is your vision for the airport?
Cologne Bonn Airport (CGN) is the first major international airport in Germany to fully engage the low-cost revolution and we are striving to cement and further develop our position. We also work hard on refining the airport as a modern, contemporary transport hub with a quality service offer. Being awarded as the best regional airport in Europe by Skytrax two years in a row encourages us to continue with our efforts.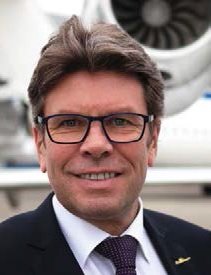 Tell us about your network.
We have a healthy mix of airlines including budget carriers (such as Germanwings, Ryanair, easyjet) and legacy carriers (such as airberlin, Austrian Airlines, KLM, Lufthansa and Turkish Airlines). We also have the leisure airlines Condor, SunExpress and TUIfly. The expanding route network, operated by 28 airlines, includes 126 destinations in 48 countries. We are pleased to offer new long-haul destinations like Bangkok, Dubai, Phuket, Puerto Plata, Punta Cana and Varadero, A new carrier, targeting corporate travel, is Chalair with a nine-times weekly Beechcraft service to Lyon. Wizz Air will launch a twice weekly service to Sofia from September and Onur Air will start an A321 charter service to Antalya this summer.
We focus on niche markets. Being surrounded by airports with a wide portfolio of long-haul services, such as Frankfurt and Düsseldorf, means we have to target complementing those services.
How do you market the airport to airlines?
As a central European airport with a catchment of 17 million inhabitants within a radius of 100km, we have a great appeal for airlines. CGN has no curfew and slot constraints. Seamless modal integration under one roof offers ICE high-speed train and commuter train connectivity as well as long-distance bus feeders. Our key strategy is to think "out of the box" in our marketing approaches. With our unique corporate identity, a team of designers are creating artworks for every media to support our messages.
How important is the airport to the local economy?
The airport has positive effects in many areas of the local economy. CGN is among the 10 biggest employers and stimulates tourism, retail and gastronomy. The vicinity of the airport is a decisive factor for the location of many companies. Around 900 jobs per year are created around the airport. Studies show that organisations close to the airport grow faster than the macro economy through good connections to passenger and freight flow. Our state, North Rhine-Westphalia, is Germany's strongest export state, generating €180.6 billion in 2014. Thus, we have a number of global players in our region like Bayer, Deutsche Telekom, DHL, Ford, HARIBO, LANXESS, RIMOWAto name but a few. And we should not forget the plethora of small and medium sized companies, which are market leaders in their field and are the backbone of Germany's strong economy
Is cargo vital to the airport's success?
CGN is an airport that never sleeps with a 24-hour operating permit. We have two different business operations, which interfere relatively little because over 90% of our cargo is express and that is predominantly handled in the night. Both UPS and FedEx operate hubs at CGN. The former has its second biggest operation worldwide at our airport. Our cargo operation is extremely important as it accounts for almost 40% of our turnover.
In general, what do you think will be the main influences on European aviation in the next five years?
The long-haul market will remain competitive with Middle Eastern carriers increasingly significant. Intra-European traffic will be dominated by intensive competition between the established legacy carriers and the low-cost carriers. At the same time, major airports will face infrastructure capacity constraints. As long as there is no progress in the Single European Sky, aviation will not achieve improved productivity.