Icelandair will celebrate the first anniversary of its flights between Reykjavik and Birmingham next February by doubling the frequency of the link, the airline has confirmed. It launched operations on the route on February 5, 2015 on a twice weekly basis but between February 1, 2016 and the end of the winter schedule on March 28, 2016 will increase to a four times weekly schedule.
The expansion of the schedule after less than three months of operation is a major fillip for the long-term sustainability of the service, something that has not been missed by Paul Kehoe, chief executive at Birmingham Airport. "It has gone from strength to strength in that short time. It's great to see the airline respond to the passenger demand for this service by increasing the number of flights," he said.
Icelandair's existing Tuesday and Saturday schedules will be complemented by Monday and Thursday rotations from February 2016 and will not only open up new opportunities of travelling to and from Iceland but also across to North America on the airline's growing network in Canada and the United States from its Keflavik International Airport.
Next month the carrier will introduce flights to Portland, Oregon, its 14th destination across North America. The new flights will operate twice weekly from Reykjavik to Portland, on Tuesdays and Thursdays, and back from Portland to Reykjavik on Wednesdays and Fridays from May 19, 2015.
"By using Iceland's geographical position midway between Europe and North America we can offer some of the fastest elapsed times from Birmingham to popular destinations such as Washington D.C. and Seattle," explained Birkir Hólm Guðnason, chief executive officer, Icelandair.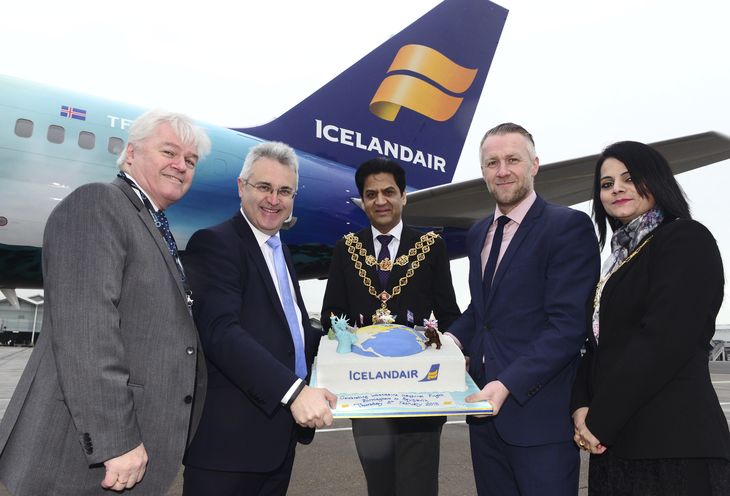 Iceland's nature, including the Northern Lights and the hot springs, has always been a big attraction for visitors from across the UK and Icelandic locals also have a reputation of offering a warm welcome with the Nordic country voted as the friendliest nation on earth in a recent poll by World Economic Forum, but demand has been growing in recent years.
In addition to Birmingham, Icelandair also offers year round service from the UK to Iceland from London – Heathrow and Gatwick - Manchester and Glasgow, while easyJet offers links from Belfast, Bristol, Edinburgh, London Gatwick, London Luton and Manchester and Icelandic low-cost carrier WOW Air flies to London Gatwick. Flybe had also offered flights from Birmingham but these ceased in March this year shortly after Icelandair entered the market.
Our analysis of Sabre's Airport ADI data highlights in more detail segement demand between the UK and Iceland since 2000. The graph clearly shows how the 2008–2011 Icelandic financial crisis, a major economic and political event in Iceland, impacted passenger demand to the country from the UK. Relative to the size of its economy, the collapse of all three of the country's major privately owned commercial banks, is the largest experienced by any country in economic history.
The banking system collapse was also compounded by the April 2010 eruption of Eyjafjallajökull that forced the unprecedented closure of European airspace. However, the growth shows how air travel has rebounded and demand has increased to levels never previously witnessed following the arrival of new entrants into the Icelandic market.
From the UK this has seen easyJet and Flybe both introduce flights to the island in the past year. According to our own analysis of demand last year, easyJet had grown to a 28.2 per cent share of the O&D traffic between the UK and Iceland. However, the growth of its own flights in this market meant that Icelandair increased its own share to 52.1 per cent from 46.5 per cent in 2013. This is only point-to-point demand and the latter's total traffic will also be boosted by connecting passenger flows via Keflavik International Airport to its transatlantic network.