Bahrain's New Terminal to Make Big Impression
Bahrain International Airport's new state-of-the-art terminal is set to make a big impression on passengers and significantly enhance airline operations, writes Joe Bates for our sister magazine, Routes News.
Mohamed Yousif Al-Binfalah, CEO of Bahrain Airport Company (BAC), has no doubts about the impact the planned new terminal will make on Bahrain International Airport. "Our new terminal won't be the biggest in the region and our strategy does not revolve around being the biggest airport in the region, but I can assure you that it will allow us to provide an exceptional passenger experience in terms of efficiency, comfort and technology," he enthuses.
"I promise you that the new terminal building will be very special and position the airport to be at the forefront of providing an exceptional passenger experience. "We are creating a boutique airport in the sense that passengers will feel the difference when they arrive here and experience our facilities as compared to others. Walking distances will be short, processing times quick and easy and customer service standards high." Bold words, indeed, from Al-Binfalah, who would be the first to admit that Bahrain has had some tough times in recent years as Gulf Air has restructured on more than one occasion in a bid to adapt to the new super competitive environment.
The good news is that the airline is now in a good place again after its latest restructure and with the diverse Bahraini economy booming, traffic is on the rise, soaring 10% last year to 8.1 million. In fact, Al-Binfalah refers to 2014 as "a remarkable year" due to the healthy upturn in traffic driven by new routes launched by Gulf Air and others. And with the airport predicting that passenger numbers will rise 5-10% per annum for at least the next three years, BAC has taken the huge decision to invest $1 billion on upgrading the airport to ensure that it is more than capable of meeting future demand.
As a result, its soon-to-be completed master plan will contain a modernisation programme that includes plans for a new state-of-the-art passenger terminal. This will help fulfil the Kingdom's vision to become a regional hub for financial, cultural and aviation services. The new terminal will raise Bahrain's capacity to 14 million passengers per annum (mppa), although it will initially be equipped to accommodate up to 12mppa when it opens in late 2018. Also on the agenda are plans to enhance the airfield and add new facilities ranging from a maintenance, repair and overhaul (MRO) base, fuel farm, fire rescue station and two multi-storey car parks to a central utilities centre and new power sub-stations and water treatment plant.
Indeed, such is the size of the project that BAC is effectively building a new gateway on the existing airport site and Al-Binfalah expects that it will transform the airport and people's perceptions of it. At 201,000m2 it will be nearly four times the size of the existing 1970s built terminal it will replace and boast a 4,600m2 Departures Hall, centrally located 9,000m2 retail, duty free and food and beverage (F&B) zone area, five e-gates for arriving passengers and a host of new airline lounges, as well as unique facilities such as a national museum and art gallery.
Both the retail and F&B outlets will also feature a number of local brands to provide a sense of place for visitors, especially the 60% of transfer passengers. Al-Binfalah says BAC wants the one-kilometre long building to be Leadership in Energy & Environmental Design (LEED) Gold certified by the US Green Building Council. He notes that BAC is currently considering what do with the existing terminal building, part of which has to be demolished for the new one, with one potential option on the table being to use it as a dedicated low-cost carrier (LCC) facility. It all adds up to a sizeable investment in the airport, but Al-Binfalah is quick to point out that Bahrain is not alone in its commitment to upgrading its aviation infrastructure, noting that regional investment in airports is taking place "from Kuwait in the north all the way to Oman in the south and throughout the Kingdom of Saudi Arabia, demonstrating the GCC focus on upgrading its aviation infrastructure".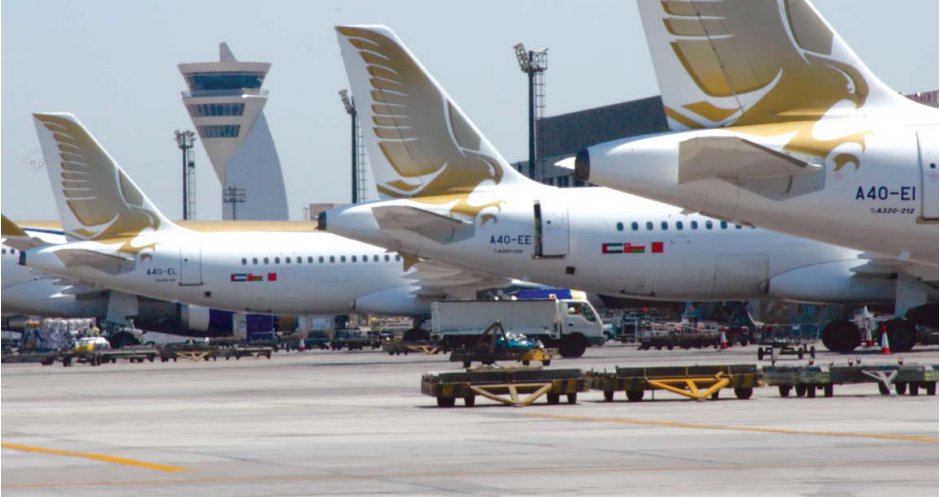 Traffic growth
When the new terminal opens in 2018, the 12mppa will be handled via eight gates. Four more gates will be added in a second phase to raise the capacity to 14mppa. The extra space will certainly be needed. Although the airport is not expected to beat the record 9mppa it handled in 2010 until 2016, the 8.7 million passengers that are set to pass through its facilities this year will be close to its design capacity. Al-Binfalah cites the national flag carrier's resurgence as the key reason for the upturn, although he admits that 2013was a negative year for the airport due to a number of factors that included the collapse of LCC, Bahrain Air, and the downsizing of Gulf Air after it reduced its fleet to 26 aircraft and axed a number of routes.
Today, Gulf Air boasts a fleet of 28 aircraft and operates services to 42 destinations in 23 countries across a network concentrated on Africa, Asia and Europe. Its fleet and route network ensure that it is the biggest operator at Bahrain International Airport by some considerable margin, accounting for some 60% of all passengers. Other airlines serving Bahrain include Air Arabia, Air France, British Airways, Cathay Pacific, Etihad, KLM, Lufthansa, Qatar Airways, Saudi Arabian Airlines, and United. According to Al-Binfalah, Bahrain's prominent location in the middle of the Gulf region ensures that its airlines primarily serve destinations in the northern Gulf and Saudi Arabia, whose border is just 25 kilometres from the airport.
However, he is keen to get more routes to expand the airport's appeal and tells Routes News that he would like to see more new services to Asia and the Far East, in particular China and India. Indeed, the week after this interview BAC led a government-led trade delegation to China to talk to at least three major Chinese airlines about the possible launch of new services to Bahrain. Destinations in Kuwait, Oman, Qatar and Saudi Arabia and the UAE – all of which are Gulf Cooperation Council (GCC) members along with Bahrain – are currently the top routes by volume served from Bahrain.
Next by region is the Indian subcontinent, followed by the wider Middle East and Africa regions, Europe and South East Asia. Al-Binfalah insists that there is a lot the airport can still achieve despite the fact it will be replaced by a new off-shore gateway sometime around 2030. He concludes: "We currently handle less than 130,000 aircraft movements per annum but I believe we can handle up to 170,000. There is still room to grow on this site, that's for sure."