Thomas Cook Airlines is launching a number of new Caribbean routes from Glasgow Airport, including Cancun and Barbados.
The airline is also extending its Las Vegas service from the Scottish city, which was officially launched on May 4, 2015 – to operate twice weekly from May to October 2016, due to increasing demand.
The new weekly Cancun service will launch on November 7, 2o15, while the weekly Barbados service will launch on November 8, 2015 to run until January 2 and 3 respectively.
Christoph Debus, Thomas Cook Group's chief airlines and hotels officer, said: "Following the great success of our new Las Vegas flight, we are really pleased to announce new routes this winter to Cancun and Barbados with an even better service with more flights to Las Vegas and Orlando next summer.
The airline's increased number of summer flights to Orlando will commence in summer 2016, rising from three to six per week.
"This is truly great news for the Scottish long haul traveller heading to the Caribbean and the USA," he added.
The Cancun and Barbados services will feature the new Economy and Premium cabins on the refurbished A330 aircraft. The new routes follow the announcements last year of new flights to Holguin and Varadero in Cuba from Glasgow Airport during the coming winter months.
Francois Bourienne, commercial director at Glasgow Airport, said, "The introduction of Thomas Cook Airlines direct flights to Cancun and Barbados this winter not only demonstrates its commitment to Glasgow Airport, it highlights the demand for these popular sunshine destinations. We are looking forward to working with Thomas Cook Airlines to develop these services and to further grow the airline's presence at Glasgow."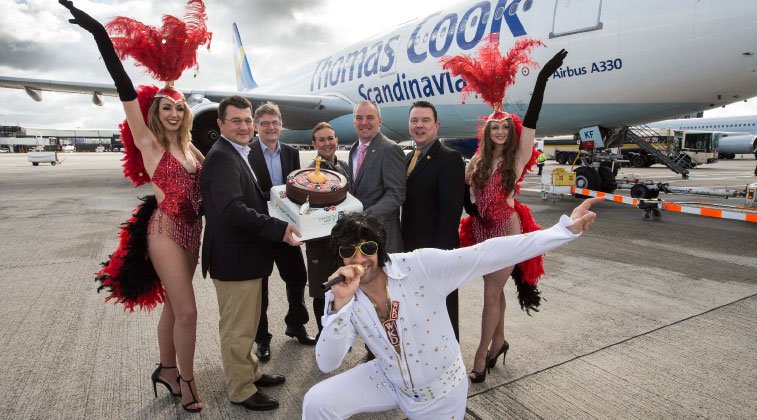 The airline's inaugural Las Vegas service from Glasgow, which commenced on May 4, departed with over 300 customers on board, and follows a series of one-off flights to the US in recent summers.
Paul Rety, Venue Director at ALEA Glasgow said, "ALEA Glasgow is part of the World's largest gaming organisation – Caesars Entertainment – and the only casino in Glasgow with a direct link to Vegas. The buzz of the entertainment at the airport will hopefully give travellers a taste of what's already on offer here in the heart of Glasgow before they fly."