This year will be an exciting one for Newcastle Airport in Australia as its new terminal building will be complete which will mean that infrastructure will no longer be a barrier for international flights from the city in New South Wales. But, just because it will be finally able to handle international flights from the end of the year, doesn't mean that it will be successful in securing international links.
"We would love to see direct flights from Newcastle Airport to international destinations such as New Zealand, Fiji, Singapore, and one day USA and Europe. However, the reality is we don't own the planes, the airlines do. This means the airlines choose where their planes fly," said David Nye, manager of aviation business development, Newcastle Airport.
Over the past 12 months ahead of the completion of the infrastructure upgrades Newcastle Airport officials have been working hard behind the scenes to develop a strong business case for the region.
"Our role as Newcastle Airport in securing new destinations, be they international or domestic, is to convince an airline that they will make more money by putting on a (for example) Newcastle-Auckland service instead of another service elsewhere (such as Sydney-Auckland)," said Nye.
This has involved a three-step process, according to the business development executive, a former airline sales manager in Europe. This has included conducting research in conjunction with airports at the other end or routes, crunching numbers to determine if a service is viable and started pitching business cases to the airlines.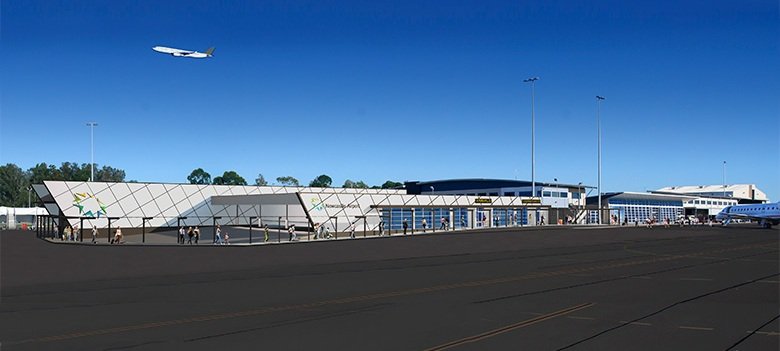 "We've looked at our current passenger travel patterns, such as 'are our passengers travelling to Singapore via Brisbane?' We've also investigated and conducted on-the-ground research to determine how many passengers are travelling to Sydney so they can get a direct flight," explained Nye.
"Once we know that a destination is in demand, we look at how many passengers from our catchment and the other-end airport's catchment would use the service each week and if the service is truly sustainable for an airline in the long-term (to be frank, is the airline going to make money from this service?)," he added.
This research has shown that currently Newcastle Airport has significant leakage to Sydney – that is its own catchment is travelling to Sydney so they can fly on a direct service. "The research suggests that the leakage is enough to sustain a direct service from Newcastle to a number of destinations," said Nye.
"We have had executive-level delegations from major airlines attend meetings with us, in our region, in the past six months. This is a major coop for a regional airport in Australia; to have airlines come to us. We've presented the numbers from our research—outlined how many times a day or week a service would be viable. As a general rule-of-thumb, for a service to be viable we have found an airline is looking to fly the route at least three times each week," he added.
The frustrating position for Nye is that now everything is out of his hands. "It's now the airline's decision what they decide to do with this information," he said. "Ultimately, it comes down to if they think they can make more money off a Newcastle–New Destination service or a service departing Sydney or Brisbane."
However, whatever the outcome of these discussions, others will also take place. "We'll keep working hard behind the scenes to bring our region more direct destinations," he concluded.
Newcastle Airport plays a key role as one of the region's key economic and employment hubs, contributing $1.19 billion annually to the Hunter's economy and supporting 3,346 jobs. In the past decade, Newcastle Airport's contribution to the local economy has increased from $233.1 million annually in 2005 to the $1.19 billion annually in 2014. This significant increase in contribution is a result of increased air services, increased employment on and around the airport site, and numerous major construction projects completed on the Airport site in the past decade.