Experience the magic of Georgia
From exploring the twisting lanes of old Tbilisi to the UNESCO World Heritage Site monuments of Mtskheta, don't miss your chance to book a complimentary tour.
Our host, United Airports of Georgia (UAG) and their sponsor Georgian National Tourism Administration are offering two complimentary tours for your enjoyment during your in Tbilisi.
Tbilisi lies in the centre of eastern Georgia, in the foothills of the Trialeti mountain range. The capital city of the country of Georgia, it covers an area of 726 km² (280.3 square miles) and has a population of over 1.3m. Although the city has been destroyed and rebuilt some 29 times, the layout of the Old Town is largely intact with narrow alleys and big crooked houses built around courtyards.
In addition to the core business elements of Routes Silk Road, we encourage delegates to book a placeon one of the tours and explore what this stunning city had to offer.
Taking place on Saturday 4th and Sunday 5th July, the tour programme includes:
Mtskheta (Old Capital of Georgia) - Saturday 4th July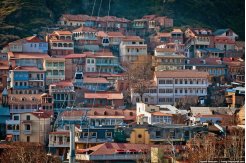 One of the oldest cities of Georgia is located about 20 kilometres north of Tbilisi at the confluence of the Aragvi and Mtkvari rivers. The city is considered to be one of the oldest continuously inhabited cities in the world and today is populated by around 19 500 people. The town has an extraordinary importance to the Georgian Nation as it was the capital of the eastern Georgian kingdom of Iberia from the 3rd century BC to the 5th century AD. Mtskheta was the site of Georgia's adoption of Christianity in 334 and remains to be one of the headquarters of the Georgian Orthodox Church. Mtskheta is of primary interest to any visitor interested in Georgian history and/or Orthodox Christianity.
Due to its historical significance and numerous ancient monuments, the "HistoricalMonuments of Mtskheta" became a UNESCO World Heritage Site in 1994. The historic churches of Mtskheta are outstanding examples of medieval religious architecture in the Caucasus. They represent the high artistic and cultural level attained by this ancient kingdom.
Old Tbilisi - Sunday 5th July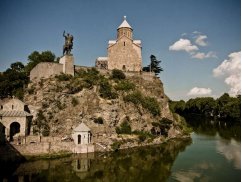 One of the Must-dos and probably the most distinctive pleasures of visiting Tbilisi is wandering through the Old City, with its old-style balconies, ancient churches, winding, narrow streets, and charming shops. Here one will notice a number of eclectic sights – sites ranging from churches to mosques and synagogues, as well as the art galleries lining along the way.
The uniqueness of attractions and the cultural as well as architectural diversity widely presented at this spot starting from Sulfur Baths, Betelmi - housing two of the city's oldest churches and the stunning views from the Narikala Fortress is simply overwhelming.
Full details of both tours can be found on our dedicated web page, or book now.