Kazakhstan national carrier, Air Astana, has emerged as one of the pioneers of the modern aviation era in Central Asia despite only in its thirteenth year of operation and at this year's Paris Air Show it became the first airline customer for the new Airbus A321LR after agreeing a lease deal with Air Lease Corporation (ALC) of Los Angeles, USA for seven new short-haul airliners.
The airline has agreed to acquire seven Airbus A320neo (new engine option) Family aircraft on operating lease from ALC, comprising two A320neo, one A321neo and four A321neo Long Range (LR) jetliners. One A320neo is scheduled for delivery in spring 2016, with the remaining six aircraft being delivered in 2018 and 2019, with the first A321neoLRs due in 2019.
With the agreement, Air Astana becomes the first airline in the world to announce that it will operate the A321neoLR, which is designed to offer the longest range of any single-aisle aircraft, capable of serving routes of up to 4,000 nm.
The new fleet of A320neo family aircraft will operate on the airline's domestic network, as well as international services to destinations in China, India, Russia and the UAE. Additionally, the A321neo LR has the capability to operate on longer routes including those from Astana to London and from Almaty to Bangkok, Ho Chi Minh City and Hong Kong.
The A320neo cabin will be configured with 16 Business Class / 132 Economy Class seats, the A321neo with 28 Business Class / 151 Economy Class seats and the A321neo LR with 16 lie flat Business Class seats / 150 Economy Class seats.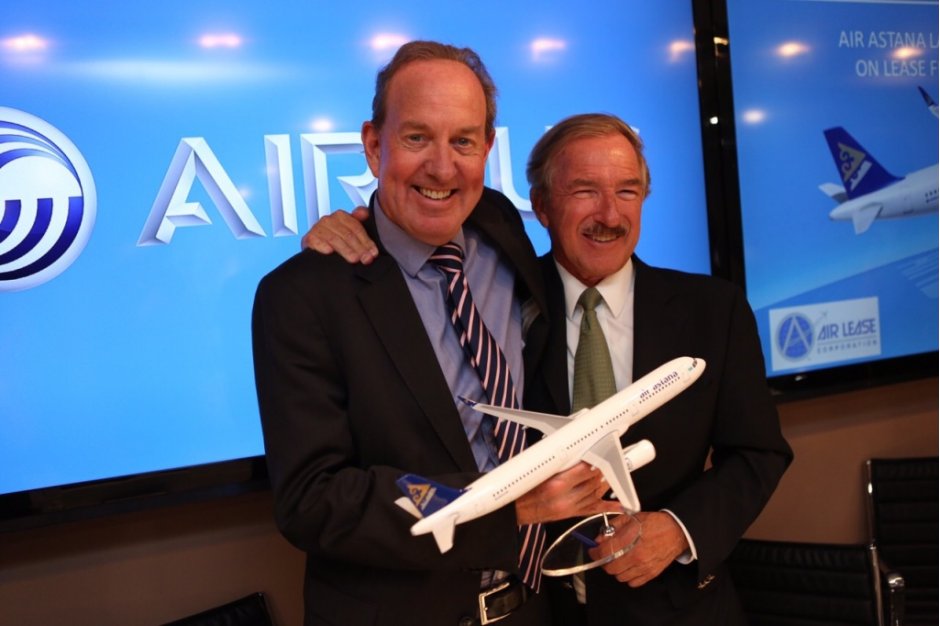 "The Airbus A320 has proved to be a tremendous success in service with Air Astana over the past nine years, with enormous passenger appeal, low operating costs, high reliability and an outstanding safety record," said Peter Foster, president and chief executive officer, Air Astana.
"In terms of product, in terms of range, in terms of operating cost efficiency, these aircraft are going to take Air Astana to a new level. These aircraft will allow us to operate almost all of our network: domestic, regional and also our long-haul services to Europe and Asia," he added at a press conference during the Paris Air Show.
Air Astana, joint venture between Kazakhstan's national wealth fund, Samruk Kazyna, and BAE Systems, commenced regular flight operations on May 15, 2002 and currently operates a network of 64 routes between 39 international and domestic destinations. It currently has a fleet of 30 aircraft including three Boeing 767-300ER, five Boeing 757-200, thirteen Airbus A320 family aircraft and nine Embraer E190s.
It is the first carrier from Russia, the Commonwealth of Independent States (the CIS) and Eastern Europe to be awarded the prestigious Four-Star rating by Skytrax in its World Airline Awards and this year secured the Best Airline Central Asia / India being achieved for the fourth successive year and Best Airline Staff Service Central Asia/India for the third year.
Air Astana reported a record operating profit of US$97.7 m in 2014 representing a 35 per cent increase over 2013. It has also experienced increased traffic and network expansion over the past 12 months, including new international services launching from Astana to Bangkok in December and direct flights from Astana to Paris in March this year.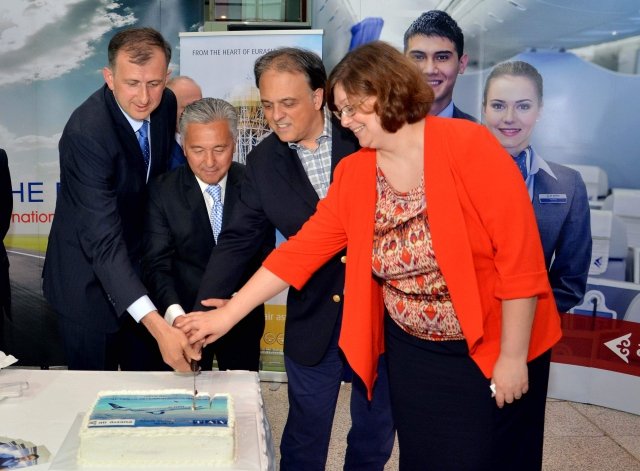 This month Air Astana launched new services from Astana to the capital cities of Seoul, South Korea and to Tbilisi, Georgia. The service between the capital cities of Kazakhstan and South Korea operates once a week and complements the existing three times a week service from Almaty to Seoul.
The link to Georgian capital, Tbilisi, the host city for next month's Routes Silk Road forum, started on June 2, 2015 and is initially being operated on a twice weekly basis using an Embraer E190. Like the Seoul market, it will complement the carrier's existing flights to Tbilisi from Almaty, which was launched in 2011 and is served five times weekly
Speaking after the arrival of the inaugural flight in Tbilisi, Yerbol Ospanov, senior vice president government, regulatory affairs and security, Air Astana said the carrier decided to launch the new route after a long analysis of passenger flow and tourist needs showed that the interest in flying to Georgia from Astana had increased dramatically in the last few years. "We decided to start with flights twice a week, but we have all opportunities to increase that number," he said.