US major, United Airlines, has announced it will move its transcontinental premium services from New York John F Kennedy International Airport (JFK) to Los Angeles International Airport and San Francisco International Airport to its Newark Liberty International Airport hub from this winter, as it seeks to capture more passengers in this lucrative US domestic market.
The airline was the first US major to roll out a premium service on New York-to-San Francisco and Los Angeles routes in 2004, but has fallen behind its competitors as they have enhanced their offerings over recent years, most notably American Airlines and JetBlue with their new onboard premium service.
In its new commitment to this market, United will pull some of the Boeing 757-200s currently allocated to its transatlantic schedule and reconfigure them for its p.s. premium domestic services with flat-bed seats in the United BusinessFirst cabin, a premium in-flight service, more extra-legroom Economy Plus seats than its competitors and modern interiors with in-flight Wi-Fi and personal on-demand entertainment with individual seatback monitors and power ports for customers in every row.
You can learn more about United's historic operations at New York JFK in this special report from our blog, Airline Route: Flashback: UNITED New York JFK Operations 1980 – 2015
"The introduction of p.s. to Newark Liberty, the New York/Newark region's premier airport, offers Los Angeles and San Francisco travellers the highest levels of service in the air and on the ground," said Jim Compton, vice chairman and chief revenue officer, United Airlines. "We are investing in the three critical components of the travel experience for our customers – our network, our product and our facilities."
United already flies transcontinental services from Newark, but from October 25, 2015, it will be offering even more frequencies in both markets with up to 15 daily frequencies between Newark and Los Angeles, and up to 17 between Newark and San Francisco with a total of up to 10,000 round-trip seats offered per day on the two combined key transcontinental routes. It will offer more than 1,250 daily flat-bed Business Class seats – the most in the New York market – and a 44 per cent increase in flat-bed seats year-over-year.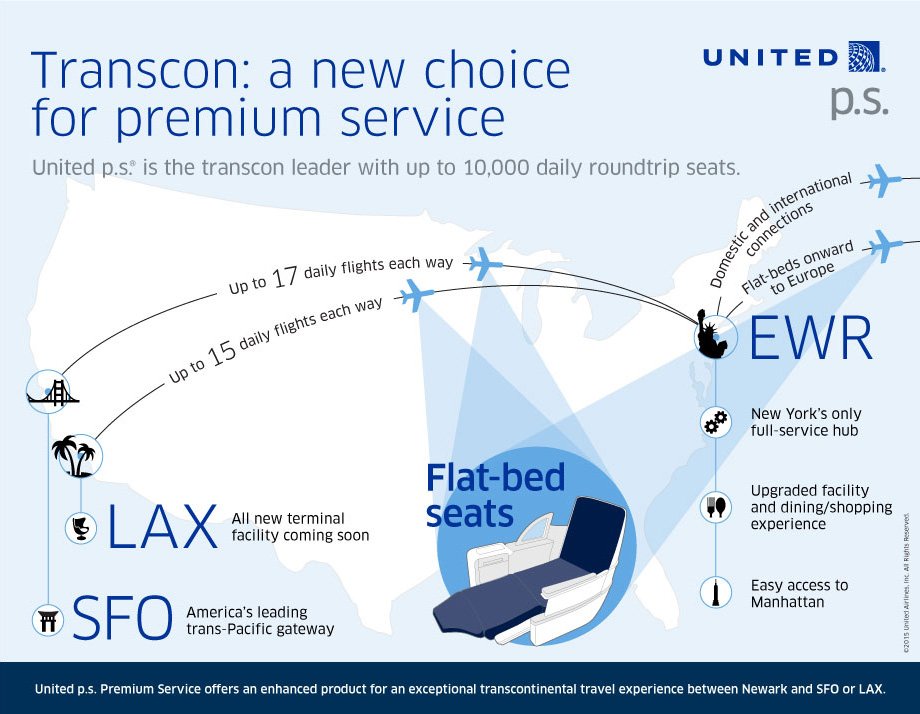 As part of its strategy, United has entered into two separate transactions with Delta Air Lines for its US rival to acquire United's JFK slots and for it to purchase slots from Delta in Newark. Each transaction is subject to regulatory approval which is far from guaranteed as United had previously been forced to give up 36 slots at Newark as part of its merger with Continental Airlines by US regulators.
The introduction of its transatlantic 757s into domestic operation will not impact its long-haul network and United will increase the number of widebody Boeing 767 aircraft on its transatlantic network, offering larger United BusinessFirst cabins and, on many flights, United Global First service. It has already announced plans to introduce the 767 on Newark flights to and from Barcelona, Madrid, Berlin and Hamburg.
Although United will be ending its activities at JFK, it will retain a presence at New York's LaGuardia Airport where the airline flies 37 daily departures to several of its domestic hubs, including Chicago, Denver, Houston and Washington Dulles.
United already holds a significant 68.9 per cent share of departure capacity from Newark, according to data from OAG Schedules Analyser for June 2015, and its acquisition of Delta's slots will only strengthen its position at the airport at the expense of its nearest rival: Delta currently has a 4.9 per cent share of departure capacity.
The United dominance at Newark is significantly higher than its rival's positions at New York's other airports. At JFK, Delta is the largest operator with a 16.3 per cent share ahead of JetBlue (21.7 per cent) and American Airlines (11.8 per cent). Meanwhile at LaGuardia, Delta holds a 40.3 per cent capacity share ahead of American Airlines (27.7 per cent) and Southwest Airlines (8.6 per cent). United's limited operation at the airport accounts for a 7.8 per cent share of total departure seats.
According to our analysis of Sabre Airport Data Intelligence statistics, an estimated 4.7 million bi-directional passengers flew between New York (EWR, JFK and LGA) and Los Angeles in 2014, while around 3.6 million flew between the New York Airports and San Francisco. United has the dominant share of this market, according to the data, with a 39.4 per cent share of segment demand, more than double that of its closest rival, Delta Air Lines, with an 18.3 per cent share.