Chinese carrier Hainan Airlines has launched an extended programme of charter flights between Beijing's Capital International Airport and Birmingham International Airport in the UK, building on the success of China Southern Airlines' flights last year. These operated between July 22, 2014 and August 6, 2014 and are thought to have generated £2.4 million to the Midlands' economy.
The new flights are operating twice weekly on Fridays and Mondays, between July 3, 2015 and August 28, 2015 and will carry almost 4,000 Chinese tourists into the UK on package tours and will contribute a forecasted £19 million to the regional economy. The flights will be operated by a 223-seat Boeing 767-300 configured with 32 Business Class and 191 Economy seats.
Not only is this a significant market test, it paves the way for future sustainable scheduled flights into Birmingham from China that will support the growth in Chinese visitors as well as the region's economy, which, if developed into a daily service could deliver an additional £81 million to the UK economy each year, including £62 million per year for the West Midlands. The airport is also hopeful that flight programmes will include departures from Shanghai and Guangzhou to Birmingham in the future.
"Birmingham Airport's work towards a daily service shows their commitment to creating opportunities and new jobs in the region," said Secretary of State for Transport Rt Hon Patrick McLoughlin MP.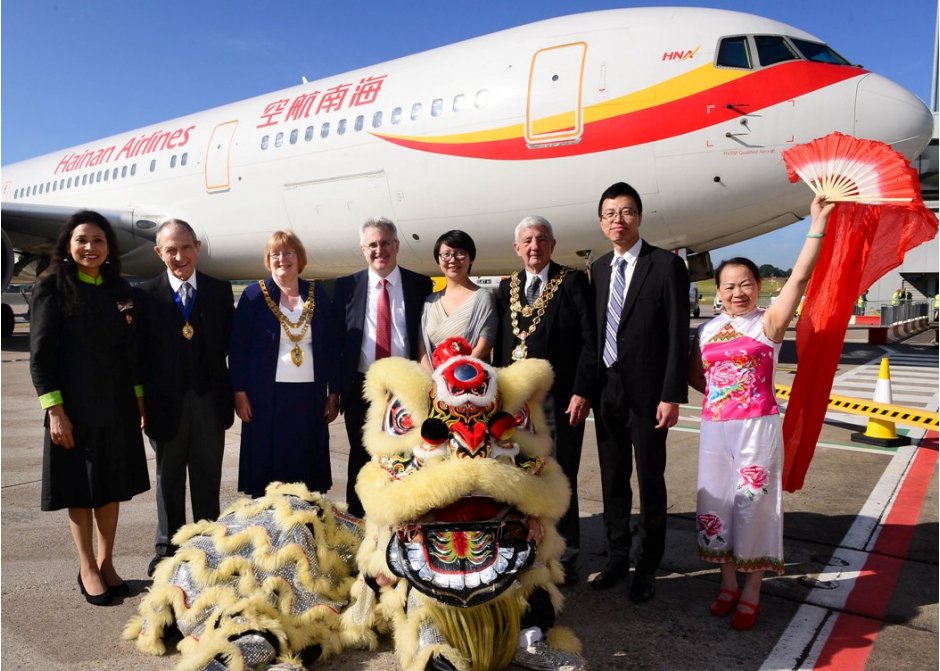 From left to right; Jenny Loynton, Deputy Lord Lieutenant for the West Midlands, Mayor of Solihull's Consort, Mr Clive Slater, The Mayor of Solihull, Councillor Glenis Slater, Chief Executive Birmingham Airport Paul Kehoe, Hu Hui, Caissa Touristic, Lord Mayor of Birmingham, Councillor Ray Hassell and Fei Yang of Hainan Airlines are pictured celebrating the arrival of Hainan Airlines' Beijing service which touched down at Birmingham Airport on Friday 3rd July.
This is series of flights that will see more than 4,000 Chinese visitors to the region over the summer months through packages offered by Caissa Touristic, one of China's largest tour operators. These new charter flights will help VisitBritain to achieve its target of £1 billion in Chinese visitor spend within five years – that's over double the current annual level. "China is a huge tourism opportunity for Britain. Our current share is small in volume but high in value," said Sally Balcombe, chief executive officer, VisitBritain.
"Chinese visitors already stay longer here than in our European competitor destinations and are high spenders – every 22 additional Chinese visitors we attract supports an additional job in tourism," she added.
China is currently one of the fastest growing visitor source markets for the UK tourism industry at a rate of 20 per cent year-on-year over the past few years. The size of the market has tripled over the past decade, and it is forecast to continue to grow strongly for the remainder of the decade.
According to statistics from the United Kingdom Civil Aviation Authority (CAA), 1,375 passengers made use of the China Southern flights between Birmingham and Beijing in 2014. The data from the regulator shows a total of 973,619 passengers flew on flights between China and the UK last year, the majority between Beijing and London.