For Ukraine to rebound from what was a difficult 2014 following conflict in the East of the country and the alleged shooting down of a Malaysia Airlines Boeing 777 in its airspace, it needs to take a wider Open Skies viewpoint rather than seeking to protect its national assets.
This was the view of Yevgen Treskunov, strategic development and international relations committee at the Airports Association of Ukraine (AAUCA) during a panel session on how airline traffic and associated tourism evolving across the Silk Road region at this year's Routes Silk Road Strategy Summit in Tbilisi, Georgia.
After a period of strong growth and stability in the local market, Treskunov said the country had been "hit hard" by the events of last year and it is now having to work hard to stimulate the Economy. "Business traffic is suffering, but there remains a strong potential for inbound tourism. We have the infrastructure following the investment associated with us co-hosting the European Football Championships in 2012. We just need to bring capacity and stimulate demand," he said.
Ukraine is a huge market opportunity, but for many carriers there have been notable restrictions on air access. Negotiations on a full EU-Ukraine open skies agreement had reached a critical stage over the past couple of years, but have fallen on a more regional structure. This has initially seen the Ukraine Infrastructure Ministry allow the western Ukrainian city of Lviv to be linked directly to European Union destinations without any restrictions as a trial run.
"It is important that the Government treats airlines well to support tourism development. With the right Government policy and investment in airports, we can put the country back on the map and influence where will fly. If this is done right, airline capacity will allow us to grow inbound and outbound passengers," said Treskunov.
According to the airport association executive, the localised Open Skies agreement at Lviv, and more recently at Odessa too, should certainly act as a pre-cursor to a wider Open Skies policy from Ukraine. "We would be happy to see this in the future," he said.
"We would like to see the current 18 international airports in Ukraine have permission to grow international traffic to further promote tourism development in the country and bring already successful international practices to our local industry," he added.
Previous Open Skies deals from the European Union have had a notable impact on trade with countries. An agreement with Morocco in 2006 is credited with bringing an economic benefit of €3.5 billion in 2006–2011. In 2007, traffic rose by about 22 per cent to 8 million, more than 50 routes opened and 12 new carriers entered the market. A Western Balkans agreement covering Albania, Bosnia and Herzegovina, Croatia, Montenegro, Serbia and Kosovo is estimated to have brought economic benefits to the region of €2.4 billion.
However, it is important, noted Treskunov, that airlines understand the fundamentals of the market and introduce a policy of collaboration and cooperation. Although national carrier Ukraine International Airlines (UIA) is growing, Ukraine has seen WizzAir close its local business and Russian carrier UTair scale-back its own activities in the country.
"We need to bring new entrants into Ukraine and support them," said Treskunov. "We also need to open the door to foreign low-cost carriers to help tourism grow."
One potential new entrant is Turkish carrier, AtlasGlobal Airlines, who have recently set up AtlasJet Airlines Ukraine with the view of flying within and from the country. This carrier holds a local Ukrainian Air Operator's Certificate (AOC) and will support the company's ambitions to develop its own network model via its Istanbul Ataturk International Airport hub.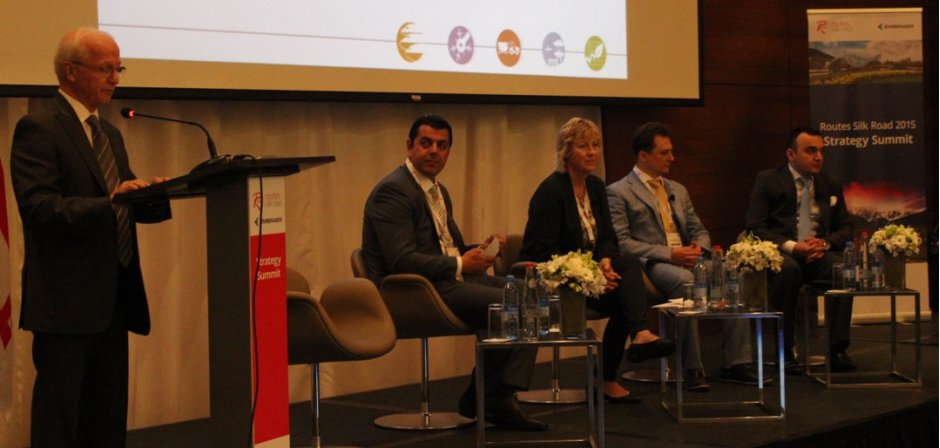 Speaking on the same panel session at the Routes Silk Road Strategy Summit, Ercan Uzman, director international relations and partners management, AtlasGlobal Airlines, confirmed the new airline had recently gained permits for its flights and the company was preparing for operations. "This will help Ukraine to be more advanced in its aviation standing," he said.
Although the arrival of AtlasJet Airlines Ukraine will certainly help stimulate demand in the country, Treskunov called for flag carrier UIA to work with AAUCA and its airports to develop more of a network offering than a point-to-point strategy to attract some of the significant transfer traffic in and out of the region.
"There is a tremendous transit potential for Ukraine," he said. "If we have a carrier that can offer the right product at the right price, and can offer it correctly, we can grow this market. However, we need to get this right and work closely together to make this work. It has to be perfect first time as sometimes that is the only chance you have to influence the passenger. If they have a bad experience, the next time they will select somewhere else".
Like many destinations, Treskunov said Ukraine should work to secure an increased share of the China outbound market. There have been long discussions over traffic rights between China and Ukraine, but flights are currently limited to UIA offering a couple of frequencies a week between Kiev and Beijing.
"We need a Chinese carrier to fly into Ukraine. But they need to work in co-operation with UIA and not kill one another," he said, noting a previous experience between former local carrier Aerosvit Airlines and US major Delta Air Lines in the Kiev – New York market, which resulted in them both struggling on the route.
He said that rather than work collaboratively, as had been proposed, Delta Air Lines chose to compete with the Ukrainian carrier when it launched flights on the route in June 2006. "They tried but failed faster than Aerosvit on the route," said the airport association executive.
Data from OAG Schedules Analyser shows that Delta switched the year-round route to a seasonal offering in September 2009 and then effectively terminated services at the end of the summer 2010 schedule, albeit offering a limited programme in June 2011. Aerosvit closed its operations in April 2013 when rights were transferred to UIA, which retains the connection today.