Chinese carrier Beijing Capital Airlines has taken delivery of the first of an initial three Airbus A330-200s it intends to introduce into its fleet to expand its international network beyond North Asia. The airline applied last month for rights to commence flights to Scandinavia, becoming the second HNA Group subsidiary to fly long-haul.
The airline, which despite its name is not based in the Chinese capital city, but which has its largest operations from Haikou, Hangzhou, Sanya and Xi'an, is understood to have this past week received the green light from Chinese regulator Civil Aviation Administration of China (CAAC) to launch its new long-haul network from the start of September 2015 with flights from both Hangzhou and Beijing to Copenhagen.
These will operate on a weekly basis from September 3, 2015 and September 6, 2015 in partnership with Chinese tour operator and fellow HNA Group company, Caissa. These flights are currently only available to book as a tour package and are not available to the general public through the GDS, although in the future could be developed into a schedule programme.
The flights will be served using an A330-200 leased from Garuda Indonesia. The aircraft was ferried from its base at Soekarno–Hatta International Airport to Beijing Capital International Airport on July 10, 2015 and it is thought that Beijing Capital Airlines will source the two further widebodies from the same carrier. The aircraft is expected to initially be used on domestic flights between Sanya and Chengdu and other local routes ahead of its long-haul debut.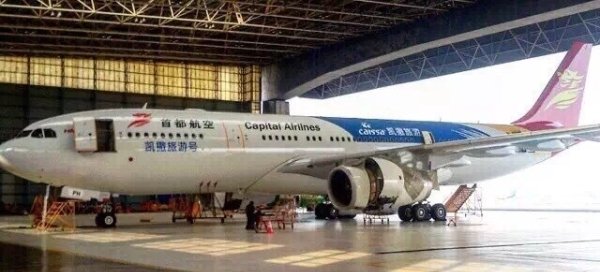 Beijing Capital Airlines' first Airbus A330-200 prior to its arrival in China. (image via Weibo)
In an interview with the Chinese media following the arrival of the A330 in China, Xu Xin, chief executive officer, Beijing Capital Airlines said that over the next five years the carrier intends to purchase at least 30 widebody aircraft to open more international routes between Chinese cities and major overseas tourist destinations.
"My company focuses on tourism market so we must open more overseas routes, which requires us to maintain a fleet of large jetliners," he said.
Alongside the flights to Copenhagen, Beijing Capital Airlines has also applied to the CAAC to serve the Finnish capital Helsinki from Beijing, again through a partnership with Caissa. No details on the proposed start date of the weekly service have yet been released, although it is expected to commence before year-end, subject to final approvals.
Although these flights will operate as charter packages it is understood to be Beijing Capital Airlines goal to develop them into scheduled operations in the future. It is now the seventh mainland Chinese carrier to introduce long-haul flights after Air China, China Eastern, China Southern, Hainan Airlines, Sichuan Airlines and Xiamen Airlines.
The airline has selected markets with limited air connections for its first steps into the long-haul market. Although some Chinese operators have previously suggested they could begin flights into Denmark and Finland, none currently serve these markets with just Finnair and SAS Scandinavian Airlines operating flights from Helsinki and Copenhagen.
Sweden is the only market in Scandinavia and Nordic Europe currently served by a Chinese operator with Air China providing a long-standing link between Beijing and Stockholm, which is now served on an up to daily schedule depending upon season.