Delta Air Lines has agreed to buy a 3.55 percent share of China Eastern Airlines, making it the first US carrier to own part of a Chinese airline.
The stake will also include an observer seat on China Eastern's board of directors, although the boards of both airlines still need to approve the deal.
Delta and China Eastern have already partnered on flights between the US and China, and in April, Delta moved its operations in Shanghai's Pudong Airport to the same terminal as China Eastern, making it easier for flyers to catch connecting flights between the two airlines and Shanghai Airlines – a China Eastern subsidiary.
A report by OAG discusses the build up of capacity by Delta at each of the four main US airports along the west coast including Seattle-Tacoma, Portland, Los Angeles and San Francisco. According to the report, the rationale appears to be to build these airports as connecting points for its services into Asia.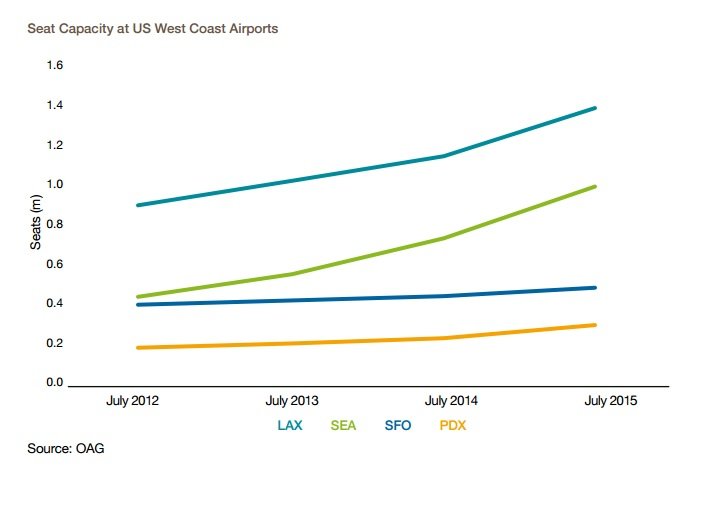 Delta Air Lines has aircraft orders in the pipeline for 25 A350-900s and 25 350-900 neos to replace aging B747s and B767s on US-Asia markets. The new aircraft will come with lower operating costs and will bring all of Asia in range from the west coast.
Seattle, which is Delta's gateway to Asia, is the fastest growth airport among the Top 20 US airports in July 2015, with seat growth of 13 percent and Delta with one million seats, provides 21 percent of the airport's total scheduled capacity.
China is the second-largest long-haul travel market from the US and is projected to grow at more than twice the global average rate. China Eastern currently operates 35 weekly flights from Shanghai to Los Angeles, New York, San Francisco and Honolulu, and three flights per week between Nanjing and Los Angeles.
Chinese carriers have been "launching far too much capacity across the Pacific," industry consultant Robert Mann said. "Everybody is looking for a stronger form of joint-venture partnership for the day when China and the U.S. have Open Skies."
For now, Delta and China Eastern say they will invest in services so travellers have a seamless experience on the airlines, which share flight codes on 80 routes, including those shared by subsidiary Shanghai Airlines.
Delta has previously invested in foreign airlines including AeroMexico, Gol Linhas Aereas Inteligentes, and Virgin Atlantic Airways, the latter of which the airline purchased a 49 percent stake in from Singapore Airlines, to shore up its position in London.
You can download the full OAG report - "Delta Looks West with Focus on Far East" here.