Air China is to introduce a new daily link between Beijing and Auckland in the final quarter of this year after New Zealand Minister of Transport Hon Simon Bridges gave the green light to a proposed strategic alliance with Air New Zealand. The alliance between the two national carriers was initially established in November 2014 and authorities have authorised its operation through to March 31, 2021.
Under the alliance Air New Zealand will continue to operate daily between Auckland and Shanghai, while Air China will operate this new service between Auckland and Beijing from December 10, 2015. The two carriers will codeshare on each other's services between New Zealand and China with joint sales on the two routes which will see air capacity between Auckland and Mainland China increase by more than 25 per cent year round.
Both Air New Zealand and Air China are members of Star Alliance, but this deepened partnership will offer passengers between China and New Zealand with better access to Air China's comprehensive domestic network for Air New Zealand customers, while Air China customers will have enhanced access to Air New Zealand's network including domestic New Zealand, Australia, the Pacific Islands and South America.
The arrangement will help deepen tourism and business connections between the two countries.
China is already New Zealand's second largest international tourist market, after Australia, while there were 315,248 Chinese visitors to New Zealand in the year to July 31, 2015, up 29.5 per cent on the previous 12 month period.
"China is New Zealand's second largest inbound visitor market and by collaborating with a strong, well respected home market carrier like Air China we can work together to grow this market, and benefit customers through a new direct link between New Zealand and Beijing," said Christopher Luxon, chief executive officer, Air New Zealand.
Air China chief executive officer Song Zhiyong said the relationship between China and New Zealand is going from strength to strength, with increased economic, cultural and political exchanges in recent years.
"We are committed to working with our Star Alliance partner to meet the growing demand from travellers in both markets and provide greater benefits to them," he said.
Air New Zealand will continue to operate its new Boeing 787-9 Dreamliner aircraft on the Auckland – Shanghai route, while Air China will deploy an Airbus A330-200 on the new Beijing – Auckland link. The Chinese carrier suggests the operation of the Airbus equipment may just be a short-term measure with the use of the word 'initially' in all correspondence and could see it upgauged to a Boeing 777, subject to demand levels.
uckland Airport welcomes Air China's new daily service between Beijing and Auckland, which commences 10 December 2015 in partnership with Air New Zealand.
According to Norris Carter, Auckland Airport's general manager aeronautical commercial, Air China will bring an additional 123,000 seats per year and deliver an estimated $149 million annually to the New Zealand economy and its arrival will help the airport's focus to address the seasonality of tourism into New Zealand by increasing the number of international arrivals during off-peak months
"We are delighted that this new Beijing daily service not only increases year-round and Chinese New Year air connectivity, it will significantly improve connectivity during the tourism industry's shoulder and off-peak seasons. For example, with the announcement of the 2022 Beijing Winter Olympics, Chinese interest in snow sports is increasing which is likely to have flow-on benefits to our ski industry and winter holiday destinations," he said.
Air New Zealand first introduced flights between Auckland and Shanghai in November 2006 and also previously served the Auckland – Beijing market between July 2008 and July 2012. China Eastern Airlines and China Southern Airlines also now serve the China – New Zealand markets with flights to Auckland from Shanghai and Guangzhou.
The opening of reservations for the new Auckland – Beijing route this week follows just days after China Southern Airlines announced the launch of flights between Guangzhou and Christchurch, the first regular year-round services between mainland China and New Zealand's South Island.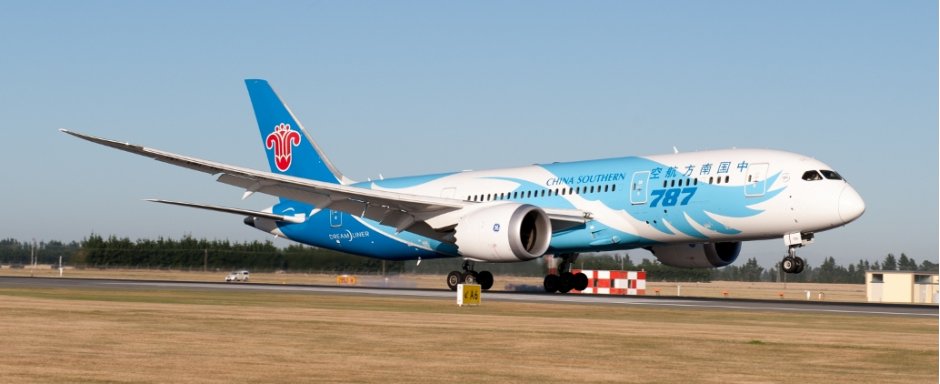 The Chinese carrier will offer a three times weekly service using a Boeing 787 Dreamliner from December 2015, boosting the South Island's economy by an extra $100 million of visitor spending having previously offered a charter schedule on the route in February 2014 (a single return rotation) and February 2015 (three return flights).
Christchurch Airport continues to be the fastest growing point of entry for Chinese visitors to New Zealand. While national figures grew 39 per cent over the past summer, Christchurch Airport's numbers grew 69 per cent. Overall, the airport showed a 59 per cent increase in arrivals of Chinese nationals in the months of December, January and February.
"We were the first Chinese carrier to fly to New Zealand and now carry on that tradition by being the first to fly to the South Island," said Tan Wan Geng, president and chief executive officer, China Southern Airlines. "Increasing numbers of Chinese arrivals into Christchurch Airport show the demand for the South Island, especially from the growing number of independent travellers who want to see and experience it."
Our analysis of Sabre Airport Data Intelligence demand statistics highlights annual segment demand between China and New Zealand since Air New Zealand introduced regular direct flights between the countries in 2006. The annual totals - both point-to-point and transit traffic – shows consistent positive year-on-year growth since 2009, with traffic levels rising 28.0 per cent in 2014 to over 360,000 bi-directional passengers.