China's President, His Excellency Xi Jinping has formally confirmed that Hainan Airlines will introduce a new scheduled air link between Beijing and Manchester during his four day visit to the UK, as first revealed by Routesonline earlier this week (see 'China's President set to confirm new Hainan Airlines Beijing – Manchester link'). The visit, the first by a Chinese head of state to the UK in ten years has been lauded as establishing a "golden era" of bilateral relations and strengthening economic and financial ties between the two countries.
Register now & save up to £600 with our World Routes 2016 + regional events combination discount
We're sorry but this deal has expired
After three days in London, President Xi flew up to Manchester on the evening of October 22, 2015 to complete a programme of visits around the North West city. In the afternoon he and the Prime Minister, the Rt Hon David Cameron MP, visited Manchester Airport today to unveil the new direct flights from Manchester to Beijing and also launch the £130 million 'China Cluster' project at Airport City Manchester.
The introduction of a scheduled link from Manchester to mainland China has been under discussion for a long time to support the 100,000 plus passengers travelling each year between the two cities. Manchester Airport will become the only UK airport outside of London to offer direct scheduled services to Mainland China, albeit Birmingham has offered a summer charter programme to the Chinese capital over the past two years - last year with China Southern Airlines and this year with Hainan Airlines.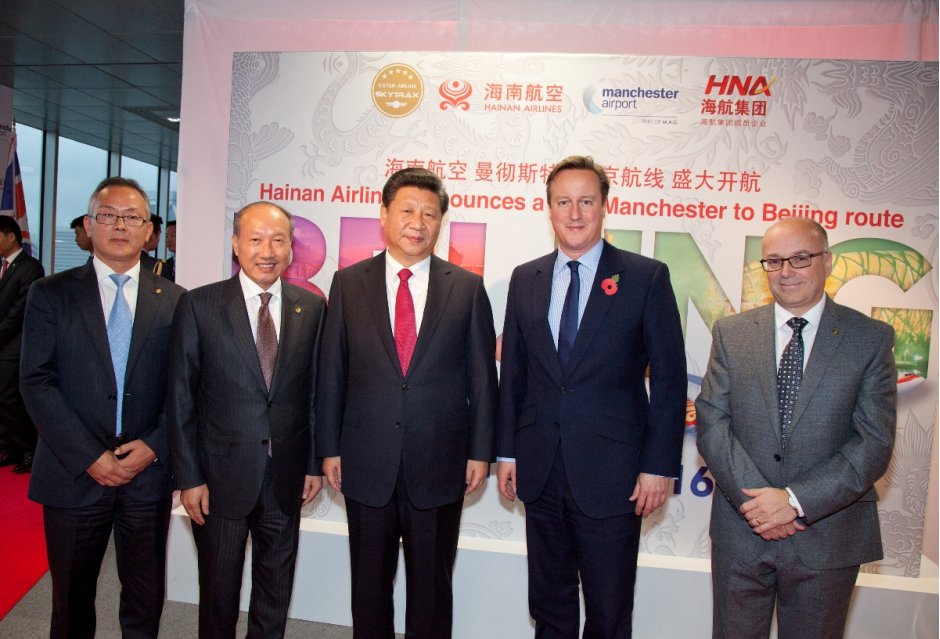 As we exclusively revealed on the evening of October 20, 2015 when Hainan Airlines first loaded schedules for the new route, it will operate a four times weekly service from June 10, 2016 using an Airbus A330-200.
The Manchester-Beijing route is reported to be worth at least £250 million in economic benefits to the UK over the next decade, with two-thirds being felt directly in the Northern economy in terms of increased jobs, economic activity and tourism. By providing a non-stop service, the new route will also generate journey time savings worth £5 million every year for business passengers and avoid the inconvenience of changing planes at another airport.
As businesses in China and the North take advantage of the improved connectivity, the Manchester-Beijing route will generate further economic benefits in terms of productivity, increased trade and collaboration, and increased foreign direct investment.

There are increasing rumours that Hainan Airlines could serve additional cities from Manchester as well as transition its charter operation at Birmingham to a scheduled operation. There is also the possibility that the new Manchester link could be tagged with another destination, most likely Glasgow or Edinburgh, as the aircraft has a six hour window on the ground.
Chen Feng, Chairman of the Board of Directors, HNA Group, the parent of Hainan Airlines has added to this speculation. "Hainan Airlines looks forward to launching further routes between the UK and other metropolitan cities in China in the future," he said.
"As a Chinese enterprise going global, Hainan Airlines is fully engaged in the construction of the 'One Belt, One Road' initiative and today's announcement is further proof of this. I am confident that the Beijing-Manchester route shall form a new and vital air bridge between the UK and China," he added.
The Beijing-Manchester route is the sixth international long-haul route that Hainan Airlines has launched this year, following Chongqing - Rome, Beijing - San Jose, Shanghai - Boston, Shanghai - Seattle and Beijing - Prague.