Air Serbia, the national airline of the Republic of Serbia, has announced plans to launch flights from Belgrade to New York in June 2016. Subject to government and regulatory approval, it will be the first non-stop service between Serbia and the United States in 24 years, and will provide a key air-link between the two countries which share deep cultural and commercial ties.
The five times weekly US route will be Air Serbia's first long-haul destination since its launch from the ashes of JAT Airways two years ago following an equity investment from United Arab Emirates (UAE) national carrier, Etihad Airways.
Air Serbia was launched as the national airline of the Republic of Serbia in October 2013. It currently serves more than 39 destinations in Europe, Mediterranean and Middle East directly from its hub at Belgrade's Nikola Tesla International Airport with passenger and cargo services.
The flight to New York John F Kennedy International Airport will be operated using a leased two-class Airbus A330-200 and Air Serbia is currently considering lease options with Etihad Airways Partner airlines as well as with other external companies. The airline currently operates a fleet of 14 narrow-bodied and six turboprop aircraft.
"The launch of non-stop flights between Belgrade and New York in June next year will be a hugely proud and significant moment in the short history of Air Serbia, demonstrating the growth and ambitions of the airline," said Aleksandar Vučić, Prime Minister of Serbia at the announcement of the long-haul route.
"We cannot underestimate the positive impact the new service will have on the people and businesses of Serbia as we open this air-bridge to the United States, which is home to so many Serbian communities who will now have a unique opportunity to fly to Serbia with the national airline," he added.
According to recent surveys there are more than 200,000 people of Serbian ethnicity living in the United States, including New York and Chicago, which has the biggest Serbian diaspora in the United States, and the number increases significantly when including other Balkan countries.
As well as enhancing business and cultural ties between the two countries, the new service will provide a major boost to inbound tourism to Serbia. It will also be a key milestone in the evolution of Belgrade as a regional hub for the Balkans.
Although this will be Air Serbia's first long-haul flight, the airline does offer long-haul and international destinations in Asia, Australia and Americas through its code-share partners and its equity partner, Etihad Airways that holds a 49 per cent share.
"The launch of the Belgrade-New York non-stop service is a fantastic example of the positive impact of the Air Serbia strategic plan, which is progressing well and continues to be on-track to meet and surpass its targets," said Dane Kondić, Chief Executive Officer, Air Serbia. "We have been asked for many months when a new United States service will start, and we are pleased now to reveal the destination and intended launch date."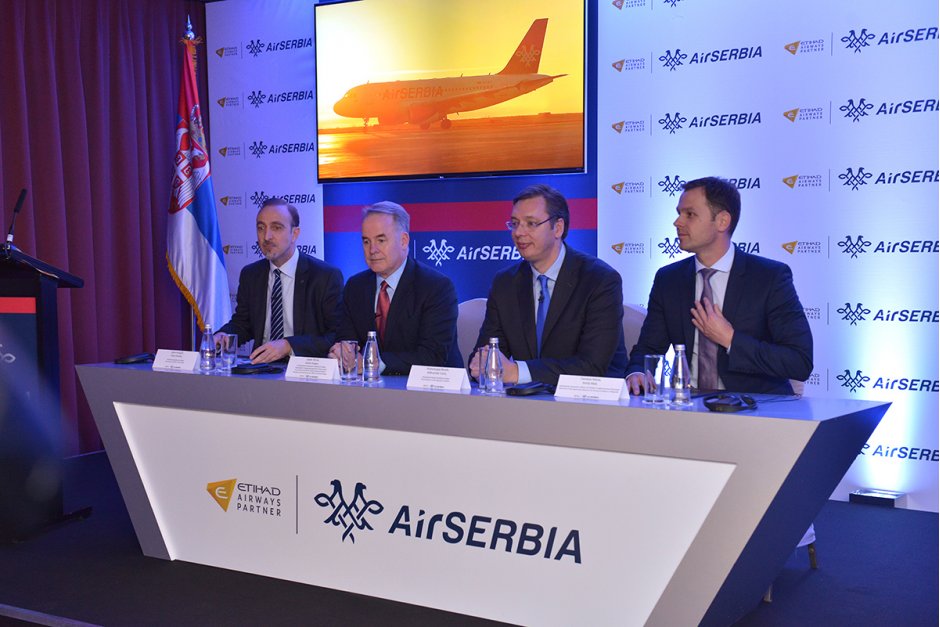 Air Serbia this week reported continued improvement in its financial and operating performance recording total operating revenues of €86 million for the third quarter of 2015. The figure represents an increase of 26 per cent over the same period in 2014, achieved by growth in passenger and cargo numbers during the 2015 summer months.
The Belgrade-based airline's total passenger numbers increased to 913,135 between July and September this year, 11 per cent higher than the 820,453 passengers for the same period in 2014, while August 2015 was a record-breaking month with a total of 319,263 passengers travelling with the airline, a seven per cent increase compared to the same period last year.
According to Sabre demand data, an estimated 143,000 bi-directional O&D passengers flew between Serbia and the United States last year, around 392 a day. This is a growing market with traffic increasing by an average annual rate of 5.7 per cent between 2005 and 2014 and growing a massive 23.3 per cent over the last calendar year.
New York is the largest single United States market from/to Serbia with approximately 26,000 annual passengers, just ahead of Chicago with 25,000 passengers and followed by Los Angeles with 11,000 and Newark and Washington with over 9,000 passengers.
The new Air Serbia route will support the demand to both New York and Newark, while the introduction of a non-stop offering will also stimulate the market further. The airline will also be able to take advantage of its Balkan network to feed the long-haul link as well as connecting flights from partner carriers.