Star Alliance member Austrian Airlines has taken delivery of its first Embraer E195, one of 17 new regional aircraft that will be integrated into its European fleet over the coming years. The aircraft have been sourced via Lufthansa CityLine, which is replacing the type in its own network with Bombardier CRJ900 NextGen jets from Eurowings as part of an going fleet and network realignment.

Connect with airline decision makers from across the globe at World Routes 2016
World Routes 2016 is your opportunity to meet with some of the most influential aviation professionals from across the globe in Chengdu, Sichuan Province, China.
Austrian is investing significant funds in the fleet additions ( valued at $900 million at list prices) to replace its older Fokker 70/100 airliners, which will bring economical and environmental benefits using 18 per cent less fuel per aircraft seat versus the older generation aircraft they will replace. They will also bring a capacity growth seating 120 passengers against the 80- or 100-seats currently fitted into its Fokker fleet.
"The 17 jets comprise one of the biggest investment projects in Austria's aviation history. Almost 1,000 jobs are directly related to this investment," said Kay Kratky, Chief Executive Officer, Austrian Airlines.
The Supervisory Board of Austrian Airlines first approved the purchase of 17 Embraer aircraft in June 2015 with the first example being transferred across to Austrian Airlines in mid-August this year and redelivered to the carrier at the end of last month following modification work and repainting into the Austrian livery. The aircraft was originally delivered to Lufthansa CityLine in March 2011.
It will be used over the next two months for training purposes as around 200 pilots are retrained on the new aircraft type. It will enter scheduled service early next year initially operating between Vienna and Stuttgart and Tirana from January 4, 2016, then progressively introduced on flights to other markets, including Chisinau, Cologne, Hamburg, Milan, Thessaloniki and Warsaw in January 2016; Belgrade, Berlin Tegel, Bucharest, Copenhagen and Geneva from February 2016; and Amsterdam, Brussels, Dusseldorf, Kiev, Sofia, Stockholm and Zurich in March 2016.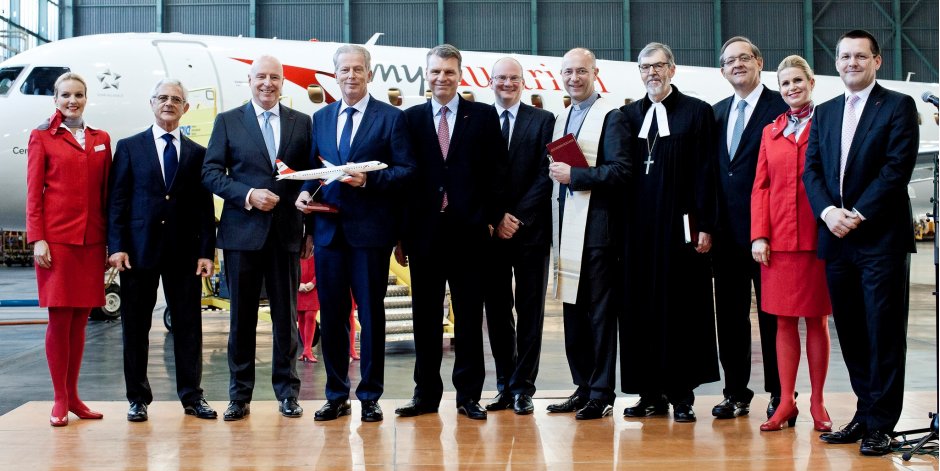 The first aircraft was officially handed-over to Austrian at the end of last month has been named 'Central Europe' to highlight the close ties of the country and Austria's flag carrier to the region.
"This designation of the aircraft stands for an important asset of Austrian Airlines and Vienna Airport, namely the joint competence they share as a flight hub to Central and Eastern Europe. This region plays an essential role as a market and production site for the Austrian business location and Austrian companies," said Julian Jäger and Günther Ofner, members of the Management Board of Flughafen Wien AG.