A new ultra–low-cost carrier plans to launch regular domestic and international flights within and from Canada, but is looking to serve regional communities rather than the busy hub markets in the country. NewLeaf Travel Company opened reservations on an initial network of ten routes across seven cities last week and plans to offer up to 20 weekly rotations from next month using two Boeing 737-400s leased from charter provider Flair Airlines.
The airline has selected Winnipeg's James Armstrong Richardson International Airport as its corporate headquarters but also will offer scheduled flights from Kelowna, Winnipeg and Hamilton to multiple domestic and international destinations.
Initially it will commence with flights linking Hamilton and Halifax and Saskatoon with Abbotsford, Hamilton and Kelowna from February 12, 2016; between Winnipeg and Hamilton and Kelowna from February 13, 2016 and between Hamilton, Kelowna and Regina from February 14, 2016. A Regina – Abbotsford offer will commence from March 15, 2016 with all the routes being served on a once or twice weekly schedule.
NewLeaf will offer an unbundled travel service for leisure travellers with low base fares and numerous add-ons for passengers to tailor their itineraries depending upon what extras such as checked baggage allowance, inflight meals etc, that they require.
Alongside the flight only offer, New Leaf intends to offer customers full holiday packages including flights, hotel accommodation, car rental and even destination entertainment, in a model similar to that successfully operated by Allegiant Air and Allegiant Travel Company in the USA.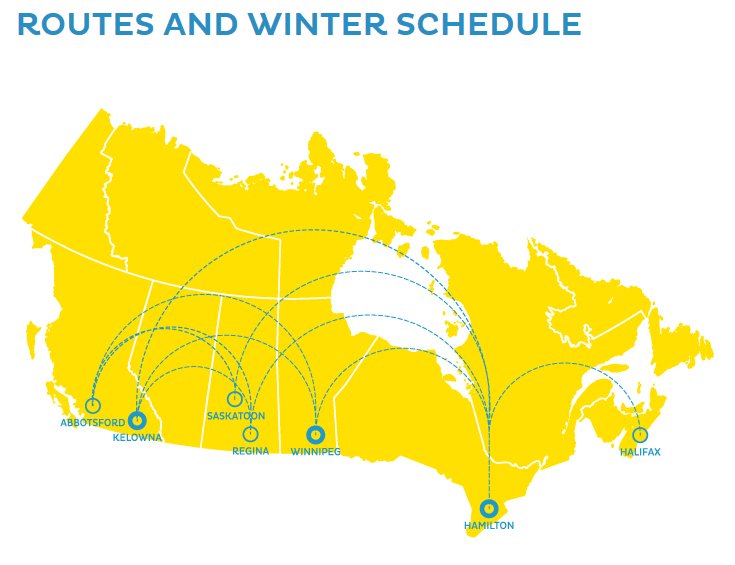 "Our simple mantra is 'We will get there, on time with your underwear. We will offer you a place to stay and we will give you something to do while you are there', its president and chief executive officer, Jim Young told the Canadian press last year. However, he noted that many customers will also be interested in its flight-only option. "Some customers just want a seat and seat belt," he said.
NewLeaf is the first of at least three new ultra-low-cost carriers planning to enter the Canadian market. Although the Canadian market is an expensive market to serve, the carriers, which also comprise JetNaked and Jetlines, hope to introduce competition in a market dominated by Air Canada and WestJet Airlines.