easyJet opens new Barcelona and Venice bases as network growth continues
For business travellers, a growing segment of easyJet's passenger count, the new bases will enable the carrier to better serve the demands of its premium passengers in Barcelona and Venice with new earlier morning departures affording a more flexible schedule for same day trip arrangements to Europe's main economic centres.
European low-fare carrier easyJet has this month inaugurated its 27th and 28th bases across its European network with the launch of expanded operations from both Barcelona and Venice. The positioning of three aircraft at El Prat Airport in Barcelona and four at Marco Polo Airport in Venice is enabling the airline to offer an enhanced product with more destinations and choice for travellers to and from the Spanish and Italian markets.
For business travellers, a growing segment of easyJet's passenger count, the new bases will enable the carrier to better serve the demands of its premium passengers in Barcelona and Venice with new earlier morning departures affording a more flexible schedule for same day trip arrangements to Europe's main economic centres.
The February 1, 2016 launch of the four aircraft base at Venice's Marco Polo Airport is part of a strengthening of the airline's Italian strategy which, alongside the new base in Venice, sees expansion at Milan Malpensa and Naples during 2016. The airline even unveiled an aircraft with a special livery featuring one of Venice's iconic gondolas that will help to promote the city across the 32 countries easyJet serves.
easyJet is already the largest operator in the Venice market with a traffic share of approximately 24 per cent. It launched its operation in the city in 1998 and has invested greatly in Venice carrying over 12 million passengers over the subsequent years. With the launch of the four Airbus A319 aircraft base it will increase capacity by 35 per cent to 2.4 million seats. Over the wider Italian market easyJet plans to carry over 17 million passengers on over 180 routes from 17 Italian airports during 2016.
With the investment in the new Venice base, the airline has increased the number of weekly flights by up to 45 per cent providing consumers a choice of an average of 50 daily flights - with popular business and leisure destinations such as London and Paris connected with up to six flights a day, Naples with four daily flights and Berlin with two.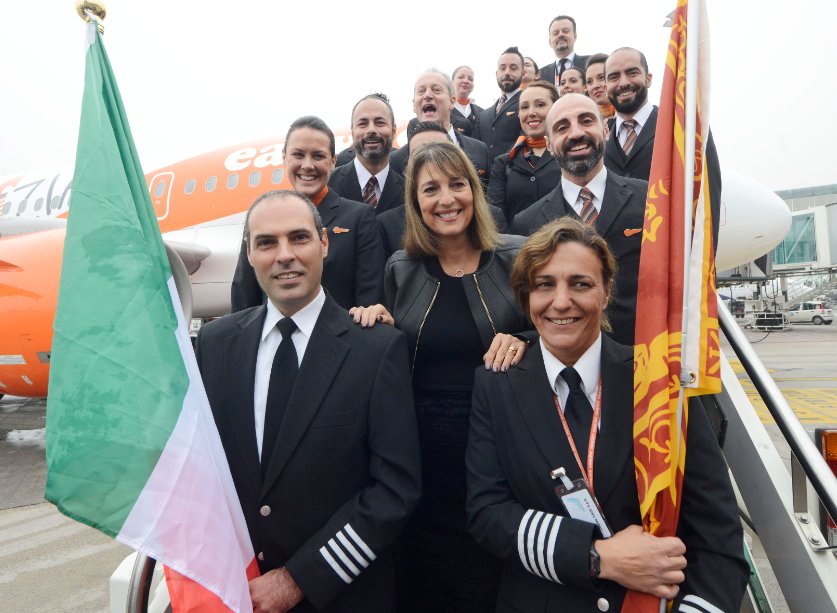 It is also boosting its Venice offer with new flights to Bristol (four times weekly from March 23, 2016); Bordeaux (three times weekly from April 17, 2016); Copenhagen (three times weekly from March 24, 2016); Edinburgh (four times weekly from February 3, 2016); Olbia (three times weekly from March 24, 2016); Prague (three times weekly from February 4, 2016); and Stuttgart (three times weekly from March 29, 2016). Seasonal high summer links to Menorca, Mykonos and Santorini will also be added from late June 2016.
"We plan to fly 2.2 million passengers to and from Venice in this financial year. Thanks to the long lasting partnership with SAVE, the airport authority that manages one of Italy's leading airports, passengers will benefit from a dedicated infrastructure that provides a pleasant airport experience," said Frances Ouseley, easyJet's Italy Director.
The February 3, 2016 opening of the base in Barcelona, announced in June 2015, consolidates easyJet's commitment in Barcelona that begun 20 years ago with the landing of the first flight from Barcelona-London Luton. It is a natural step moving forward for easyJet to base its operations in Barcelona, a key business and leisure centre in Europe.
During summer 2016, easyJet will operate 2,180 flights per week and offer a portfolio of 154 routes in Spain - of which 14 will launch in 2016. easyJet operates 16 routes from Barcelona including two new routes connecting Barcelona and Naples (Italy) starting on March 27, 2016 and Barcelona to Bordeaux (France) starting on April 15, 2016.
DID YOU KNOW?

---

Since easyJet began flying to Barcelona 20 years ago, the airline has carried the equivalent of 300 times the capacity of Camp Nou, the home of FC Barcelona (32 million passengers).

Richard Maslen - Content Manager
"We believe this operational base in Barcelona with three aircraft will contribute strongly to strengthen our pan-European network and reinforce Barcelona's position as a vital hub in the international air and tourist map," said Javier Gandara, easyJet's Country Director Spain, Portugal and the Netherlands.
Spain is an important market for easyJet where it expects to carry 13.6 million passengers in 2016, an increase of four per cent year-on-year. In Barcelona, easyJet builds on solid foundations. It started operating in June 1996 with its London Luton – Barcelona operation and it has regularly invested in the market to carry over 3.1 million annual passengers in 2016, an increase of seven per cent compared to the previous year.
The easyJet network in Spain currently covers 18 destinations (Barcelona, Madrid, Santiago de Compostela, Oviedo, Bilbao, Valencia, Alicante, Murcia, Palma de Mallorca, Ibiza, Menorca, Almeria, Malaga, Sevilla, Tenerife, Las Palmas , Fuerteventura, Lanzarote) which are linked by 155 routes to seven different European countries.
In its latest trading update for the final quarter of 2015 (three months to December 31, 2015), easyJet reported an 8.1 per cent increase in passengers to 16.1 million, as capacity grew by 7.3 per cent to 17.8 million seats. Its load factor increased by 0.6 percentage points to 90.3 per cent. Strong revenue per seat performance in October was offset by the impact of the tragic terrorist events in Egypt and Paris, resulting in lower demand and yield in November and December, according to the carrier, but it said forward bookings for the second quarter are showing a "marked improvement in revenue per seat" compared to the last two months of 2015.
BRIEFING – easyJet network developments
Our analysis of OAG schedules data for the last ten years highlights the strong network growth from the low-fare carrier during this period. Between 2006 and 2015 its network capacity rose 88.5 per cent from 40.6 million seats to 76.6 million seats, an average annual rise of 9.8 per cent.
During this period the carrier introduced flights into 15 additional country markets, including the likes of Belgium, Cyprus Egypt and Israel, with Montenegro an addition for 2016. However, it has also ended flights to a number of country markets, comprising Finland, Ireland, Jordan, Latvia, Norway, Slovakia and Tunisia.
The United Kingdom is the largest market for easyJet services with approaching 30 million annual departure seats, up 4.0 per cent year-on-year in 2015 and up 21.8 per cent since the start of the decade. The UK market accounts for 33.8 per cent of the airline's total departure capacity ahead of France (13.7 per cent), Italy (13.2 per cent), Spain (9.2 per cent) and Switzerland (8.3 per cent).
Given that around one third of its capacity emanates from the UK, it is no surprise that the country's airports held two of the top four and four of the top ten points in the easyJet network last year, based on seat capacity. London's Gatwick Airport led the way with over 9.6 million seats (12.6 per cent share), ahead of Geneva (5.1 per cent), Milan Malpensa (4.9 per cent) and London's Luton Airport (3.9 per cent), the airline's original launch point and still the location of its headquarters.
The fastest growing country market for easyJet in 2015 was Austria where capacity rose 58.5 per cent versus 2014. Strong growth was also recorded in Iceland (up 51.1 per cent). The Netherlands was the fastest growing major easyJet market with capacity up 20.7 per cent, while its smaller operations in Gibraltar (up 23.3 per cent) and Croatia (up 20.6 per cent) also grew significantly year-on-year.
All of easyJet's top ten network points by capacity recorded growth in 2015 versus the previous year. The new base at Schiphol Airport and a focus on business routes within Europe meant that its Amsterdam operation reported the largest rise with capacity up 20.8 per cent. Double digit capacity growth was also recorded at London Luton (up 13.9 per cent) and Basel (up 12.2 per cent).
Outside of the top ten, significant growth was also recorded in the markets of Vienna (up 98.9 per cent), Munich (up 67.4 per cent), Zakinthos (up 59.2 per cent), Marseille (up 57.9 per cent), Kefallinia (up 54.4 per cent), Thira (up 51.6 per cent), Keflavik (up 51.1 per cent), Hamburg (up 50.9 per cent), Lanzarote (up 50.4 per cent), Split (up 43.0 per cent) and Porto (up 39.3 per cent). This list highlights the easyJet strategy of serving both business and leisure markets.